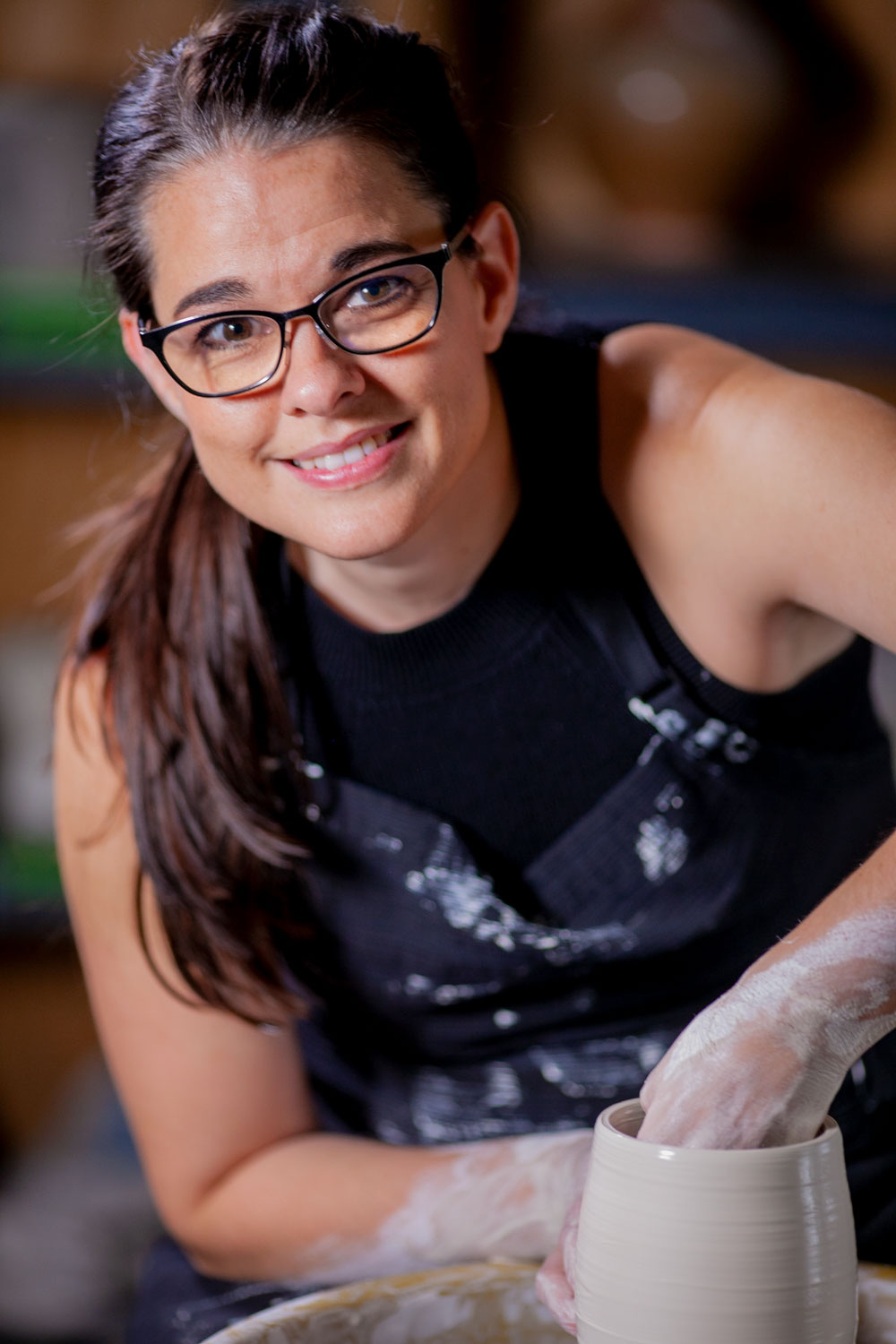 Today we'd like to introduce you to Ruthie Schulz.
Ruthie, can you briefly walk us through your story – how you started and how you got to where you are today.
Pottery came into my life at an unexpected time. Just over twelve years ago, I was leaving my corporate job to stay home with my two children. As frequently happens in life, my co-workers had become my close friends and as a parting gift, I received one month of pottery lessons. Truthfully, I was so very excited to learn this new skill but I had no idea how much it would change my life. I can never thank my friends enough for what I'm sure they felt was just a kind gesture but really ended up putting my life on a completely new track.
About three years of working in clay almost daily, I was encouraged by my teacher, Betsey Carter, to submit my application to a local gallery for representation. They were having their semi-annual jury for new members and it was the perfect time to see if my work was ready. I was thrilled when they accepted me as a new artist and even more exciting was the prospect that people who I had never met were purchasing my work and using it in their daily life. I have to say my favorite part of being a potter is the thought that I get to make my mark on people's lives. My artwork is not something that typically is hung on a wall or sits in a corner. Pottery is art we interact with in our daily lives.
A move to Nashville, TN changed the way I was selling my work. I moved from selling primarily in galleries to the world of art shows. I really loved the interaction with the public and the immediate feedback you get on your work in a setting like this. It also allowed me to perfect the skill of making work in volume in order to have enough to last an entire show. This helped me to become disciplined in my days setting out production schedules in order to meet the deadline of an upcoming event.
This brings me to where I am today. After relocating to Grapevine six years ago, I continued selling my work at art shows, but after a point, the traveling became too much and I missed the daily interaction with other potters. So I decided to open my studio behind my house and teach beginners to make work in clay. Truthfully I wasn't sure if there was any demand for this, but I purchased another wheel and took the plunge. Boy was their demand; I am currently teaching in a studio behind my home several classes a week. There are currently 18 students taking classes from me and I have a list of people hoping to get into classes. The plan is to open a larger studio in Grapevine to allow for more studio time for those that are like I was in the beginning and can't get enough time at the wheel, while at the same time accommodating more students in each class. This will open up opportunities for those to get into classes that have had to wait for an opening.
Finding the balance of continuing to be a maker while also teaching has been tricky. It is, however, worth taking the time to figure out as I love both equally. Not doing art shows have been good for the moment but I feel that a few years down the line, I will return to the art show scene at least on a small scale. For now, I am focusing on my business plan to expand my teaching studio to accommodate more students. It seems the time has come to move out of my small studio behind my home to a space large enough to include more of my community.
Great, so let's dig a little deeper into the story – has it been an easy path overall and if not, what were the challenges you've had to overcome?
It has most definitely not been a smooth road. I think to make it as a studio potter; you have to have a good deal of determination. This is likely true of almost anything worthwhile in life though. The difficulties lie in both the making and marketing of one's work.
In order to figure out how to make good work, you have to make a lot of pots that fall short. Failure is a huge part of being a potter. Truthfully when I finally allowed myself not to worry so much about every piece succeeding, is when I finally began to make work that was worth putting out into the world. You have to experiment and not get so hung up on every piece being a success. Also, you have to make a lot of work before you are even remotely good at being a potter. I like to compare it to being a musician. It takes years of practice and dedication to make a quality piece of pottery.
There has also been a fair amount of rejection in bringing my work to market. I remember the first gallery I applied to rejected my work and I had to take that feedback and incorporate it into my work. I felt ready but in hindsight, I am so happy they did not take my work as it most certainly was not ready and instead they gave me the gift of feedback on how I could make my work better. This was so extremely valuable to me in making my work ready. I truly feel the best way to get better is to put yourself out there for critique. Just be ready for rejection and don't let that rejection cause you to quit, but rather take the feedback and make the next one better.
Alright – so let's talk business. Tell us about Porcelain by Ruthie Schulz – what should we know?
Well, two years ago, I would speak strictly about my pottery and the type of work I make. While this is still a huge part of who I am as an artist, I think teaching has made me more than a potter in my profession.
I love introducing newcomers to the joy of making work on the wheel. I have heard many times that pottery is a kind of therapy. All your cares can melt away when you are at the pottery wheel. The main thing that I have to say about that is to be patient with yourself as you learn. It looks easy when a skilled professional is at the wheel, but it can take time to master this skill. I think the reason I made it through the difficult stage is because I chose to enjoy the journey. Make your next pot better than the last. I have noticed that many of my students continue to return each session realizing that this is a journey not just a fun thing to do for a month. I like to think its all about the clay, but truly I think it is also about the community being formed around a common interest almost as much as the joy of working with this humble material.
Of course, in addition to teaching, I am glad to still be a maker. I am working on spending more time in the studio, so I don't lose that part of my life. Currently, I am selling my work once a year at my holiday open house/kiln opening event in addition to my art show customers reaching out with special requests. Usually adding onto an existing collection of my work they have acquired over the years. I am currently working on putting my work online, but am trying to determine the best way to market this. I think it will likely happen through my website and marketed on Instagram. These pots are functional wares, meaning dishes for your kitchen… Oh so wonderful! I love having my daily drink or food on a handmade piece of pottery. It completely changes the experience.
Is there a characteristic or quality that you feel is essential to success?
Determination and knowing who you want to be as an artist. Plain and simple you can't give up. You have to take negative experiences and feedback and find a way to make a change and adapt. Having said that, stay true to who you are as an artist. There is a difference in improving your work and completely losing your vision. It is a tricky balance but I believe it is possible. It just takes a constant evaluation of your work and where you are going with it.
Contact Info:
Image Credit:
Image of Ruthie Schulz at wheel taken by Brent McMahan. All other images are personal images taken by artist or husband.
Getting in touch: VoyageDallas is built on recommendations from the community; it's how we uncover hidden gems, so if you know someone who deserves recognition please let us know here.