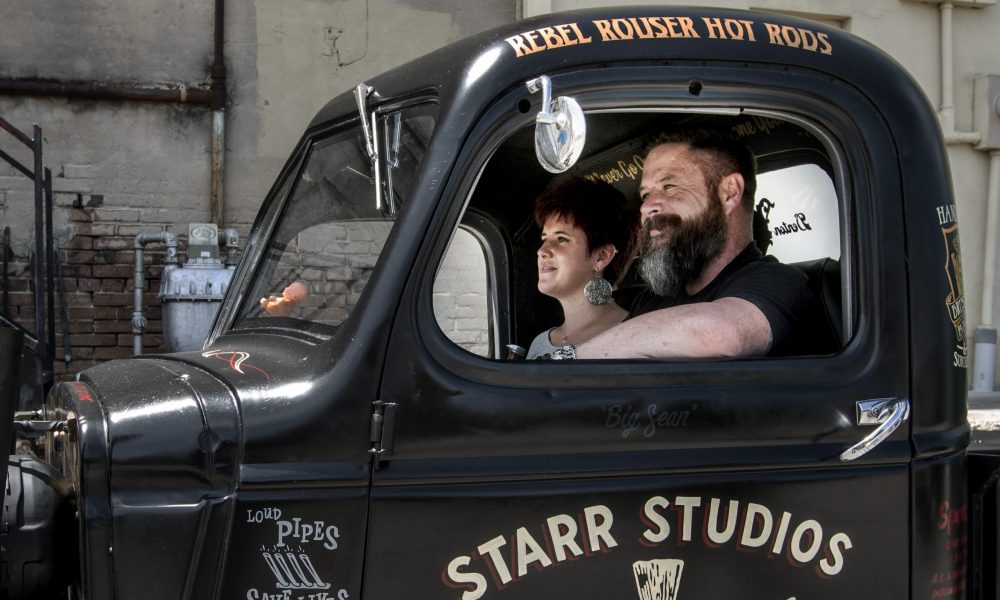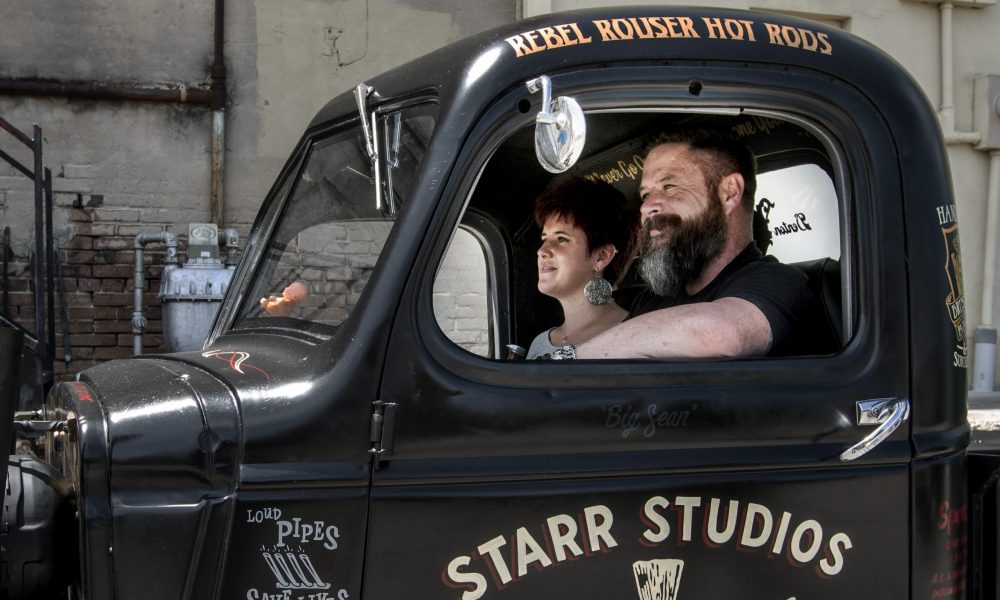 Today we'd like to introduce you to Sean Starr.
Sean Starr is an American contemporary artist, sign painter, graphic designer, published author, abstract painter, podcaster and founder of Starr Studios. Starr also had a short stint in 1998 as a Hollywood stunt driver for Ford Motor Company. He first became known with the release of the book You, Me and Morrissey co-authored with Colin Nasseri which was made an Official Entrant for the Pulitzer Prize in 2008, a book Entertainment Weekly labeled "Obsessive" shortly after its release.
He became widely known for his work as a sign painter after the 2013 international release of the book and film "Sign Painters" which featured his work along with two dozen other sign painters around the United States.
Blending his background as an artist, sign painter, designer and illustrator, Sean Starr has achieved an international reputation and a wide range of exhibitions while working with other artists such as The Cranberries, Fleetwood Mac's Lindsay Buckingham and The Toadies.
The studio continually works with a wide variety of clients that include Sony Music, NBC Television, The GAP, Ocean Spray and Indian Motorcycle as well as celebrity clients such as Reese Witherspoon, Fleetwood Mac's Lindsay Buckingham, the bands The Cranberries and The Toadies. Regular clients also include a wide variety of museums and historical societies and municipalities.
Starr was featured in the film "Sign Painters" and his work for companies like the Gap, Indian Motorcycle and Sony Music has seen coverage in publications such as the Discovery Channel, NBC, Juxtapoz and ArtForum magazines as well as dozens of other media outlets.
Has it been a smooth road?
There have certainly been challenges, the biggest being the loss of interest in hand painted signs when computers came on the scene and almost destroyed the craft. This was talked about extensively in the film "Sign Painters" which really told the story well of how that cultural and technological shift threw many of us upside down in the trade.
Fortunately, thanks to the maker movement, there has been a genuine resurgence and appreciation for hand painted signs again that started about 7 or 8 years ago that breathed in new life for many of us who were stubborn enough to continue.
Additionally, I think anyone who is committed to a craft has a unique set of challenges, probably the biggest being juggling the aspects of doing business daily like book keeping, marketing, scheduling etc. while trying to stay committed to expanding your learning and skill set as you go.
This is where the relationships we have built have become so important. Many of our clients have similar outlooks on how they do business and sometimes in life in general. We have built lifelong friendships with some of them and this has created a wonderful environment that we can work in. There is a mutual appreciation and support between our clients and ourselves that makes us want to help them succeed and they want the same for us. It gives us the enthusiasm to really create something special for our clients, to help them realize their dream with their business.
So, as you know, we're impressed with Starr Studios – tell our readers more, for example what you're most proud of as a company and what sets you apart from others.
Our company is Starr Studios and is owned by husband and wife team Sean & Kayleigh Starr. Sean was raised in South Texas by a drag racing, Golden Gloves boxer from Cleveland, Ohio named Dale Starr. Dale started Starr Kustom Paint in 1977 in San Antonio, Texas and in just a few short years, Starr Kustom Paint became the regional favorite for pinstriping and custom paint and lettering on vehicles all over South and West Texas.
Sean started working full time with his Dad when he was 14 in the mid-1980s working out of the back of his father's '72 Chevy station wagon, customizing thousands of cars, trucks, airplanes and even Willie Nelson's tour bus.
We started the studio in San Francisco in 2005 and since then have been focused on traditional, hand painted signs and gold leafing. We were brought on board in 2010 to be a part of a national ad campaign for the jeans company GAP, and that led to broadening what we offered to branding and graphic design and illustration as well.
We have had some really special milestones since opening the studio, including working with the band the Cranberries in Ireland in 2015 on a huge art installation that is now part of the permanent collection of the Limerick Institute of Technology, creating the album cover artwork for Toadies' "Heretics" record, being featured in the book and film "Sign Painters" and having Dallas based Rebel Rouser Hot Rods build us a tribute truck out of an old 1938 Chevy pickup that had its debut at Dallas' Truck Yard in Lower Greenville in 2016. Most recently we had the opportunity to open our gallery in the Dallas Design District which is allowing us to bring in artwork by other subculture artists including a curated show by Refueled publisher Chris Brown who is bringing in artists like actor and photographer Jason Lee.
We also enjoy the "flow" that comes with our work. There is a definite immersion into mindfulness when we are working, a focused awareness of the brush and paint, the texture of the surface and how it all interacts with light and the surrounding scenery. It is a beautiful and fluid process, especially when working with the gold leaf.
Our day to day business of designing and painting hand painted signs and gilding glass is the core of our business and something we never grow tired of. On every project, we are working to create something that we ourselves will be completely proud of. By working this way, we have been able to ensure that every client is just as satisfied as we are and it has been a wonderful way to build the business. A good example of this is J. Hall & Co. Gentlemen Tattooers on South Lamar in Dallas. They are as proud of the work we have done, and are still doing there, as we are.
Let's touch on your thoughts about our city – what do you like the most and least?
I love the hidden corners of history in Dallas and learning what was here before us. I found out that across the street from where our gallery is now located was a sign company that goes way back to 1901 called Zimmerman & Sons. I imagine there's a story on every block if you dig for it. I would also say the food scene in Dallas is amazing. We love hunting down and trying new restaurants and the whole DFW area has some great Asian fare to choose from, which is kind of our go-to food choice when eating out.
What do I like least about Dallas? Wow, that's a loaded question. The traffic on 35 comes to mind, but that's a cop-out answer. I would have to say my least favorite thing about Dallas is the occasional snobbiness and materialistic nature of some areas.
Overall, our experiences in Dallas have been really positive and uplifting, but there has been the occasional run in with snobby attitudes. Fortunately, we haven't ever experienced that with our clients, but it does exist in Dallas.
Contact Info:
Nimi Natan
Nimi Natan

Nimi Natan

Nimi Natan

Daniel Driensky & Sarah Reyes
Daniel Driensky & Sarah Reyes

Daniel Driensky & Sarah Reyes

Daniel Driensky & Sarah Reyes
Image Credit:
Daniel Driensky
Sarah Reyes
Nimi Natan
Getting in touch: VoyageDallas is built on recommendations from the community; it's how we uncover hidden gems, so if you know someone who deserves recognition please let us know here.