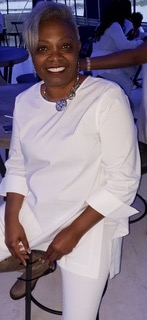 Today we'd like to introduce you to Tammy Thomas.
Tammy, please share your story with us. How did you get to where you are today?
In the year 2000, I was traveling on the highway with my sister and my two best friends when the tire blew out on my SUV. The SUV rolled seriously, injuring all of us. I suffered the worst injuries and was put into a medically induced coma for one month. During that time, I could hear everything and everyone. I heard my family and friends talking to me and praying for me. All I could see was darkness, and I felt myself sitting in the corner of the darkness, scared to come out of the place I was locked in. On the last night of my coma, I heard what sounded like a thousand different voices calling for me to wake up. I was scared and refused to leave the darkness. Then I felt something pulling me out, and that is when I opened my eyes to see my family and friends around me. I did not know when I awoke just how long I was in the darkness, and my greatest concern was for my sister and my friends. I thought it was the same day as the accident. I tried to ask for them, but I could not talk. The brain trauma had paralyzed me from the neck down. My mother was told that I would never walk again. 
I felt so helpless and cursed whatever it was that pulled me from that darkness. I wished I had died instead of being trapped in a broken body. When I was released from the hospital I went home to my mother and grandmother, and they helped me find the hope and strength I needed to recover.
My grandmother, Stella Ray Thomas, was a praying woman, and one of the strongest women that I knew. She raised her children and most of her grandchildren. She gave us strong values, common sense and morals, and taught us life skills like cooking and sewing, including crocheting.
As I lay in my bed, throwing a silent pity party, my grandmother would come to me and tell me that I was going to walk and talk again. She made me work my legs and forced me to use my hands. She never gave up on me getting stronger because she would say, "God did not leave you here for nothing. You have to get up because you have a job to complete." She took me in hand and re-established the tradition of crocheting.
During this difficult recovery, my grandmother started to get sick herself. She couldn't spend as much time with me, despite living under the same roof. Confined to my bed, I laid there crying because I wanted her there beside me. In order to feel closer to her, I still tried to use my hands to crochet. 
One night in July, I prayed to God to give me back what he had taken from me, and I would do his will. He told me that I was needed as a teacher, not as a deputy. Twelve days later, I started to feel sharp pains in my legs, arms and feet. It felt as if my whole body was on fire. I was taken to the hospital and the doctor told my mother that I was suffering from neuropathy and that what I was feeling was what he called, "A body reboot." 
I slowly began to regain my speech and feeling in most of my body. I continued crocheting along with my physical therapy until I had re-learned how to talk, write, walk, cook … everything. I kept my promise to God, and I left my career in law enforcement and became a teacher.
Soon after I started teaching, my grandmother lost her fight with diabetes. The only way that I could cope was through crocheting. I crocheted until I had a house full of hats, scarves and blankets. I never forgot what she told me about "a job to complete". I began giving away the items I had created to the homeless and to domestic violence survivors and cancer survivors.
I started going to the Dallas Race for the Cure, giving survivors hats and ribbons that I had crocheted. I then started to focus more on how I could expand the way I helped in my community and the way I presented myself as a role model for the students. I looked for an idea and I found it. I would start using grocery bags to create lightweight crocheted bedrolls and backpacks for the homeless. I chose this to include with what I was already doing because plastic bags do not hold germs and bacteria the same way cloth or yarn does. The bedrolls and backpacks are functional and useful, and repurposing the plastic bags helps to save the environment for my students and their children to come.
My family, of course, wanted to help me honor my grandmother and the skill she'd taught all of us. It became a dedication to our grandparents and all they'd taught us, the values and traditions that we would pass to future generations. In 2010, I decided that we could do more to serve our community, so I started a non-profit in honor of my grandparents. The "S" is for the matriarch, Stella Raye Thomas and the "A" is for the patriarch, Arthur Thomas. The "G3" is for my generation. I am a member of the third generation of their union.
So, it was a long and painful journey, but I am doing what I promised to God. I am teaching the future and using the skills and values my grandmother gave me to protect the vulnerable in our community and the future of our children. As my grandmother said, God has a job for me to complete.
We're always bombarded by how great it is to pursue your passion, etc – but we've spoken with enough people to know that it's not always easy. Overall, would you say things have been easy for you?
I cannot say that it was a smooth journey, but I will not complain. I had people telling me that I spent too much time and money on people whom I didn't know and wouldn't do anything for me in return. I always want to do more, and I struggle with keeping up with my ambitious targets for SAG3 because I do not have the finances that other large non-profits may have. When I started the non-profit, I had no idea what I was doing. I've learned a lot, and I had to learn fast. It was very hard getting to where I am now, and I am still learning and growing.
We'd love to hear more about your organization.
SAG3 non-profit crochets hats, scarves, ribbons, and blankets of yarn, and bedrolls and backpacks of repurposed plastic bags, for the homeless, domestic violence survivors, and breast cancer survivors. Out of concern for the climate crisis, we are shifting our resources to bedrolls and backpacks. In order to make these items, we take plastic grocery bags and cut them into strips in order to "spin" them into what is called PLARN (plastic yarn), which we then use to crochet. By using discarded plastic bags, we are keeping them out of landfills and giving them another purpose. 
We mentor to young adults and teach them how to crochet. We also discuss domestic violence, youth homelessness, what they can do to protect the vulnerable in our communities and self-love. I love how people are eager to learn the art of crocheting, especially mothers-to-be. They cannot wait to crochet items for their babies. They are so proud to bring their babies home in items that they made themselves. 
What sets SAG3 apart from others is our dedication to the young adults of our community. By teaching them a skill they can be proud of while not trying to change them, we support their sense of self-worth. And we help protect their future by repurposing plastic bags to create beautiful items for people who think that the world has forgotten them.
Has luck played a meaningful role in your life and business?
Whether it's called luck or grace, the fact that I am walking and talking is a testament to its meaningful role both in my life and SAG3. Providence is what has brought me to where I am now. I have the good luck of having a great family, I have good luck that I have a praying family, and I have the grace of God intervening in my life. I wouldn't call my accident bad luck, because it led me to where I am today. I believe that everything that happens is a learning experience, and what you learn from it makes the learning moment good or bad. I hope to continue doing good through SAG3.
Contact Info:
Suggest a story: VoyageDallas is built on recommendations from the community; it's how we uncover hidden gems, so if you or someone you know deserves recognition please let us know here.
Sponsor Shoutout:
Got goals?
Kierra Anderson produces stunning, custom, made-to-order goal-setting planners and tumblers to ensure you achieve all of your 2020 goals and resolutions. Check her out at http://www.majorkeesboutique.com/ and @majorkeesboutique on Instagram.