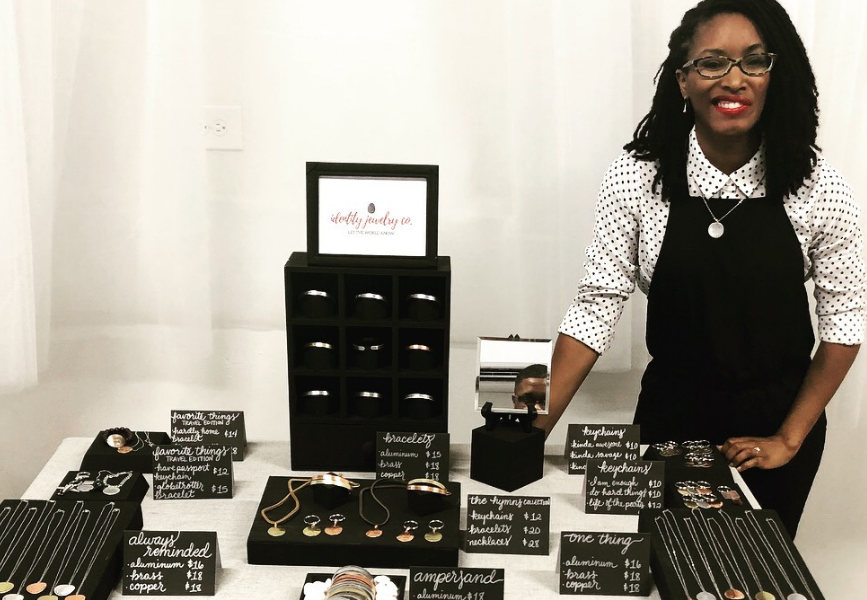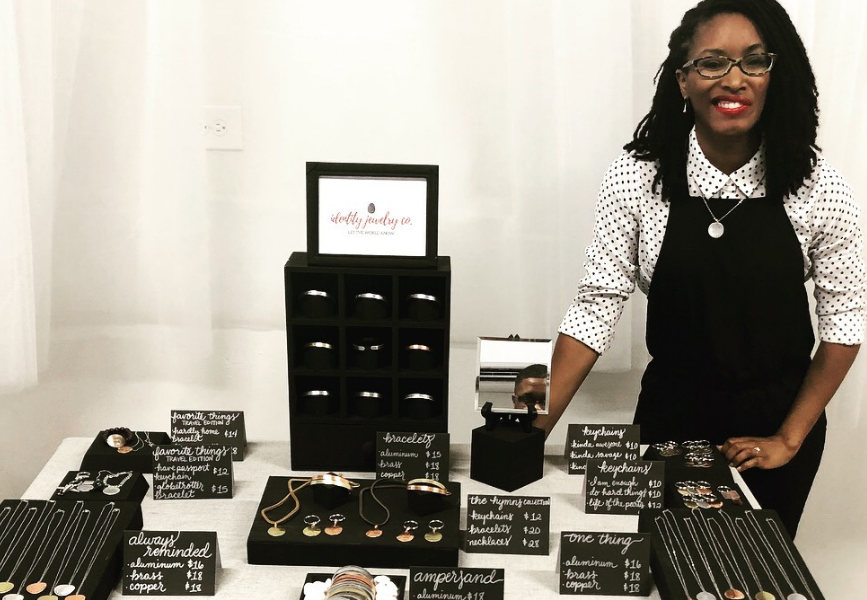 Today we'd like to introduce you to Brandie Johnson.
So, before we jump into specific questions about the business, why don't you give us some details about you and your story.
I started making jewelry in 2013. At that time, I was working in retail and handmade jewelry was really in style. Looking at our inventory, I thought, "I could make this." I was also into other crafts and creative projects too. So, on a trip to Michaels for scrapbooking materials, I picked up my first jewelry-making kit.
When I was first testing this thing out, I only made jewelry for myself. Then, I started making jewelry for friends and family. I was also a broke grad student at the time, so I made everyone's gifts. I soon had people asking me to make things for their family and friends. Not long after, I started my first jewelry business. It was a great journey, but I was all over the place! I lacked focus and direction. I tried to a little bit of everything and please everyone. After three years, I closed it, but that wasn't the end of jewelry-making for me.
In testing out different techniques and materials over the years, I came across hand-stamped jewelry making. I fell in love! Words mean a lot to me, so I enjoyed putting important words and phrases onto something tangible. Plus, it's pretty relieving to hammer away at something.
Identity Jewelry Company was birthed in 2017 out of my love for stamping and a sincere desire to encourage other young women who are followers of Jesus Christ. Through stamped jewelry, we have wearable reminders of what God's word says, who we are in Christ, and so much more.
Has it been a smooth road?
I would be lying to you if I said that it has been a smooth road. There have definitely been some struggles along the way!
As with many other markets, the handmade jewelry world is super-saturated. Starting out, I struggled with wondering if I had anything of value to add this arena. I felt led to start my business, but I questioned whether or not it "needed" to exist. With that in mind, I have also struggled with comparison. On both sides of the coin, I have found myself thinking that I am not as good as someone else and that I am better than some others.
Another struggle, particular to my faith, has been allowing God to lead me in what I do instead of looking to others for guidance and inspiration. There have been times when I wanted to make something that followed current trends or would get more likes on social media rather than staying true to my mission of sharing the Gospel of Jesus Christ.
A huge challenge for me as of late has been with my dream. I have really big dreams for my brand, but I sometimes feel discouraged because my vision is so far ahead of where I currently am. I often envision things a certain way, but I sometimes lack the resources to make it happen. Being patient within that disparity and being diligent to make my dream a reality can be difficult at times.
For other young women who are on this journey, I would say be patient. Building takes time. Dream big, plan well and use your resources wisely. Keep the main thing – your goal, your mission, your "why" – the main thing. Be diligent, do the things that you know need to be done. Cultivate strong relationships, not just for your self-interest but in the spirit of community. Find an accountability partner who can check in with you and support you. Oh. and create systems so that you aren't always having to start from scratch or repeat steps unnecessarily.
We'd love to hear more about Identity Jewelry Co.
I create hand-stamped metal jewelry and accessories. I'm also preparing to teach a series of one-on-one and group hand-stamped jewelry workshops because it's just too much fun to keep all to myself. There are two things that my brand is known for: the focus on Jesus and everything being handcrafted.
Recently, as I was sharing about Identity Jewelry Co., a friend interjected and said, "It's not your Grandma's jewelry!" I cracked up, but it's true. When most people think about stamped jewelry, they envision The necklaces and charm bracelets that moms and grandmas wear with all of their kid's names. While I love all the Grandmas and invite them into the Identity community, I'm all about encouraging other young women.
Over the years, I've been in and out of a relationship with God and I really struggled to firmly grasp my identity in Him rather than in the world around me. I make jewelry for other women like me, those who need to be reminded that we are free indeed, that God did not give us a spirit of fear, and that it is okay to be righteous and ratchet. I also create custom pieces to help others embrace and celebrate their individual identities.
My motto is "let the world know." It's inspired by Mark 16:15, and my goal is to create, educate, and illuminate. I simply want to share Jesus by creating conversation pieces, promoting education, and being a light in this world. This is what I'm most proud of. I'm not concerned with being better than the next brand or coming up with the next big thing. Instead, what matters most is partnering with God and being a good steward of all that He has called and created me to do.
Which women have inspired you in your life?
There are numerous women who have been a huge inspiration to me! My mother and grandmother are at the top of the list, of course. They have loved, nurtured, and supported me all of my life. I've watched them sacrifice, I've seen them struggle, I have seen them overcome. They have both done so much, not just for me, but for other family members and friends. My mom and my Granny have taught me how to serve and show up for others. They've taught me how diligence and persistence.
Dr. Kristen Guillory has been inspired me in a number of ways as well. We first met when she was one of my professors for my undergraduate degree. You know the phrase "Representation matters?" Well, as a vibrant, young Black woman who had earned her doctorate and was a professor, it made my dream of doing the same seem more obtainable. Later, I had the pleasure of getting to know her in various capacities, by participating in her Cozy Convos events and by helping her on a project. Dr. G has encouraged me to step outside of my comfort zone and to follow the Lord's leading in whatever I do, even if it's hard or it doesn't make sense.
Another huge inspiration in my life comes from Dr. Kristi Lichtenberg, the Executive Director of Cornerstone Crossroads Academy. Kristi was my boss for 4 years and she is one of my dearest friends. Kristi has taught me how to love well and serve well. She is feisty and funny, encouraging and engaging. During my time at CCA, I learned how to truly trust God, how to address things from a Biblical perspective, and how to lead by serving. Kristi has inspired me to go all, in whatever I do.
Pricing:
Prices range from $12-$30
Custom order prices vary depending on materials, time, and complexity
Contact Info:
Image Credit:
Brandie Johnson
Getting in touch: VoyageDallas is built on recommendations from the community; it's how we uncover hidden gems, so if you know someone who deserves recognition please let us know here.