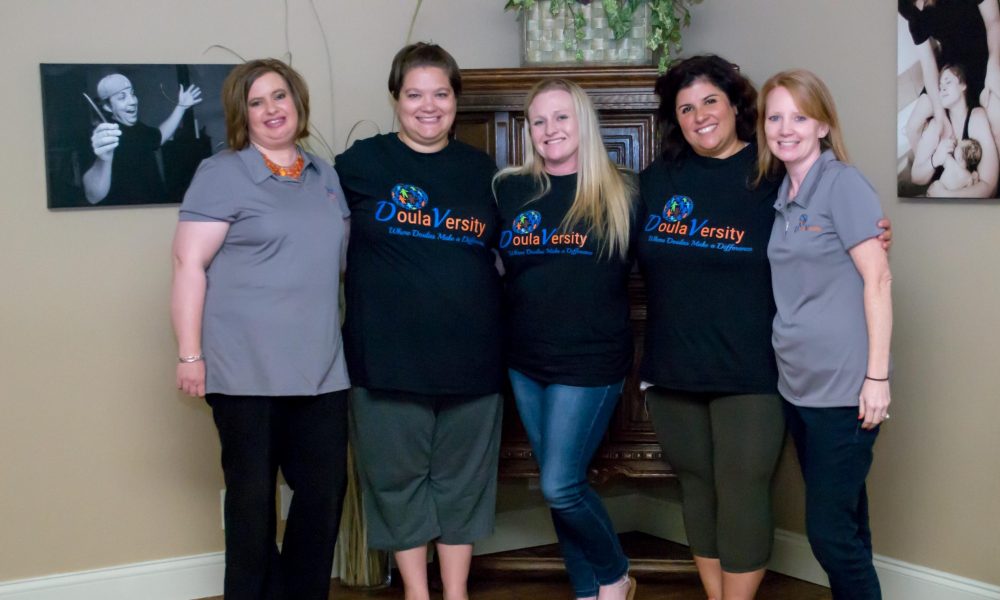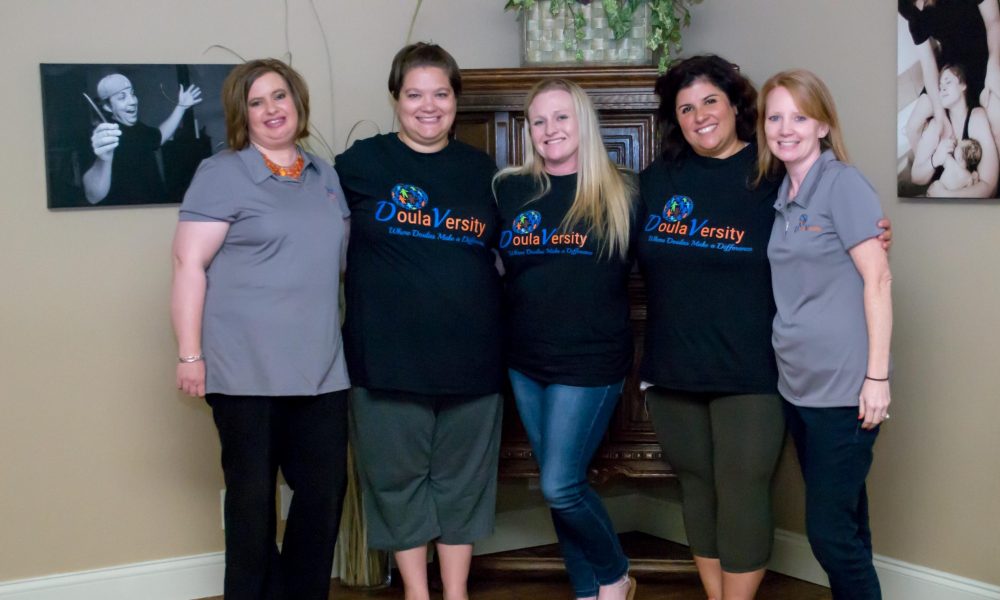 Today we'd like to introduce you to Trisha Blizzard and Christy Carlson.
Trisha and Christy, let's start with your story. We'd love to hear how you got started and how the journey has been so far.
In August 2012, an opportunity arose for me to provide a hands-on-doula training workshop for those who were already training (or considering training) with an online doula training program. The students felt they were lacking the hands-on experience they needed to be truly ready to serve clients. The experience was nothing short of exhilarating! Not even two years later, I was called back for another training, and some of the students who attended the first time loved it so much they came back a second time!
I continued to market my doula training as a supplement to those who were already certifying (or certified) through another organization because I didn't feel qualified to do that myself. Email after email students would ask if I would certify them and I turned them all down. There was too much involved in running a doula training organization and who was I to say I had the knowledge and business sense to handle that? Self-doubt clearly had the upper hand. My plan was to find an organization that I could align myself with completely and work myself into a trainer position. My own business was a full-time job and before I could blink each week turned into another year.
Fast forward to early March, 2017, I spoke with business analyst Brandon Safford who is the owner of Small Business Analytics of Texas. He had reached out through Facebook for some volunteers for a little project. Knowing Brandon (a past client of my own), I volunteered an hour of my time which ended up benefiting me more than him. Brandon and his wife have provided me with many doula and childbirth class student referrals. I guess you could say, they are a fan of my business.
Brandon started giving me tips on how to help my doula business grow, and one of the ideas he had was for me to put my childbirth classes online. I had questions, reservations, and more questions, and Brandon answered all of them. Brandon provided solutions to a variety of my business roadblocks, and none of them included cloning myself (which for me seemed like the only way to increase my income without working twice as hard). A few days later I found myself employing his services 'for a little while longer'. Brandon was so confident in me and my business he was willing to invest in my future. I literally had nothing to lose!
Within 2 weeks, I knew Brandon was legit. As we nailed down some ideas, Brandon would send over a storyboard – a plan of action for Serenity Birth Services that included both short and long-term goals. Although Brandon and I had not discussed it, he put on the final page "Doula University" doula certification training's. Mic drop. I emailed him and told him that I had always dreamed of being a doula trainer and had done a couple of trainings in the past – and even had a manual I had written five years prior sitting in my closet. His comment was basically "so what's stopping you?" Gulp.
Brandon saw huge potential in me and for my business. I was scared to believe him. I was worried about "what people would think". More than anything I was thinking to myself "you have to BE somebody to do this kind of stuff" – and worse yet, as I dug deeper within myself, I realized that I had some serious self-image issues. It's one thing to teach classes or even train other doulas when I don't have to look into a mirror, but knowing that I would have to be out there more in the form of videos, recordings and even a get a simple head shot was too much to consider. For someone who has always felt like beauty was on the inside, I certainly didn't feel like that applied to myself.
Though I do struggle with my self-image, I do give myself credit in one major aspect. I have never felt inept in my knowledge and my ability to mentor others. It started when I became a CNA at the age of 18. I was the sole caretaker at a retirement home for 8 residents every day from 2-10pm. My boss had the confidence in me to know I was fully capable of recognizing signs of low blood sugars, strokes, or when to do a Heimlich maneuver. I was too young and sassy to be afraid of that responsibility. In 1994, I went to further my nursing education and was top of my class in nursing school. Though I wasn't able to finish my degree due to preterm labor setting in just a few months before my graduation, the knowledge I gained has always been with me. My work as a doula, childbirth educator and a birth assistant have been a constant source of grounding and confidence in my abilities to educate and empower not only families, but others in the birth arena as well. I've had mentored many doulas through the years, and cherished every moment. I found a passion for using TENS in labor and became a trainer for birth professionals in November of 2013. Doing these trainings has only solidified my passion on wanting to do more.
My family support has always been my strength, and I relied heavily on the support of my husband, parents, sisters, and nieces on this huge endeavor. My family believed in me, Brandon and his family believed in me, and now I had to test the waters with one of my friends (my dear backup doula Christy Carlson). True to her form, Christy "doula'd" me over the phone and an hour later, I was asking her if she would like to help me with a few projects. Christy is a thinker, and she never jumps at anything, but that day March 27, 2017, she didn't blink an eye when she said she wanted in with as much as I'd include her. From that day forward, I had someone on my side to help make decisions, edit content, and provide daily encouragement. I am now proud to say that Christy is a partner and co-founder of DoulaVersity. These past few months have been a whirlwind. We have had to learn all the technical, legal and business stuff that comes with building an international online doula training program. I have been scrambling to re-write and re-check all the evidence on the doula manual I wrote almost exactly five years ago.
Our first doula training was August 4th-6th of 2017, almost exactly five years to the day that I held my first doula training workshop. DoulaVersity has scheduled 5 more workshops in 2018. We are actively enrolling students for both the online doula training as well as for the in-person workshops. We aren't stopping there! We will be rolling out online postpartum doula certifications, a childbirth educator program, advanced breastfeeding for birth professionals, the use of TENS in labor and Bengkung belly binding as well.
We're always bombarded by how great it is to pursue your passion, etc – but we've spoken with enough people to know that it's not always easy. Overall, would you say things have been easy for you?
We have had to learn all the technical (i.e. how to navigate a learning management system), as well as the legal and business aspects that comes with building an international online doula training program. I have been scrambling to re-write and add to the doula manual I wrote almost exactly five years ago. Couple that with making sure we are writing evidenced based material and fact checking everything has been tedious work. It is definitely labor intensive but I enjoy waking up every morning and working towards making this dream grow into a thriving business.
So let's switch gears a bit and go into the DoulaVersity story. Tell us more about the business.
The doula profession itself is still unknown to many people, let alone how to become one. We have half the population who don't even know what a doula is, and of the other half that think they do, but only about 25% of them truly understand that a doula is not synonymous with a midwife!
A doula is a non-medical birth professional who helps a woman before, during and after childbirth. We provide a little bit of education, a lot of birth support, and then typically do a postpartum follow up in their home.
Becoming a birth professional takes a little training, and that is where DoulaVersity comes in. There are about sixty doula certification entities in the world, and only about twenty-three that provide training online. Of those, about a dozen of us provide two avenues to become a doula.
So to become a doula, there are two routes:
The traditional route is to go to a doula training workshop, and then meet the other requirements required by that organization. (This typically includes book reading, tests, community resource lists, attending a childbirth class, attend a few births, etc).
The second route is to do the entire training online (usually with other requirements as mentioned above).
About half the doula organizations provide the traditional route, via an in-person workshop. There are about a dozen of us that provide the option to do both. However, if they choose the online route, and later decide they want a workshop, they have to pay extra for that.
As far as I know, we are the only organization that offers both a fully online version, and in-person trainings as well- for the same price. DoulaVersity students complete their training online but also receive an access pass to attend an in-person training. There are no extra fees. Our workshops are not required, but they are available for our students who would like that experience. That is how I began my doula training journey in the first place. I recognized there were students out there that had taken a fully online course, but still needed that hands-on experience. The visual, and kinetic aspects of learning are challenging to duplicate online. DoulaVersity doesn't require our students take the workshop, but it's available to ALL of our students – no matter how they train.
Has luck played a meaningful role in your life and business?
I don't know if luck has much to do with. I know that if I work hard and provide a great service, my company will grow and flourish. There are people out there who have pulled themselves out of the streets and created multi-million-dollar industries. There are people who have had fortune only to lose it all. Somewhere along the way, choices were made for better or worse. I hope that I make wise choices!
I don't think that it was a coincidence that I met Brandon Safford and he helped put me on the map. I don't think I would have had the nerve to put myself out there without his unwavering confidence in my ability to do this. Then there's Christy (Carlson), my partner and co-founder. She has been my backup doula for the past five years, and when I asked her to help me, she was all in. We complement each other so well. She is my motivation and keeps me driving forward. I'm not sure I would be as enthusiastic and determined without her by my side.
I would definitely say that if it weren't for Brandon being there at the right time, and Christy not jumping on board, DoulaVersity would not be in existence (yet)! Some people call it luck. I'd like to think God put things into place for us 🙂
Pricing:
Basic Doula Certification – $649
DoulaVersity Business Starter Certification – $999
The DoulaVersity Professional $1499
Contact Info:

Image Credit:
Christy Carlson
Getting in touch: VoyageDallas is built on recommendations from the community; it's how we uncover hidden gems, so if you know someone who deserves recognition please let us know here.