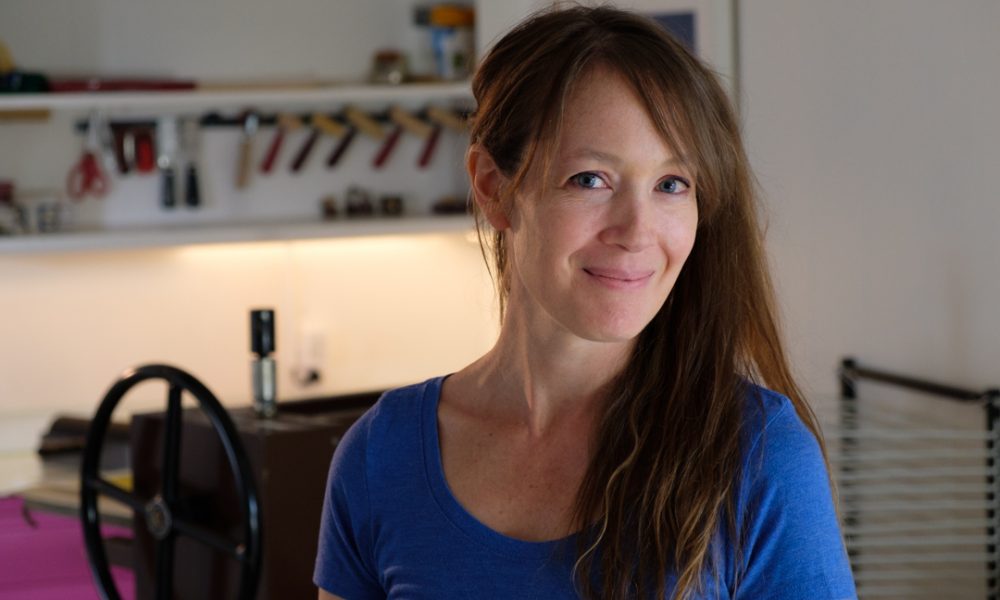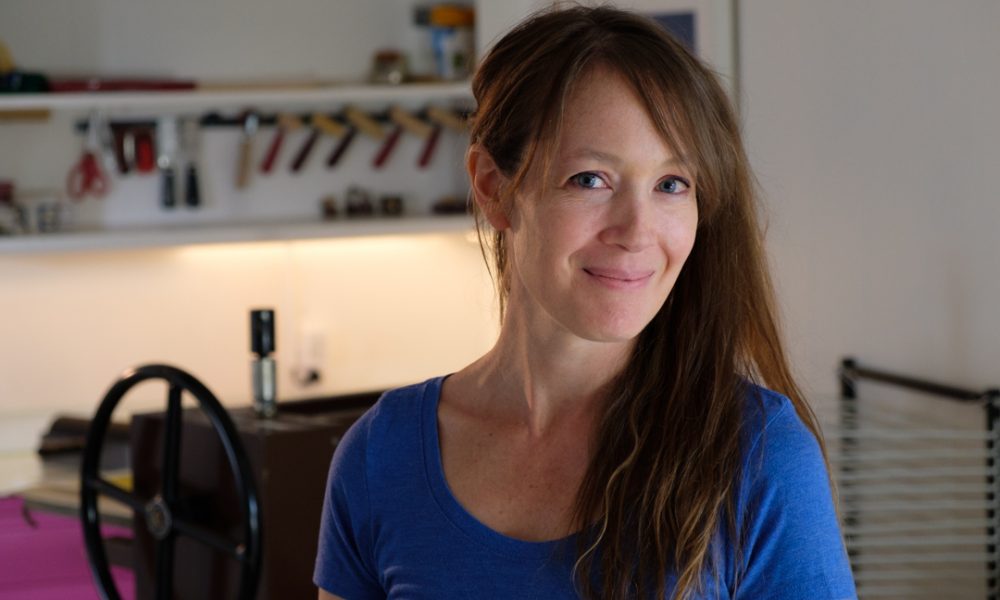 Today we'd like to introduce you to Una Scott.
Una, can you briefly walk us through your story – how you started and how you got to where you are today.
I'm originally from Southeastern Massachusetts, and I lived in various parts of the state until moving to Texas in 2010. As a child, I spent a lot of time drawing, looking at things, and exploring nature. I never wanted to be anything other than an artist. I didn't know any real-life artists, so the ins and outs of achieving that goal seemed like a mystery. I went to Wheaton College, Mass. and got a B.A. in Studio Arts, since that seemed more practical than going to art school. In college, I knew I didn't want to take painting classes. I'd painted a little in high school and really didn't like it. By default that meant I took every printmaking class offered at Wheaton, and I fell in love with the medium, especially relief printmaking.
Relief printmaking is the process of carving a block of wood or linoleum with gouges, then rolling the block with a thin layer of ink. Next, a piece of paper is put on the inked up block, and by either rubbing the back of the paper with a wooden spoon or putting the block and paper under the high pressure of a press, the ink is transferred from the block to the paper. The same process was used to print books and newspapers, from the invention of the Gutenberg press in the 1400's through the early part of the 20th century.
After college, I couldn't afford an etching press, so I made colored pencil drawings instead. My drawing skills advanced enough that whatever I drew, I knew exactly what the end result would look like, a photorealistic drawing. This drained most of the excitement and joy out of making art for me. To me, art isn't about how close to reality my renderings are. Photography will do that job much better and faster anyway. I felt that my artistic practice needed to change somehow. Luckily, at that point, I had enough money to buy my first small etching press and other printmaking supplies, and after converting an old dresser into an inking table, I was ready to dive in.
Since then, I've been totally devoted to printmaking. What mesmerizes me and most other printmakers is that moment of surprise when you pull the paper off of your block and get to see the mysterious synergy that happens when your block, the ink, the paper, and the pressure all meet, and a new print is born! My prints look different from the photorealism of my colored pencil pieces, and I love it. There are much more strength and more of me in my prints. And I love that that frisson of surprise becomes part of the prints too.
Overall, has it been relatively smooth? If not, what were some of the struggles along the way?
The hardest struggle I've dealt with in my life was being physically abused by my father and my two older brothers until I was twenty years old. My childhood was a complete upside down world; family and home were dangerous and unpredictable. Anything outside my home was much saner and safer.
As a result, I turned to art, nature, animals, and people outside my immediate family for safety and positive connections. My childhood home was surrounded by acres of woods, so I would usually get off the bus after school and walk into the woods. I would stay there, alone until it was dark, then lie on the ground and look up at the pine trees for hours. I could feel peaceful and happy since it was a separate world, away from the chaos of my family.
Art for me was another way of creating my own safe world. My great aunt, grandmother, and most of my art teachers really encouraged my drawing, and it felt good to get that positive attention. I felt very connected to animals too. We had cats, goats, chickens, and ducks. Caring for them was another way of connecting and healing my spirit. I also liked looking at various animals and studying the differences and similarities between their particular anatomies and humans'.
The abuse I suffered resulted in me using art as a way to nourish myself. However, as with most abuse survivors, my self-esteem wasn't very good. There were many areas of my life where I did feel self-confident, but some parts were pretty damaged. One of the biggest losses was in my confidence that I could have a successful career as an artist. Being an artist isn't an easy career path anyway, adding a lot of self-doubt and fear on top makes it much harder. I was able to push the self-doubt aside enough that I never stopped making art, but it would slow my productivity down much more than it does now.
Nowadays, I feel that I've been able to work through all those old hurts and fears. It took a lot of prioritizing action over thoughts and feelings; making art and letting the negative thoughts that creep in pass through without worrying about them. I also started to tell people about myself and stopped hiding the difficult experiences I've had. We've all gone through hard things in life. We can connect with others when we talk and listen to each other's stories, and the shame that survivors usually carry will naturally drop away.
We'd love to hear more about what you do.
I'm a printmaker. I carve pieces of wood or linoleum with gouges and knives, then roll ink on the carved block. I use an etching press, which applies heavy, even pressure to the block and the paper, transferring the ink to the paper.
Printmaking lets you make multiples that are part of an edition. So there are multiple images, all similar, all handmade, and all original pieces of art. They aren't copies or reproductions. Each relief print stands on its own as an original piece of art, but may have several 'twins' that are all part of the same edition, and come from the same carved block. It is a great way to purchase original art, as the price is usually less since there are multiples than for a singular piece of art.
The reason I make prints is to communicate my inner visions to others. Many of my images are based on dreams that I've had or subconscious visions that pop into my head while my mind is wandering. Often when I'm riding my bike, or showering, ideas will flow in. The animals and plants in my artworks have totemic importance, which is why they aren't completely realistic.
The actual animal and the symbolism of the animal merge, which imbues them with power. There are some parts of my images that haven't explained themselves to me yet; for example, I don't yet know why I've been putting UFOs into my pieces lately. The answer may reveal itself to me in the future, or it may not. I hope people that see my work can feel that mystery too. Words aren't always the best way to say things!
I'm proudest of my drive to create and grow, and my ability to learn. As an artist, there's so much to learn: all the techniques of printmaking, plus all the business-related skills like building a website, setting up an online store, social media, photographing artwork, applying for shows and residencies, etc. I just take on one task at a time and dive in. No one is going to do it for you, so take action!
What is "success" or "successful" for you?
My broad definition of success is to live with purpose and joy. The present moment is all we have, the future will never get here, and the past is already gone, so have gratitude for the gifts each moment brings. Try to make the world a better and more beautiful place.
More specifically, success means making choices every single day that support my art making, because that is a huge part of who I am. If the creative part of me is healthy and active, then the rest of me is too. In printmaking, success means not being afraid to create failures sometimes. It's important to spend a lot of time looking at other people's art. It motivates me and teaches me so much.
Art is two-way communication; therefore I take every opportunity to get my work out in front of people in shows, and on social media, so that dialogue can happen. If I get to carve or mess around with ink most days, then to me that's a rich life. The past few years have been really productive and successful for me, and my move to Dallas in 2013 has been the catalyst of that.
Living in such a big, vibrant city filled with artists and art really energizes me. There's so much racial and cultural diversity here, and that's something that rural living just doesn't offer. Also, since I've put down roots in Dallas, I've met so many other printmakers. It's sort of like finding family members I didn't know I had! I love that by just hanging out with other printmakers, we'll get excited, and the wheels begin turning in our heads to try new things or collaborate.
I belong to the North Texas Printmakers Guild, and we meet every month to talk about printmaking or plan exhibitions for the group. Being part of a strong community is a powerful motivator.
Contact Info:
Image Credit:
Chris Taylor
Getting in touch: VoyageDallas is built on recommendations from the community; it's how we uncover hidden gems, so if you know someone who deserves recognition please let us know here.