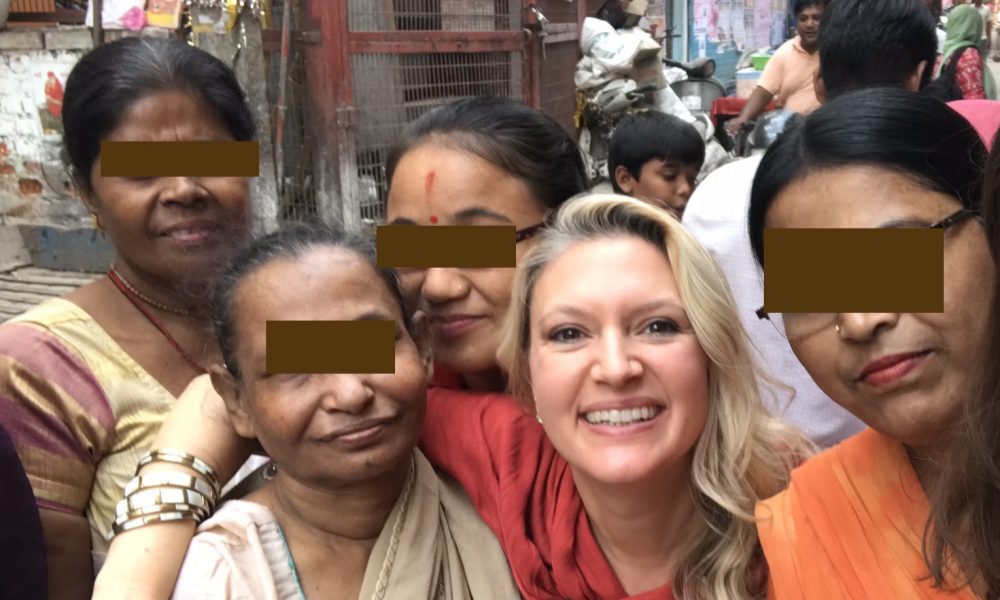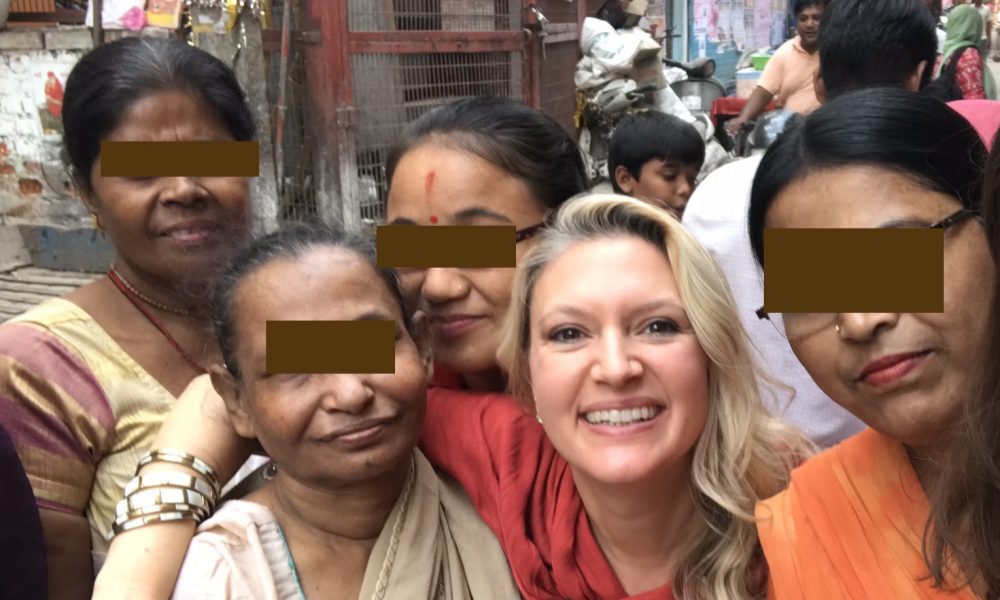 Today we'd like to introduce you to Dr. Vanessa Bouche.
Since 2014, Dr. Vanessa Bouché, a professor of political science at Texas Christian University and a global human trafficking scholar, had been leading a study abroad course on transnational human trafficking in Delhi, India. Through a partnership with a leading Indian anti-trafficking organization, Shakti Vahini, the students have been afforded the opportunity to visit Garstin Bastion Road (GB Road), the largest red light district in Delhi.
In 2017, Dr. Bouché and her students were challenged during their interactions with one of the trafficked women at the medical clinic on GB Road. She asked: "Why should I share my story with you? Time and again people like you come to record our stories for your own benefit. You are exploiting us for our stories."
When asked what she desired, she exclaimed: "I need dignified employment to get out of this dirty business!" Dr. Bouché promised to help her find employment.
After six months of searching, she found no viable options, and it became clear that something would have to be created.
In determining the type of business she would start, Dr. Bouché had three criteria: 1) honor the indigenous culture and heritage of India; 2) provide a healing work environment; and 3) enter a market that was growing and lacked a solid socially conscious brand option.
The clear choice was essential oils.
Six months later, in June 2018, Savhera was founded.
The word Savhera is a Hindi word that means "new dawn" or "morning." It was named by the very first Savhera employees, women formerly stuck in brothels who now are experiencing a new dawn!
Great, so let's dig a little deeper into the story – has it been an easy path overall and if not, what were the challenges you've had to overcome?
Honestly, it has been relatively smooth because we have the right people and partners in place.
First is Usri Roy. Usri is a dynamic, brilliant woman from Kolkata who moved to DFW in 2017. She found me by searching Google for human trafficking researchers. In the midst of working together on research, I apprised Usri of the "employment problem," and Usri–with her perma-smile and consummate optimism– said, "Vanessa, we need to start something!" Without Usri, Savhera would not be where it is today.
Second is Shakti Vahini, our NGO partner in Delhi. They have done so much for us, including helping us set up the business in India. Our U.S. entity is Savhera PBC, but our Indian entity is Savhera Wellness Private Limited. Shakti Vahini introduced us to their certified public accountant who helped manage all of the legal and accounting documents to make Savhera Wellness a wholly-owned subsidiary of Savhera PBC. Without Shakti Vahini, Savhera would not be where it is today.
One of the other things Shakti Vahini did was help us find our production facility in Delhi. The landlord of the building was a young, educated businesswoman who was so moved by our story that she ended up being hired as our first production manager! Thus, our third key partner is Aarti, our production manager, who has been working tirelessly on the ground in Delhi. Without Aarti, Savhera would not be where it is today.
There are many other people and partners that have come alongside Savhera to make it a relatively smooth road. While there is a lot of work to do, we have been surprised at how smoothly it has gone.
Please tell us about Savhera.
Savhera is an organic essential oil company that provides dignified employment to women who have survived commercial sexual exploitation.
There are several things that set us apart.
We sell only organic essential oils. Many other essential oil companies provide an organic option; however, Savhera differentiates itself by being a 100% organic company.
Part of the reason we are only organic is due to our core value of environmental sustainability. This is a major differentiator from other essential oil companies. In addition to being organic, we encourage reducing waste by asking our consumers to repurpose the pouches in which the essential oils are delivered, and we give them ideas for what they can do with them, including ways to use them for aromatherapy.
Savhera is registered as a public benefit corporation (PBC), meaning we take into consideration not just returning a financial profit to our shareholders, but also returning a human profit to our employees, customers, and other stakeholders. The eventual goal is to profit share.
We are a "justice enterprise" or "freedom business" which means that we employ individuals that other corporations deem "high risk." So not only do we return a portion of our profits back to the social mission of healing our employees, but also we do it through employing them ourselves.
We are 100% committed to living out our corporate values, and we return to our corporate values in everything that we do. One example of this is that we are writing a Savhera book of meditations wherein each meditation is a reflection on one of our corporate values. All Savhera employees will read the same meditation on the same day of the month whether in India or the U.S., and we want to "diffuse" these values to the rest of the world, so we will make available our Savhera book of meditations for our customers so they, too, can be part of Savhera's community of healing.
Our corporate culture is very different from other corporations because it is grounded in love and sacrifice rather than maximizing profit. We believe that financial profit is a means rather than the end goal. The physical, intellectual, economic, and spiritual health of our employees is the end goal.  With our first four employees, women who never held a pencil are now reading and writing in Hindi and English, women who never had a bank account now have one, women who have never lived outside of the brothels are moving into their own apartments, and women who have been confined to the red light district are taking excursions to the Taj Mahal!  Savhera is truly a new beginning.
Do you look back particularly fondly on any memories from childhood?
I was blessed to grow up in a loving home with two parents and three siblings. Our home was imbued with values of love, sacrifice, fun, encouragement, commitment, and hard work. I have SO many wonderful memories from my childhood that it is hard to pick just one.
I could not say my "r"s correctly and my dad would sit on the couch with me and teach me how to say my r's after dinner when I was five and six years old.  That took time and patience, and his commitment to doing this after long days at work sent the subconscious message that I was worth it.
Another memory that taught me that I was worthy of dignity and respect was when my grandpa drove me to kindergarten every day. He would escort me into the classroom and say, as he waved his arm in front of the door like a courtier, "Madam." It made me feel so special.
We also had a ton of fun as a family.  Once we made a huge jump in a sledding hill behind our house.  We didn't tell my dad about the jump. He took a running leap onto the sled and flew high into the air off the jump, his glasses flew off his head, and he landed in the woods behind the house. We laughed hysterically but also knew we were in deep trouble, so we ran!
I also had some hard things happen with friends that my mom coached me through with sage counsel.  For example, in junior high a bunch of friends spread rumors about me and turned on me. My mom stood by me and encouraged me with wisdom that has stuck with me the rest of my life. She said, "Who cares what other people think? God loves you, and your family loves you. That's all you need." From that moment forward, I have been relatively free from caring about what other people think, which frees me to be me.
While there are so many more favorite memories, and I could go on and on recounting them, one of the things that I have come to understand is that so much of my life has nothing to do with me but rather the "accident" of my birth. That I even have an unending list of favorite childhood memories is a blessing and a privilege because I did nothing to deserve it or earn it.  My parents, grandparents, and siblings all sent explicit and implicit messages to me my entire life that said, "You are worthy.  You are special.  You can reach for the stars."  My deepest desire is to send those same messages to those who have never received them so that they, too, can start collecting and recounting beautiful memories rather than painful ones.
Contact Info:
Getting in touch: VoyageDallas is built on recommendations from the community; it's how we uncover hidden gems, so if you know someone who deserves recognition please let us know here.