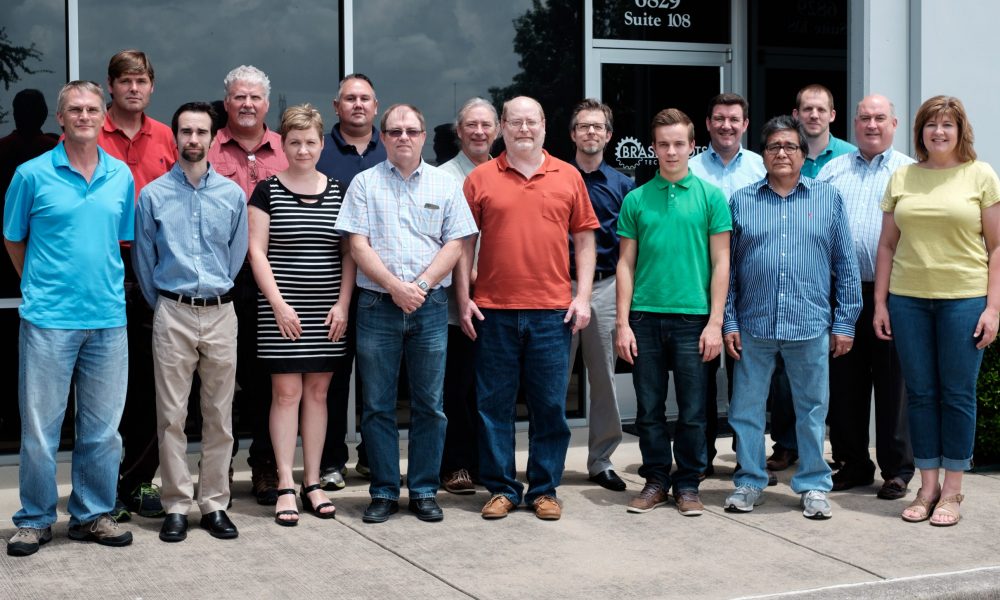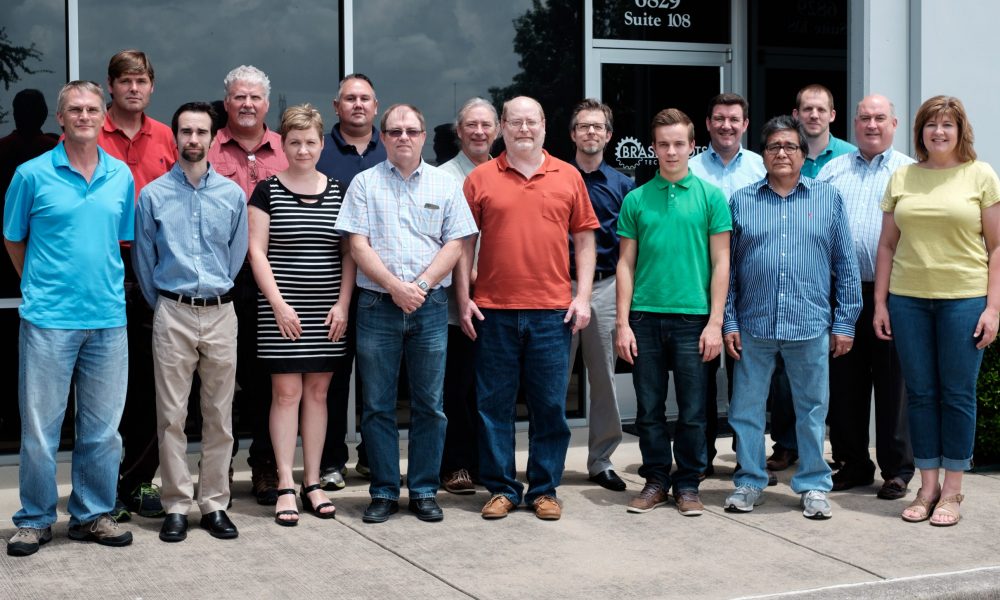 Today we'd like to introduce you to Wayne Reynolds.
Wayne, please share your story with us. How did you get to where you are today?
Brass Roots Technologies is an engineering 'skunkworks' specializing in the design of custom optics and electronics for high-performance display and imaging applications. The business was originally founded in 2009, and in 2010 we formed the partnership between Frank Poradish, Brad Walker and myself that remains in place today. The three of us, as well as some of our employees and associates, all worked together previously at Texas Instruments.
It was just the three of us in the early days. We each worked from home, and Brad's garage that he had previously converted to a surprisingly capable workspace was our defacto "lab." Kelly's Eastside in Downtown Plano became our semi-official meeting location when we needed to get together face to face. It was comical having meetings there given how loud it was, especially on the street-side patio, but the chicken nachos and burgers made it hard to argue for a different venue.
We landed a few modest consulting jobs early on. It wasn't all that much, but it was enough to get our young company's name out there and garner some initial industry attention. We slowly formed our corporate identity, defined our values and crafted our message of specialized engineering design services and technology development for the display industry. We looked around the space and ultimately concluded that no one else was better positioned to provide truly custom design services from a system-level perspective. Nor did we see anyone pursuing an integrated, end-to-end strategy; that is, having the full breadth of development skillsets under one roof, from system architecture definition to full-performance, near-production prototypes. This soon became our vision – a true engineering skunkworks for display and imaging – and we started hunting for opportunities to put it in motion. If we could secure just one big project, we truly believed that we were uniquely capable of assembling a small but highly effective development team uniquely capable of unmatched technical insight, applications experience and world-class optics, mechanics and electronics design for the largest companies and brands in the business.
In early 2011, we landed that first big deal – a large-scale development project with a major digital projector manufacturer. We owe a great deal to that customer (and they are still a major customer today) because they were the first to take that step and entrust our small start-up with a truly strategic-level development program. This was our springboard to get to critical mass, and we ran with it. We assembled our initial development team of hand-picked candidates, moved into a proper facility in North Plano, procured the necessary development tools and test equipment, and then got to work.
We started with 3,500 sq. feet and couldn't imagine needing more space, but within a year the continually growing team size and lab requirements forced us to expand by another 50%. In 2013, we filed our first corporate patents and announced our licensed technology, Gibraltar™, a high-bandwidth firmware processing architecture for PWM-based display systems. Later that year we purchased a CNC vertical mill to add in-house precision component fabrication for rapid prototyping. The number and scope of development projects steadily grew, and in 2014 we expanded again into the 7,000 sq. ft. that we occupy today with a staff of nearly twenty full-time employees and associates.
It's been a great ride, and all along the way we have been incredibly fortunate to work with amazing customers, truly some of the most reputable companies in the world. Thinking back to our humble beginnings and earliest ambitions, it's been a truly incredible experience to help make the "impossible" come true and develop new solutions that have enabled our customers to set wildly higher performance standards in their markets.
Overall, has it been relatively smooth? If not, what were some of the struggles along the way?
As I said, we have been fortunate to have great customers that are willing to trust us with some of their toughest technical challenges. While we've had many great successes, it hasn't always been easy and it never will be. Ours is a very much a business of technical leadership, project execution and delivered results. The challenges we face in achieving consistent success lie in team staffing and business origination.
It isn't easy to assemble small, close-knit teams that can work together productively. It's even harder to build a team capable of coming directly alongside our customer's internal development teams – some of the top technology companies in the world – to understand their applications at the entire system level, to bring new perspective and insight to the table, to imagine new and creative solutions, and – when necessary – to invent new technology that overcomes previously insurmountable obstacles. It can be stressful at times, especially when success requires that each team member pull his or her own weight in full. Success in this environment doesn't occur on its own or by accident, and only by assembling and maintaining a team with an extraordinarily diverse yet balanced set of personality types and skillsets do we succeed in this line of work.
It also isn't easy to identify the right opportunities, those that fit our business model and unique capabilities, and also have the potential of significant market impact. This is what we look for. We are not a "one and done" job shop that runs dozens of small quick-turns jobs a month, and we are not who you call to design a nickel of cost out of a commodity widget. Instead, we are geared for long-term customer relationships. We focus on two to three major development projects each year, and we seek projects that are clearly defined by a need for specialized, high-performance technology solutions. We also look for projects that have strong upside potential for extraordinary financial benefit for our customer, because huge commercial success for them usually translates into follow-on opportunities of even larger scope for us. Finding these projects is not easy though. It takes a lot of steady, patient work, and frankly a good deal of providence, to find the right project at a time when we have resources available. We have been very fortunate to have successfully found several great opportunities thus far, but this is never an easy task nor one on which we can ever let up.
Alright – so let's talk business. Tell us about Brass Roots Technologies – what should we know?
Brass Roots Technologies specializes in advanced display and imaging technology. We combine vast domain experience with inventive engineering design and expertise to define and develop new product technologies, such as High Frame Rate (HFR), High Dynamic Range (HDR), and 4K+ resolution, for applications ranging from Digital Cinema and Flight Simulation to Industrial Printing and Optical Inspection to Prosumer Camera Lenses.
Unlike design houses that lack the comparable depth of experience and target only incremental design improvements, Brass Roots Technologies is a true multi-disciplined engineering skunkworks. We hire engineers with drive, and we are results driven. Our teams are highly creative and deeply technical and work at a very high tempo with low overhead. From high-performance optomechanical design to high-bandwidth optoelectronics and processing, we are often hired to work on the toughest challenges facing our customers, and we develop and deliver winning product solutions that routinely shatter market benchmarks for performance and result in landmark commercial successes for our customers.
Any shoutouts? Who else deserves credit in this story – who has played a meaningful role?
I often say that our customers deserve all the credit – both for their trust and for the opportunities they provide. In truth, almost every customer relationship we have today can be traced back to the emphatic support and advocacy of just one or two internal champions (within the customer). We don't publicly name our customers, so unfortunately those internal advocates must also remain unnamed. But we are deeply grateful for their determination to challenge the status quo within their organizations and unlock the internal doors that serve as a barrier to outside assistance from companies like Brass Roots Technologies.
Contact Info:
Getting in touch: VoyageDallas is built on recommendations from the community; it's how we uncover hidden gems, so if you know someone who deserves recognition please let us know here.