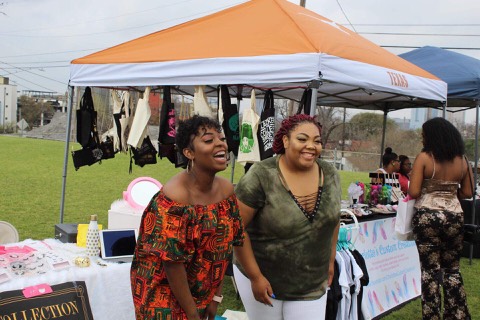 Today we'd like to introduce you to Kenne Johnson.
Kenne, please kick things off for us by telling us about yourself and your journey so far.
I'm a 23-year-old Master of Public Health graduate from Dallas, Texas. I am the youngest of four children to Kenneth and Brenda Johnson. My father, Kenneth, has always played a major role in all of our lives. My father's entrepreneurial spirit by far has impacted each of us in some way. My oldest brother has received recognition for his entrepreneurial accomplishments and attributes some of his success to our father for the guidance and advice along the way. Both my father and brother have become role models in my life.
One day, my father made the comment, "If anything happens to me or your mother, you need to make sure your brother (2nd oldest) has everything he needs." I panicked! I'm the baby of the family so I assumed I would never be financially responsible for my older sibling. However, my father made it clear that I was my brother's keeper. So, after this, I began to think about what I could do to help provide for my 2nd oldest brother and family. I knew that my long-term goal was to become a physician. I have been working towards this goal for 10 years but was pretty sure I wouldn't see any real money until I was 30. My only option was to find something low maintenance and could practically run itself. Then it hit me! I wanted to own my own business.
Now mind you, I have always created innovative ways to make money. I remember in high school I would re-sell the gum my father received from a third-party company (yes, it was completely free for me) to my classmates for $.50 a pack! I could have sold soda, chips, or candy but everyone sold those items! I chose a product that only I offered and provided it at a cheaper price than the vending machines on campus.
So, starting my own business was right up my alley. It seemed be the best option to help my family while I worked on various academic responsibilities. The product for this business was easy, 3D mink strip eyelashes! At the time, there were not many eyelash companies in Texas. I wanted to be one of the first and one of the best! On top of that, everywhere I went women would ask me where I purchased my lashes. I finally realized that I should be selling these and giving women access to premium quality lashes. I wanted to bring lash artistry to the forefront! So, my story is pretty straight forward. I established The KK Collection in October of 2017 and have been pushing to increase our reach! It has truly been an interesting business venture and a chance to express my artistic abilities.
Can you give our readers some background on your art?
The KK Collection is a mink strip eyelash company named after my nickname "KK". My 2nd oldest brother gave this me nickname at birth! He is the only person who calls me KK. I believe he is my sole inspiration for starting this business. Long story short, the circumstances my brother faced led him to some time in jail and prison during various periods of our lives. He was unable to fully rehabilitate. Men return home and strive to improve their circumstances are not afforded opportunities to become productive members of society. They are shunned. Black men who are already facing stereotypes, discrimination, and other adversities face yet another obstacle that keeps them from succeeding. The justice system is not always just. My attitude has always been that my brother served his time. He deserves a chance to a successful life. So, my brother is definitely the reason I started this business. The KK Collection is all about the story behind the lash pairs we create. The narrative we share makes our customers feel inspired.
The eyelashes we sell are 100% mink fur! They are reusable up to 30 wears and are super durable. We currently offer 10+ styles on our website. We also pride ourselves in our custom design option. We give our customers a chance to design their own unique style of eyelashes with our company for a fee of $30. Customers are then given a chance to name their custom pair before we add them to The KK Collection official website. The goal of the custom lash option is really to cultivate a new wave/movement of eyelash artistry. We at The KK Collection want customers to feel empowered and special. Our eyelashes are just the medium for customers to express themselves!
Lash artistry has only recently picked up this "hype" where people everywhere want to complete an everyday or glamorous makeup look with the perfect accessory, lashes! So, my ability to work with my designers and manufacturer to create custom styles for customers is a manifestation of this new movement. Women in the past wore eyelashes but I believe now we have an opportunity to bring eyelash artistry to the forefront.
Any advice for aspiring or new artists?
My advice for artists is to always stay true to their voice. The tools or mediums we use are only part of the story. The voice is the part that seems to narrate our story. As an artist, you have to be sure that you're listening. I believe that's what makes artists so unique. We listen to what's within and bring it to fruition. We imagine something and find the most interesting ways to bring that vision to life. So that's my only advice, as long as you're staying true to the voice within and you're led by your heart and mind, you'll create beautiful art; however, you choose to make it. I guess that leads me to the lesson I wish I had learned. Listening is so important. Even when you're still trying to find your niche you have to learn to take advice from experienced artists.
Especially if they have your best interest at heart. Artists need to have their own voice in their work but we sometimes need a little help finding that voice. Now, I'm not saying you need to go to school for your craft and I'm not saying you don't. I'm saying be a student. Absorb all you can from those who have experience in areas you do not. Learn from them and understand how they reached their "epiphany". I have always believed there is beauty in self-discovery. As a newbie in the lash artistry business, I'm definitely keeping an ear out for all the advice and guidance from vested artists in this business.
What's the best way for someone to check out your work and provide support?
The KK Collection is primarily an e-commerce website. We are diligent in posting all of our photos, updating the website's theme, and proving any additional information customers may need. We also use various social media platforms like Instagram, Facebook, Twitter, and YouTube.
We participate in pop up shops all over the state of Texas! We do not currently have any pop-up shops planned for the month of July or August. We will be sure to keep everyone updated! We normally place all pop-up information on the website.
Contact Info:
Image Credit:
Deandria Block, Photographer-Dallas, Texas; Jeffery Bogan, Photographer- Houston, Texas.
Getting in touch: VoyageDallas is built on recommendations from the community; it's how we uncover hidden gems, so if you know someone who deserves recognition please let us know here.