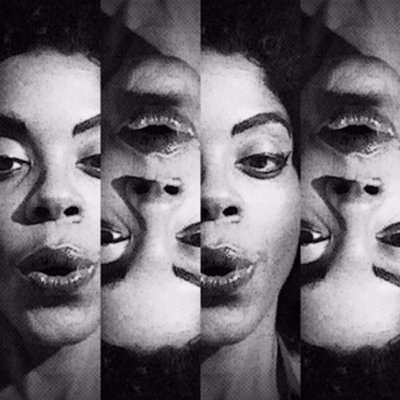 Today we'd like to introduce you to Lei Lei Lashawn, Leisha Anders.
Lei Lei, please kick things off for us by telling us about yourself and your journey so far.
Well, I started drawing as an escape from my crazy childhood. Some not so good things happened when I was younger, and I needed to express myself for my sanity. I started a diary in the 5th grade. I sold my first drawing in the 7th grade. It was of Iron Man. My little brother, who was in the fourth grade at the time, was very upset I sold it. He thought it was his.
I have carried a book for drawing ever since. It's my binky, my safe space. I have had visual, and performance art shows every year of my life since I was 24. I am 52 now. Ten years ago, I lost my brother in an automobile accident. It took me a year to get it together. I lost my mind because he was my only witness to the sexual abuse I endured growing up.
After my depression lifted a bit, I left Texas and went to Brooklyn, NY. There I promised myself to follow through on my art because that is what my brother would want. Voice lessons, dance lessons, and studio work were on my agenda while in the big apple. One night there I had a dream about my brother. He was throwing rolled up socks at me. That is something we did growing up. We called it a Texas snowball fight.
At one point in the dream, he was peaking around the door at me, and all I could see was the left side of his face. That image burns in my mind and heart now that he is no longer here. It also drives everything that I do. It inspired my mission statement which is, using art and practicing love to balance the addiction our society has to hatred and violence. It is a part of my daily love practice, and it heals me.
The love practice led to a Love Revolution. Talking about love, how to communicate love, how to receive love, how to love better, what does love look like, how the feeling of love could change every human being if they were reflected that daily.
I now have a performance art piece I do regularly around the U.S. entitled "the LOVE Revolution continues…" We use poetry, music, movement, and healing sounds to balance the societal addiction to hatred with art about absolute love. I meditate, cycle, write, paint, draw, play my drum, and dance to maintain the fire that burns and vibrates unconditional love within me.
Can you give our readers some background on your art?
I am a multimedia performing artist. I create original electronic music to use with my poetry/spoken word. With recycle metals, electronics, and dried seeds, I paint with oil, watercolor, and acrylics to visually share my message of love on every canvas I can get my hands on. I also am a percussionist. I project my vibration of love.
The image in every piece of art that I do is of my brother. My love for him is the reason I do what I do. Also, putting forth unconditional love to balance the addiction our society has, is another inspiration for my art. There is so much hate, so much violence, so much sorrow, so much sadness, so much anxiety and grief in our world. Love can change it all.
The message I want to share with my art is when we love; we are not alone. I also want everyone to know that with every "practice love" painting sold 10% goes to feed the hungry, %10 goes to support women who have been raped, and 10% goes to support domestic abuse survivors.
I believe people will see the loving community I am trying to create through art. I hope to form an anti-hate project/initiative that takes the LOVE Revolution continues… around the nation to look people in the eye and talk about love.
What responsibility, if any, do you think artists have to use their art to help alleviate problems faced by others? Has your art been affected by issues you've concerned about?
Given what has transpired in the world today, our world history, our future, I believe the role of artists has stayed true. Reflect the truth of what is going on in our society, while engaging our humanity and emotions with artistic form. Artists bring balance to our communities, to our lives. As long as there is unrest, hatred, and greed, there will be a need for art. It is a healthy outlet to communicate the wrongs in life, the pain, and suffering we are a part of. That has and always will be the responsibility of artists, to make life a little easier, prettier, and funnier.
I admit that I am overly sensitive. I cry when I see someone suffering. I worry when climate change is not addressed. I protest when environmental racism is not talked about. I question when innocent people are gunned down. Everything that is happening in this world affects my art. I put an example of what is happening in our society in many of my paintings.
For example, an image of a person with a hoody was in one of my paintings when Trayvon Martin was killed. I think it is the job of artists to tackle the hard issues so we can get to some resolution to at least have a conversation. Being yourself, expressing feelings through art with love on the brain, is healing.
What's the best way for someone to check out your work and provide support?
People can see my work on my website. I post all upcoming shows, visual and performance, on this site. I have paintings hanging at the Deep Vellum Book Store in Deep Ellum here in Dallas. You can find work that I post daily on Instagram @leileilashawn. You can find my music at soundcloud.com/spiritual-funk.
The best way for people to support me is to follow me on Instagram and Sound Cloud. With every new follower, I will know the LOVE Revolution is growing. If you love the music, recommend me for bookings. If you are in a city I am performing in, come share in the love. Buy a painting or drawing. I am working on an art book "I am no one in the oneness" to be for sale by the new year. So, stay in touch.
Contact Info:
Image Credit:
Leisha Anders, Tanya Wardell
Getting in touch: VoyageDallas is built on recommendations from the community; it's how we uncover hidden gems, so if you know someone who deserves recognition please let us know here.