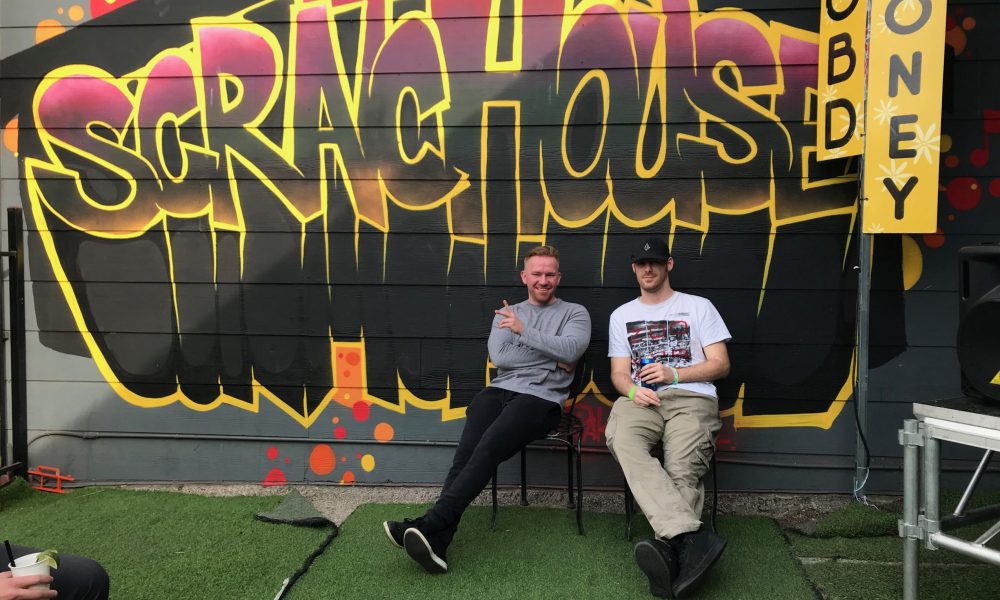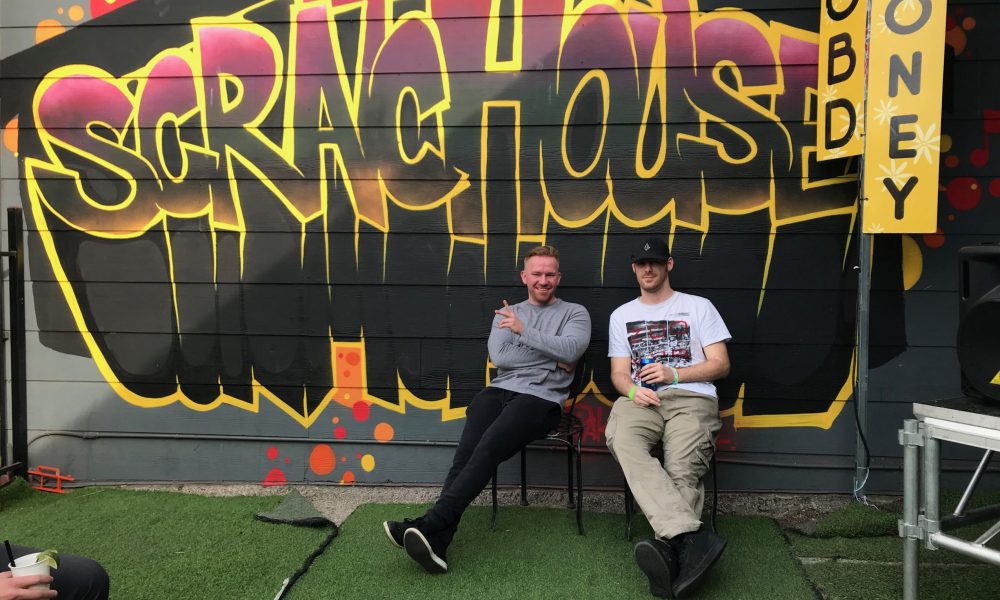 Today we'd like to introduce you to Tracy Hazelton and Chris Haught.
Tracy and Chris, please share your story with us. How did you get to where you are today?
Chris: My earliest musical memory goes all the way back to a toy xylophone that I had as child. I must have been 3 or 4 years old at the time. I specifically remember trying to recreate the melodies of some of the songs I liked from shows or cartoons I watched at that age. I think my parents intentionally planted a seed with that toy xylophone. Next thing I knew, I was going to piano lessons on a regular basis. I learned a lot of theory fundamentals and piano technique as a young child – it turned out to be a huge advantage for me later on.
I was around 10 years old when our family moved to the Denton, TX area. I didn't understand or appreciate it at the time, but Denton is an incredible city for aspiring musicians and music education. I kept music a focus throughout my middle school and high school years – It was in high school when I realized that I actually had some ability with singing and songwriting.
In college, I began experimenting with different instruments and musical genres. During my freshman year, I bought an older Kurzweil workstation – a K2500 if I remember correctly. That keyboard was my first true exposure to synthesis, arrangement, and sound design. I'm pretty sure that I cried a little when the motherboard on it finally crapped out.
The last few years for me have all been about learning music production. I seriously fell in love with the process. My happy place is sitting squarely behind a studio desk, working on a melody or drum track arrangement for hours. The small achievements and "aha" moments that come with continuous learning keep me going.
Working with Tracy in EVRAFTR has been a great experience. I'm fortunate to be working with someone that compliments my strengths and helps me with my weaknesses. I think alignment is such an important consideration when working with people in this industry. Music is such a personal, subjective experience. At times, it's difficult to accept critical feedback on a piece of music that I'm passionate about. Tracy pushes me to be at my best creatively, while helping me to stay focused on the bigger picture.
Tracy: For me, it was around 13 years of age when I began getting into electronic music. Started with listening to music by Cascada, Tiesto, Paul Van Dyke, Darude, and ATB. I began throwing house raves when I was 18 years old. For me it was all about house parties and small, local raves back in the day. Trance, electro, and house – I just instantly fell in love with the people and what it was all about. The people in the scene are amazing. There's such a strong bond in our music community – it's magnetic.
Learning to DJ was just an organic next step as I wanted to be able to tell a story with the different tracks that I enjoyed listening too. I loved sharing it with people—DJing was an easy way for me to accomplish this. It became something that I enjoyed practicing and investing time into.
Overall, has it been relatively smooth? If not, what were some of the struggles along the way?
Thinking all the way back to where we started, we've accomplished a lot in a short amount of time; at least, relative to our early expectations. There's a false narrative out there about EDM – that it's easy music to produce. It's simply not true. There is so much that goes into producing a great track, EDM or otherwise. When you're starting from zero, there's a lot to get your head around. For us, the last couple of years have been about learning how to turn our original ideas into reality. The good news is that we enjoy the process, and we're super excited about the new material we've been working on.
Everything in life is a trade-off. You give up one thing to get another and you can't have it all. The faster you're able to accept that fact, the better off you will be. I think that's one of the bigger learnings we've had along the way. To be great at anything, you've got to be prepared to give up something. There's a lot of sacrifice that goes into what we do, at least, if we're constantly trying to improve and avoid stagnation. I think we've learned a lot about ourselves and our priorities along the way, and I think we are more honest with ourselves because of it.
We've always believed that even if one person was positively impacted by something we did, or something we wrote—it's completely worth it. The fact that we have fans out there that write to us, simply to say that they loved something we did? That to us makes it all worthwhile.
Please tell us about EVRAFTR.
We get a lot of positive feedback on our sound. Because of our musical backgrounds, there's a melodic component to almost everything that we put out. We incorporate a lot of sustained chords in many of the arrangements we do for our remixes and original tracks – that's been the secret to our sound at this point.
Our DJ sets are a blast – we try to not to overthink that part. Our live sets are all about the room and the energy we're feeling back from the crowd. We want the audience to dictate where we go with the set, so we like to keep things flexible. If the "feels" track we play at a certain point in the night gets a great response, we'll try and revisit that theme again later in the set. Other times, if we can sense that the high energy, higher-bpm songs are resonating well with the audience; we will work to sustain that energy for a bit longer before moving into another space.
Connection is everything – it's why you're at a particular show, it's why you have your favorite artists, it's why you listen to music. Without that connection, the experience isn't memorable or special. We make the experience with our audience a priority, and we've learned what works and what doesn't along the way – it's what sets us apart.
We are playing a show in Dallas on June 1, 2018. Here's the event link: https://www.facebook.com/events/2054747011415985/
What artists and/or musical genres have made the largest impact on you and your music so far? Any artist recommendations we should know about?
Our list of influencers is constantly evolving – we listen to a lot of music, in and outside the EDM genre. Trance was a big reason we got into electronic music in the first place. Armin, Tiesto, Paul Van Dyke, ATB, Dash Berlin, Oakenfold – all are huge inspirations for us.
We both owe a lot to Wade and Isaiah from Lit Lords. They are some of the hardest-working people we know in the industry and they are both busy tearing up the scene, yet you couldn't find two guys that are more generous with their time and knowledge. We wouldn't be where we are today without them. Charlie Gendron is another talented individual that has helped us grow along the way. As our manager, Charlie has impacted our musical direction and exposure in ways that would not have been possible on our own.
We're fortunate to have working relationships with some amazing artists, labels and organizations: Blüd Bröthers, Kuantize, Kalico Jak, Heinrich, The Champagne Poppers, Reckless Ryan, Gelousy, Clean Batch, Excede, Kaidro, EDM DFW, Festicast, Give Vanity Records, Graygoo Records, ShiftAxis Records, Flunked Records, Unit-E Entertainment, Basshead Society – all have had an impact on our music.
What are your plans for the future? What are you looking forward to or planning for – any big changes?
Chris became a parent to a German Shepherd puppy just recently, so we will see how much work he gets done here in the next couple of months. From a production standpoint, we are working hard on new originals and remix opportunities that come our way. We have a couple of big remixes releasing in the next month or so – those will likely be dropping on our SoundCloud channel, so make sure to follow us there.
We've been saying "yes" to a lot of things lately, especially when it comes to doing things in an 'outside-the-box' kind of way. We won't give away the details here, but you will be able to hear the difference in future records we release. We've had the opportunity to play at some amazing shows recently, and we will be making additional show announcements soon. Be sure to connect with us on our socials to keep in the loop!
Contact Info:
Getting in touch: VoyageDallas is built on recommendations from the community; it's how we uncover hidden gems, so if you know someone who deserves recognition please let us know here.