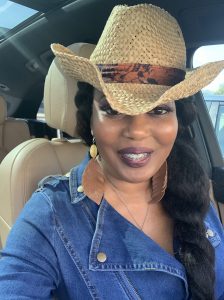 Today we'd like to introduce you to Felicia Jeffries.
Felicia, can you briefly walk us through your story – how you started and how you got to where you are today.
I'm a paralegal with specialties in business, bankruptcy, and mass-torts personal injury law. I started in the field immediately after starting school in March of 2010. I worked for one of the few black female business and bankruptcy attorneys in the metro-plex. She was a beast in the court-room and I learned a lot about law from working with her firm.
Soon after I started working for the attorney, We got a case from a young black boutique owner who was being sued by a large leasing company for being unable to pay her rent. She went five months without paying rent because it was too expensive for her business' budget. The leasing agency wanted payment in full. She couldn't produce it, so they sued her. The client wanted her merchandise out of the store. The leasing company wouldn't release it. The attorney had to file a motion for the company to release the merchandise. They fought the motion, but our client won; however, the leasing agency's representatives were angry. They called the client in the middle of the night and told her to pick up her stuff.
The client arrived to the locked store with her merchandise sitting outside in black garbage bags…about $25,000 in merchandise. Not only that, they had poured oil on her merchandise. What they didn't pour oil on, they broke. The attorney sued the leasing agency, but because it is a multi-billion dollar company, they fought against that lawsuit until the client finally just gave up and disappeared.
Seeing this case made me want to help people repair their credit. So I started a consumer credit repair firm after investing in the education to repair credit. I started getting calls from business owners to repair their personal credit so they could get loans for their business. However, since I knew about business credit and how it's built on the EIN and not the owner's social security number, I started separating business owners from their companies, not only to have the limited liability protection, but also to be able to obtain more borrowing power, to have that competitive edge to obtain those large corporate and government contracts, and just be all around credible.
This led to some re-grouping and re-focusing on the services we provide. We now have a main focus on assisting business owners with their company credibility and building business credit.
I've faced many challenges along the way. I haven't worked in a law firm setting since 2017. I focused on the company and delved into assisting more business owners.
My life has had its share of challenges. I feel during my early years as a paralegal and full-time legal student as well as an insurance agent and owner of a mobile shoe store, I pushed myself to the limits and neglected my self-care. I felt so unstoppable that I was nominated to be Motrin's Unstoppable Mom for their Unstoppable Mom Campaign.
However, with all the drive and non-stop attitude, I was also in a toxic marriage, and this was taking a toll on my health. So around Spring 2011, something drastic happened with my health.
I went to Psychology class as usual, but I had been having issues with my right eyelid. It was drooping. So I asked my professor if she noticed something the matter with my eye. She instantly said, "no," but took a second look and said, "Yes, it's lower than your other eyelid." I decided after class to go to the ER, and I was admitted to the hospital.
The Neurological team ran all sorts of tests and would come into the room and look into my eyes, but they could find anything wrong. So since it was the week of finals, I decided to check myself out of the hospital against doctors orders.
I went to Wholefoods and bought some Olive-leaf extract, took the bottle up, and went back to business as usual. My eyelid went back to normal, but that was temporary.
A few months later, we went to a friend's house for dinner, and as I was eating, I noticed my ability to chew got more difficult. I told my friends and family what was happening, but it was dismissed as being in my head.
I would go to clients' homes at night and do interviews to sell them insurance policies, and my voice started going away. My speech got so slurred that no-one could understand me.
Then my ability to eat disappeared, and by this time, my ex-husband would tell me, "You are pushing yourself too much, go rest." There would be days that I would lay in bed for most of the day when I didn't have to go to work or school. I lost almost 50 pounds in about five months. I could barely even drink smoothies.
I kept going to the doctors and being told something was wrong with my jaw or I was depressed. I was running out of options so I did my own research and ran upon a rare autoimmune disorder called Myasthenia Gravis which means "grave weakness." It causes your immune system to attack your acytocholine which causes your muscles to shut down.
I took what I found to the ER one night and not being able to speak I had a notepad and pen and told the ER doctor to test me for this; they did, and my test results came back that it was in fact what it was.
My life had changed. I would get so tired that I could barely run. My arms were so heavy that I couldn't lift them to comb my hair, and I didn't feel like spending time with my kids. After a while, my smile disappeared. So when I tried to smile it would look as if I was saying "eeeew."
I changed positions during this time and started working for a mass-tort personal injury firm in Dallas. The head attorney was and continues to be one of the best attorneys I have encountered to this day. I learned a lot from that law-firm, especially the importance of client management and meeting deadlines.
I was sick, but I kept working and continued to maintain a busy life. By this time, my weight had dropped from 145 pounds to roughly 108. I begin to see a Neurologist because I ended up being hospitalized at minimum twice a year from a compromised immune system. I would get so weak when I got sick with a cold that I could not cough, sneeze, eat, or even close my eyelids completely.
By 2016 my marriage had taken the turn for the worse and my ex-husband came up with a plan to have us move. Before we moved, we had an issue with a slum-lord and the house we lived in had become infested with fleas from the landlord's dog. They would come into the house with the dog while we were gone. So we ended up throwing away all of our belongings. Everything was put on the curb. So we moved from Dallas to Arlington into a two-bedroom apartment.
We had nothing and slept on a comforter on the floor. Then we bought a couple of air mattresses. This experience taught me a lot. About two weeks after moving into that apartment, that's when my husband said it was over, and he walked out.
No-one at the law firm knew what I was dealing with, but I'm sure by my looks you could tell I was going through something, but my attitude stayed upbeat.
I continued to work and provide for my kids, my business was slowly growing, and life became okay. I had a cousin that came to visit one time from Memphis who asked me, "As hard as you work, why are you still sleeping on an air mattress?" I had gotten so used to mistreating myself while I was married that I just didn't think about it. But when he asked me that, all I could say was, "I don't know." He drove me to the mattress store and I bought one of the most plush mattress sets I could find. And I went online and bought the perfect bed for my personality. I started gaining myself back after my divorce.
I tried everything to get my health back, but nothing worked. I visited doctors all over the US even Canada. I was told I had Lyme disease, stroke, and other issues, but it all would go back to Myasthenia Gravis. I even visited a Reiki healer; that helped a bit, but since she was in Mississippi, I could not go regularly so my health went back to deteriorating.
By 2017 things were starting to get worse, the human resource manager came to me at the law firm and said all of the work I was doing was being moved to Houston. Since the law firm was my client and I worked 1099, my contract ended. It was time to renew our lease in the apartment we had, and I couldn't afford to do it. The attorney still gave me a severance pay, and I put that into my savings, went home, and told the kids we were going to have to move.
We ended up living out of In-Town Suites and with relatives while I came up with a plan to grow my business and re-group. I worked temporarily for a small boutique firm and left and drove for Lyft and Uber at night and worked on my business in the day while we slept on a relative's floor. A client of mine had an event in the summer at a local park and I ended up passing out from heat-exhaustion. I had to stay in the hospital for a few days because I felt myself about to pass out and tried to run to my car and ran into an Oak tree which caused me to look very beat up.
The keys to my car went with my client and so did my son. The house key to my cousin's apartment was on my key-chain; so when she got home, she couldn't get into the house; she got mad, and when I got out of the hospital, she called me into her bedroom and gave me a deadline to get out of her house.
We left and moved into the In-Town Suite and lived off savings, Lyft and Uber while I continued to work on my business.
Well, one night I decided to pray and I told God I was letting everything go: the Lyft, Uber, Insurance, body oil and incense business – everything except our financial services company. I went to sleep, woke up and receive a phone call from a town home complex that we had applied for in Fort Worth.
We received approval. All my kids had their own room and we called their god-father joyfully to help us move.
2018 started looking up. Business grew rapidly. I made more money than I had made at any of the law firms, and I was helping clients attain their goals of getting funding and credit for their businesses. I helped one client in particular get over $500,000.00 in credit and funding. We begin to travel more even though my health was still deteriorating, but I was enjoying life. But in Winter 2018, that's when my body gave up.
December 23, 2018 we spent the night at the spa; a lady walked up to me and told me my son didn't seem to be breathing right that I needed to take him to the doctor. I was feeling weak the whole time there, and my friend was basically at the spa by herself because I was slouched over in the recliner most of the time there. On the 24th of December, we left and I took my son to the ER; he had pneumonia. By that time, I had a fever, and my immune system was attacking every muscle in my body. I couldn't swallow, and my eyelids would not close. I had so much weakness in my legs that I could barely lift them to get into the tub.
It's interesting to mention during that year, I had started reading books by a well-known doctor, Dr. Joe Dispenza about using your mind to heal your body, and I read a book by May McCarthy about being clear on what you want and having regular meetings with God to let him know what you want and desire. So I started telling God, "If you will give me my health back and give me my voice back, I will let everyone know what you have done for me."
I did this religiously every day.
December 25th my daughter brought me some chicken soup; I was so weak that when I went to swallow it my lips were paralyzed and it ran right out of my mouth. My kids' god-father called my daughter and told her, "Take your mom to the hospital." I didn't want to go because I knew they would keep me. I kept thinking, if I just stay home and work on myself I will get better, but by evening my breathing was compromised. I would attempt to take a regular breath and it felt like a ton of bricks were on my lungs. So I had my daughter pack me a bag and we went to Presbyterian.
I got to the ER and they did my intake and put me in one of the holding rooms. I had gotten weaker by this time. My son and daughter sat there looking at me, and I would move from side to side trying to get some relief so I could breath easier. I had to use the restroom, and I had to have help getting on the toilet. When I tried to get up, I couldn't, so I pulled the emergency cord by the toilet and the nurses rushed in. They had to wipe me. And I passed out.
I woke up on the fourth floor with a breathing mask on. My muscles in my eyes were so weak that one of my eye-balls were stuck looking to the right. It was very uncomfortable; so I tried to adjust the breathing mask, and when I went to adjust it, I accidentally pulled it out of the oxygen machine. I tried to take a breath, and nothing happened. My lungs had shut down. So in a panic, I used the little strength I had left to push the button repeatedly for the nurse. I was grasping for air and couldn't get any; she rushed in, "What's wrong honey!" I pointed at the machine; she hurried and reconnected the hose, and it begin forcing air down my lungs. I had a pen and tablet with me, and I scribbled on the tablet "life support."
I remember vaguely them having me on the operating table, and I could hear the snip of scissors and feel the pressure of the catheter going into me.
I passed out and woke up in ICU, intubated. By this time, I had no strength – none. I could not turn, raise my head, lift my arms and could barely hold my ink-pen. But I kept doing my morning meetings with God and picturing my health better and picturing myself talking. I remember laying there, and I tried to utter a sound and nothing.
I thought to myself this is the most miserable feeling imaginable. I couldn't do anything for myself; the nurses would come in and patiently try to read my scribble on paper. I would have to tell them, "Please turn my head." "Please raise me up." "Please turn me;" "please add more pillows."
My daughter brought me a little penguin that I named Rempy; Rempy lights up; so I would pretend I was at a place full of music and positive energetic people and I was healthy and dancing the night away and singing karaoke.
I started receiving aggressive treatments, and slowly my strength started coming back. I started being able to hold the pen firmly and lift my head a few inches off the pillow.
I finally started feeling the strength in my lungs come back. I asked on paper what was wrong with me; the doctor told me I had the pneumonia and the flu and my lungs collapsed. So I would lay there and do my gratitude statements and imagine myself well and just tell myself "this too will pass"
I had a trip planned to Australia to see Serena Williams play at the Australian Open. And it was getting close to my time to leave the country and I was still in ICU; so I started planning to cancel my trip, but everyone I tried to get to right a letter for me to cancel told me to wait. I finally was told the letter had to be written after I got out of the hospital. Well, a week and a half before time for my trip, I was released from the hospital. I was able to eat, I had my voice back, I could smile again, and I had gained weight. When I was admitted to ICU, I had dropped down to 85 pounds.
I went to my neurologist and asked him to write me a letter to cancel the trip, and he did. But when I presented it to the travel agency, they wanted to keep 30% of my money, and I could not let that happen. It was over a $5000 flight.
So I took that as a sign that God wanted me to go. So I told God, I'm going to trust the process and trust that my angels will be with me. So I boarded the plane in January of last year and headed to Melbourne Australia to see Serena play. Sadly, by the time I got there she had hurt her ankle and was out of the game. But I took that time to focus on me and walk around downtown Melbourne and eat every type of food I have never tried and meet people I have never talked to and go into stores I have never sat foot into. I rested for the first time in years and I looked at myself and saw my joy was back. God had answered my request to give me my voice back and he gave me 30 pounds like I asked for on top of some.
I'm healthy today. I learned a lot from those years of not having my best health. I learned a lot about so-called friends who leave in times of need, but I forgive them, and I got closer to my kids. I learned to value myself again. And I found myself all over again. I got much closer to God and continue to have my regular meetings with him. It is my desire to go a Doctor Joe Dispenza retreat soon. I remember meeting him in Las Vegas in 2018 and he told me "I love you." You will be okay just keeping doing your meditations. And at that time, all I could do was cry. When it was time to take a picture with him, I felt so bad about how I looked, that I told my son to go in my place. There are wonderful people in this world who help others through their many hours of research and studies and Dr. Joe is one of them.
When I came back from Australia, I was motivated to write a book, Diary of your Favorite Animals Near Extinction Volume 1. I visited an open range zoo there, and I was so touched by those animals. In a way they reminded me of myself – nearly extinct. So I wrote this children's book to tell about how they have been saved.
Our business continues to grow as we help more and more business owners build their business' credit, and I really enjoy what I do. I speak now to different groups about the power of meditation and positive thoughts and changing negative sub-conscious beliefs. I'm a living witness of trusting the process and the SOURCE of life who I choose to call Jehovah and letting things line up in my life for better.
I'm so happy with life and I have everything I asked for, my weight, my voice, and my health. I have a happy family, and that's what is important to me in life out of all else. Without good health life is really not able to be lived to the fullest in an enjoyable manner, and you won't be able to give your best to yourself or your loved ones. So I really encourage getting plenty of necessary rest and self-care and having nourishing healthy relationships.
Moore Financial Services – what should we know? What do you do best? What sets you apart from the competition?
Our company specializes in helping businesses grow. We build business credit and ensure companies are credible so that they can get funding, corporate contracts, and have buyers when the owners are ready to exit.
I'm very proud of the fact that through all of our tribulations with my health and going through divorce we didn't miss a beat in helping our clients. I don't attribute this to my own strength because as you know, I barely had any (laughing). Someone higher than me – GOD was giving me the strength to persist.
We have built valuable relationships with community leaders and organizations, and we connect our clients to these resources.
We came up with the Biz Credit Movement. Statistics show that approximately 80% of small business owners are unaware of business credit or how to pull their business credit profile. Many business owners are attempting to use their personal credit to attain business loans; and although a business owner may have been with a bank for years and have a 750 credit score, they are still being denied loans – especially in the minority business owners community. So we are bringing awareness to business owners with the Biz Credit Movement, and we are helping business owners build their business credit by providing discounts off of all necessary business services including business credit building. We have a network of professionals including bookkeepers, accountants, and attorneys who are willing to provide discounts off of their professional services as well, as long as a business owners remain  a member of the Biz Credit Movement. Members are Silver, Gold, or Platinum level and receive up to 20% off of all their business and professional services. Once a business owner completes the business credit building program, they are ready for funding. We are in six states and growing. We also provide free business consulting to members for up to six hours a month. This is invaluable, because consulting fees can be very costly. We not only build credit but ensure a company has its I's dotted and T's crossed. Business owners are oftentimes not told why they are turned down for funding and usually it's because of a lack of credibility and credit. We want to take as much stress off business owners as possible so they can attain the funding they need to grow.
A business owner pays a low yearly membership fee to join and is started in the credibility building/ credit building process as soon as they are ready. We always suggest being aggressive especially if a business has goals of growth and funding. Many times we find issues with businesses that have to be fixed, and business owners benefit greatly from this because sometimes we find issues that can be very costly if they are not found early on.
What is "success" or "successful" for you?
Success is not marked by money but by knowing if what you do is helping everyone involved to win. Success comes from the inside. It's a feeling first, and an emotion of joy, positivity and selflessness.
It's having a great spiritual outlook on life and seeing more than the current situation you are in and if it's negative, you know that this is a trial or experience that can actually make you a better person. Success is inspiring others to be better once you have done the work on yourself, and constantly looking for ways to grow from your heart and mind. In return monetary success flows to you. There is no lack. There is an abundance in everything including money.
Pricing:
Contact Info:
Image Credit:
Biz Credit Movement Pic – On left Barbara Tyson, Middle DeJaneira Bailey, Me; Photo in front of ship – In Pensacola with Barbara Tyson; Photo of young man reading book Manning Bailey; Photo with Man in suit with Darryl Brewer; Photo with Man with book and Me with the Owner of Baraka Frames Alioune Gueye; Me speaking a the Fort Worth Metropolitan Black Chamber of Commerce; Me speaking at the Distinguished Women of Business Brunch; Me sitting with a Biz Credit Movement Affiliate Marketer; Aisha R. H-Jones; Me in ICU in 2018
Suggest a story: VoyageDallas is built on recommendations from the community; it's how we uncover hidden gems, so if you or someone you know deserves recognition please let us know here.
Sponsor Shoutout:

Laine McCandless of
DFW Kid's Directory
is hosting a
Summer Camp & Activities Expo
on February 22nd and 29th. There will be over 40 vendors at the event, parents can meet one on one and get information about so many amazing camps all in one spot. It's an extraordinary event and one that makes us very proud of our city. Tickets are free. Info and RSVP here:
Dallas
&
Frisco