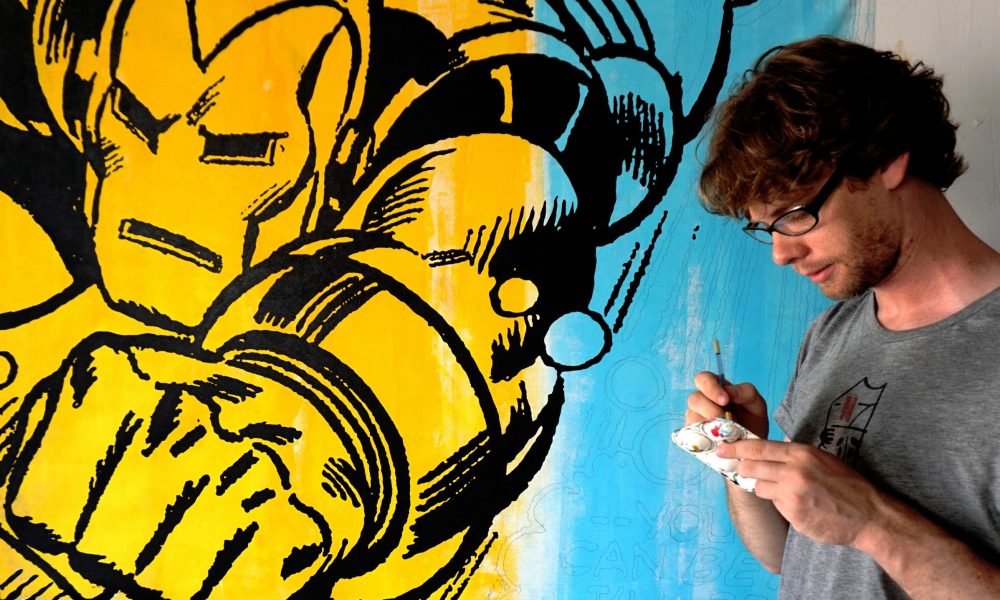 Today we'd like to introduce you to Jonathon Kimbrell.
Every artist has a unique story. Can you briefly walk us through yours?
I am originally from Houston, TX, but the vital growing-up years were spent in Abilene, about 180 miles West of Dallas. As far back as I can remember, I've always had a pencil, pen, or paint brush in my hand. Not having siblings as a kid encouraged me to entertain myself with art and drawing, to the point where I became just fine being an introvert. Not to say I wasn't social or didn't have friends, but I saw art as a way of figuring out how to make my way through this earth.
My earliest memory is drawing Garfield (the cartoon cat) and the old Domino's Pizza mascot, The Noid. Spent a lot of time reading comic books, like the X-Men and Bat-Man, which heavily influenced my early years making art. The irony is, looking back, is I'm still not that good at drawing.
Please tell us about your art.
I've been making art professionally since 2004, and most people know me for my Pop Art. I've basked in the influences of artists like Andy Warhol, Roy Lichtenstein, Robert Rauschenberg, Jasper Johns, Ed Ruscha and the like. I also take a lot of inspiration from Four Color Process Printing, vintage posters and packaging, album art, logos, newsprint; pretty much anything that catches my eye that can be interspersed into my work, somehow.
I still make a great deal of Pop Art, but lately, I've started shifting my focus to Abstract Expressionism. Working abstractly with paint has felt very freeing. There is no set direction, and I'm really only doing it for myself, right now. I feel like it is helping to reshape my perspective with art, in general, and taking a little break from what I've been doing over the last 12+ years is proving to be valuable on many levels.
First and foremost, I wanted to be a working artist. Thankfully, I've been able to do that with talent, persistence, patience (somewhat), major support from friends and family, unique opportunities, and having the drive and desire to make art every day. Being able to pay my bills and travel several times a year by selling art is not a bad gig. I know there are a lot of struggling artists out there want to do the same.
Aside from money, I also make art for my own sanity, especially these days. The world outside my studio walls gets to be a bit much. The studio has become my inner sanctum, of sorts, whether I'm painting, screen printing or making random designs on my computer.
A lot of my work, personal or commercial, really reflects the things I like and inspires me to be a better artist/human. There isn't any secret meaning or hidden agenda with my work. I try to keep the art honest and authentic to me, since it is nearly impossible to creating anything brand new. Whether or not anyone is inspired by my work, I honestly don't know. At the end of the day, I try my best to reconcile my place in the world with an honest day's work. If I like what I've made, I feel like it's a successful day.
Another facet to my creativity is my record label, Classic Waxxx Records. It's been a great and educational outlet to make album art and packaging, as well as research interesting reissue projects I want to undertake. I've been fortunate to have released some 1950s live recordings by Johnny Cash from Dallas' "Big 'D' Jamboree", on vinyl, a format I'm very passionate about, as well as material by blues legends, Lightning' Hopkins and Memphis Slim.
The beauty of the label, aside from producing vinyl records, is that I can take on projects at my own pace. I don't have executives or board members to answer to. I'm also a big collector of music on vinyl, so it helps to also inspire the visual art projects I have going on, and constantly have that creative energy feeding off each other. It just never stops, hahaha.
Choosing a creative or artistic path comes with many financial challenges. Any advice for those struggling to focus on their artwork due to financial concerns?
There are definitely financial challenges to being a full-time artist. I'm no stranger to those. It can be a bit of a roller coaster ride; feast or famine. My advice is to hold on to your day job as long as you can, especially if it pays well and if you have a boss who is flexible with your schedule. Ultimately, you will know when it is time to take the leap of faith and strike out on your own. But, that safety net of a regular job can really take the pressure off.
From there, the question becomes: "How bad do you want to be a working artist?" Be prepared to feel like you are working twice as much for half the pay, until you and your work are established. It's a ton of hard work and there are no guarantees. There is no time table for success, either, and sacrifice comes with the territory. Not to sound discouraging, but passion jobs take more work, more energy and more of your nervous system to become successful than anything else. There will be good times and bad, but the personal satisfaction you walk away with is worth it.
Also, if you end up frustrated in your current situation, it's ok to scream at the top of your lungs. You'll feel better.
How or where can people see your work? How can people support your work?
I keep a somewhat limited social media presence, these days, but I've been working more on maintaining my website portfolio, which is the best place to find my work. I currently work with a couple of great artists reps who hustle to get my art seen and sold in different markets around the country.
I took a brief hiatus from the gallery world to work on some other pet projects, but I'll more than likely shop the new abstract and Pop Art work I've been making around Dallas for a possible future gallery exhibition. If no takers, I may produce the exhibit on my own in a pop-up type setting. Either way, I'm itching to share some of the works that I've been making, lately. I'm pretty excited about it.
Usually, I am open for commission work, but at the moment, commissions will depend on my current work schedule. I always have several irons in the fire.
Contact Info:
Address: Send 'fan mail' to:
P.O. Box 180985
Dallas, TX 75218
Website: jonathonkimbrellfineart.com
Email: joanthonkimbrellcreative@gmail.com
Instagram: @jkimbrellfineart
Image Credit:
Profile Image Credit: Warren Lipschitz.
Getting in touch: VoyageDallas is built on recommendations from the community; it's how we uncover hidden gems, so if you know someone who deserves recognition please let us know here.