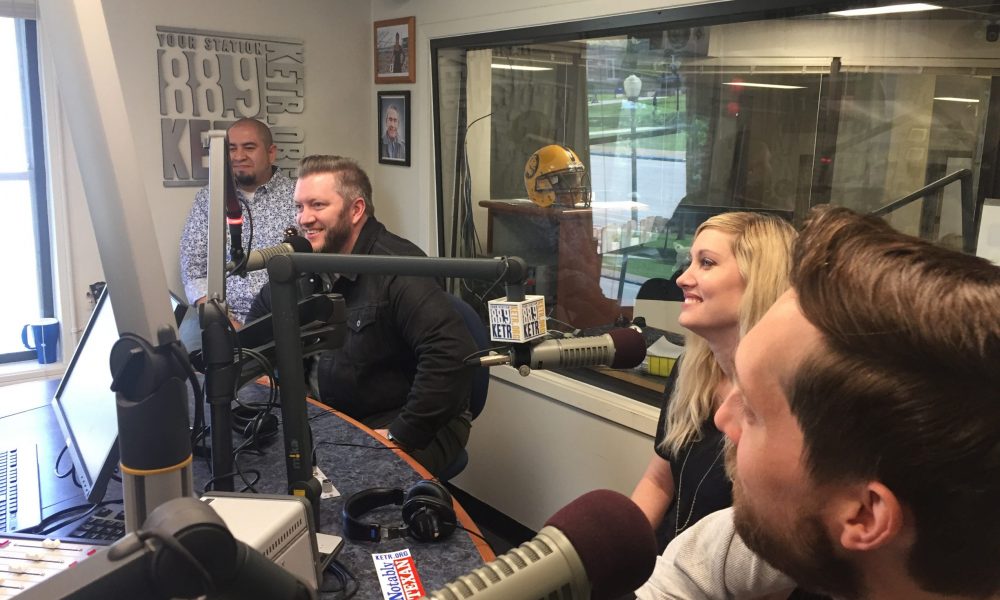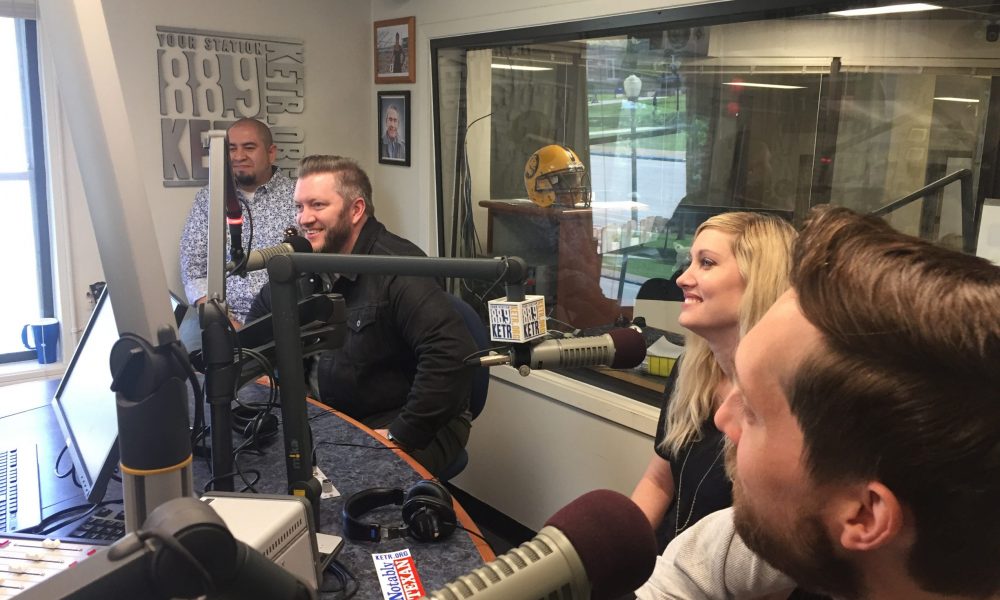 Today we'd like to introduce you to Justin Philip Brooks, Tiffany Brooks, and Morgan Taylor.
Justin, we'd love to hear your story and how you got to where you are today both personally and as an artist.
Growing up in Beaumont, TX one can't help but be ingrained with three things from a young age: The story of the oil boom of 1901, talk of the famous musicians and athletes that hail from the area, and church. I was given a hardy dose of all three. In my case, these factors shaped how I see the world and how I create by instilling a love for history, music and how it can be used to reach others, and a sense of honoring what has come before while moving forward. Both parents musicians, music was a constant presence in our house, and my siblings and I were consistently encouraged to explore our musical interests whether learning instruments, singing, or songwriting.
Moving to Dallas to study music at DBU, I met my wife, Tiffany, also a music major, and we have two children, Taylor and Grayson. During these college years, I formed a band that toured clubs, churches, conferences, and youth retreats/camps. Upon graduation, I spent five years as the lead guitarist of the Dallas band, Rhythm (EMG/Warner) releasing several recordings along the way. These experiences shaped and prepared me for my current job as a full-time musician. As any full-time musician would tell you, it requires wearing many hats. Some of the ones I wear are church music director, songwriter, live and studio instrumentalist, arranger, producer, and hymn writer.
Telling stories through song is a passion of mine that has culminated in my latest project, Justin Philip Brooks, an Americana trio consisting of myself, my wife Tiffany, and brother-in-law, Morgan Taylor. With an eponymous release and an EP due out this year, our music has enjoyed airplay on KXT and NPR, we've performed at Sofar Sounds, House of Blues, Art House Dallas, and are regular hosts of the Songwriter Round at Opening Bell.
We'd love to hear more about your art. What do you do? Why? And what do you hope others will take away from your work?
There are three main artistic avenues where I focus my creative efforts.
1. Justin Philip Brooks
I strive to write songs that bring the familiar comfort of the front porches and deep woods of my Southeast Texas roots to our listener's ear by artfully exploring the great traditions of folk, gospel, and country. Whether it be examining current events and relationships or storytelling through songs, I endeavor to honestly explore our humanity through looking at the past, but hopeful for the future. We regularly perform live and the lead single from our self-titled debut album, "Cold Shoulder, Black Heart" can currently be heard on 91.7 KXT, who was kind enough to say of the track, "There's something slightly mythical about the Gulf Coast when it comes to being a fertile ground for singer-songwriters. George Jones, The Big Bopper, Janis Joplin, Rodney Crowell, Robert Ellis, and Hayes Carll are only a few fine examples, and now you can add the name Justin Philip Brooks to the list."
2. Hymn Writing/Music For The Church
As I believe there is a Creator behind the complex construction of the universe, and that somehow this Being that exists out of time and space cares about what happens on this planet and the people residing on it, I am deeply interested in humankind's relationship with this Creator we call "God", and how it affects the way we treat one another in our everyday lives. The Church has given us musicians from Bach and Handel to Blind Willie Johnson and Robert Randolph. The one thing they have in common is they all explored this intersection of heaven and earth. Writing music for the Church has always compelled me, and have released several albums of this material, and regularly write new hymns and liturgical worship songs with other talented writers.
My wife, children, and I regularly tour as live musicians for the music collective called Liturgical Folk, which combines ancient Church text and new poetry with modern folk arrangements.
3. Instrumentalist
When I was four years old, our next door neighbor and family friend had an arsenal of musical instruments that he would let me frequently come over and play (more like try to make noise). From that time to this day, musical instruments have fascinated me and am constantly intrigued by the emotion that can be communicated through them. Some have complicated construction, but I find I am drawn to the simpler, more elemental folk instruments that create their sound from vibrating strings against wood. I formally studied piano and concert percussion growing up, but then quickly became drawn to the acoustic guitar. As guitar is my primary instrument, I also have provided instrumentation on electric guitar, drums, accordion, banjo, mountain dulcimer, and lap steel on various recordings and live situations.
The stereotype of a starving artist scares away many potentially talented artists from pursuing art – any advice or thoughts about how to deal with the financial concerns an aspiring artist might be concerned about?
I'm not going to pretend that financial concerns aren't or shouldn't be a concern, because they are. Especially if you are a parent, like myself, your money goes first to providing for your family, and that makes things tight for anything extra. Many, if not most, artists work a day job and do their art in their off hours. We dream of the day when we can pay our bills from our art. I also know that I have used finances as an excuse not to do any work on my art at all. The one piece of advice I can give that I hope will put minds at ease as it did mine, is remember (and this might sound like a fortune cookie, but hear me out) that the journey IS the destination. The internet has put the power of getting art to the masses in the hands of the independent artist. Because of this, being an independent artist is a long journey of a slow, uphill climb, gathering fans along the way. You can now have direct contact with the people that want to support you, so give them that opportunity. Don't focus on what you can't do; focus on what you can, and celebrate that step. If you don't have a website yet, that is something you CAN do. You can build a website for free, then buy the domain for $12 for the year. Celebrate that step. You can also set up your social accounts and let people know about what you are doing. Celebrate that step. Learn a new technique you didn't know before that will make you a better artist via Youtube and celebrate that step. If you have no money to record, painting supplies, for a camera, editing software, what CAN you do to bring some in? Could you host a house show where you sell tickets that go towards your record or a private concert for potential donors? Busk? Can you sell some things you don't need anymore? Do you have a birthday/Christmas/Hanukkah coming up where you could ask for money towards your needs? How about your tax refund? I've done all of these things at one time or another to finance my art, and I have found that there usually is a bit of money from here and there that I can put together if I really focus and think about it.
The main thing is to relax and realize there is no time limit. You don't have to accomplish an arbitrary level of what you perceive to be "success" by a certain age or time frame. So enjoy the steps and celebrate the victories along the way.
Do you have any events or exhibitions coming up? Where would one go to see more of your work? How can people support you and your artwork?
www.justinphilipbrooks.com
As music is consumed primarily through streaming these days, the independent artists can be supported in a large part from purchasing their music directly from them. If you would like a physical copy of our album or other merchandise, please go to our website which will guide you to our store.
Contact Info:
Image Credit:
Danny Fulgencio
Guy Rodgers III
Steven Haal
Getting in touch: VoyageDallas is built on recommendations from the community; it's how we uncover hidden gems, so if you know someone who deserves recognition please let us know here.