Today we'd like to introduce you to Kevin Locks.
Kevin, can you briefly walk us through your story – how you started and how you got to where you are today.
When I was younger, I was in a singing/dance group back in my hometown of New Iberia, Louisiana. I just knew that we were going to make it in the music industry and be this #1 selling R&B group. I told my mom that I was going to buy her a big house and she wasn't going to have to work no more and everything. LOL! I was that kid! So when I graduated from high school, college wasn't even a thought because I knew that me and the other members in the group could really pursue our dreams of making it in the music industry.
So we moved to New Orleans chasing our dream! But, as years and years passed by and we were still chasing, we were getting older and older, and it got to the point to where we had to make a decision to let it go and embrace the idea of getting back into the corporate world, which was not an easy thing to do. Realizing that the very thing that brings you so much joy, and what you are so passionate about and what you have worked so hard for, for so many years will not become a reality was really hard, because we didn't have a plan B.
I literally never thought I would ever be in corporate world. So now here I am in my early 20's needing to be able to pay my bills, so I had no choice but to find a job. While working lil odds jobs here and there, I never felt happy, I never felt fulfilled, in fact, I was miserable. I knew early on that working a corp job was not what I wanted to do. And although, I knew that I needed a job to pay my bills, and now with the reality of knowing that my dreams of being in the music industry will not happen, I started looking more into different business opportunities.
I realized that I would never make as much money as I am truly worth on any job. I didn't like the idea of being told what time I had to come to work, what time I get it to leave when to go to lunch when to take a break, and on top of all that, you are going to pay me how much? I knew early on that I could never live the lifestyle that I truly wanted by working a corporate job. And most jobs that did offer a great income where people that worked 24/7 so they never got the chance to enjoy the fruits of their labor, and they missed out on the things that mattered most, which was spending time with their family and loved ones. What's the point in that?
Back then when I was chasing my dreams, and although my mom supported me in me chasing my dream, she was also one that preached the "Go to school and get your education and get a good job" message! And as much I totally believe in getting a great education is super important, I also know that getting a good education doesn't necessarily guarantee that you will get a good job. AND, there is that whole "job" thing again that I just couldn't accept. But here's the thing, there are so many people that absolutely love what they do on their job, and they are very passionate about what they do and take their jobs very serious!
And I would even say that many people are actually living out their purpose in life on their jobs and they are impacting many lives, and they are right where God wants them to be. They are very happy and fulfilled on their job… that's just not my story! So after years and years of working different jobs and either getting fired because I clearly wasn't into it are I just wasn't happy, and it showed, or I quit because I just hated it so much. I was switching jobs every few years, and I just wasn't stable at all.
At this point, I'm in my late 20's and now married so it's not only me that I have to think about anymore. But my wife was very supportive of me, and my dreams of now wanting to own my own business. So we tried just about every MLM business out there! LOL. With hopes of being able to write our own paycheck and to be able to live life on our own terms, we spent years and years of trying this business and that business, and after investing tons of money into all these failed businesses over the years, we looked up, and we were in major debt and the financial strain became a major burden on us.
Now with not one, but three kids, and we are in debt trying to keep our head above the water, and the jobs that we both had just wasn't stopping the bleeding of the financial debt that we were in. And I know that my wife was down with me and wanted to support me in any business venture that I wanted to embark on, but now with three kids, the stress and strain of the financial debt that we were in became too much for her, and she was ready for some security!
I must admit that this was a very hard time for us and especially for me because I felt like first I had to give up on my dream to be in the music industry, and now I have to give up on being a business owner and do the very thing that I didn't want to do, work a job! But with a wife and three kids depending on me, I had to do what I had to do. I was pretty much always working on a job during our quest to start a business, but now faced with the harsh reality that our financial debt was getting out of control, I knew that I had to try to find a higher paying job to try to help with the debt.
So we stopped focusing on any and all businesses that we were apart of to try and figure out how to come from under all the debt that we were in. So now I'm on a job for a few years and just feeling so frustrated, disappointed and discouraged and sometimes like a failure. I remember times where I would be sitting in my cubical at work, and I would just be crying because I was totally not in my purpose and not living the life that God had for me. I knew that God had something else for me and that wasn't it.
I remember asking GOD to take away this desire to own a business and to this life that I have always had burning in me since I was a kid. Why is this desire in me if I can't possess it! I was started to feel like Moses not being able to enter into the promise land! I had never felt so unhappy and discouraged in my life. Living outside of your GOD given purpose is the absolute worst and most unfulfilling way to live your life! I PROMISE YOU! And at this time I had a friend who reached out to me about becoming a trainer with Camp Gladiator!
Camp Gladiator is the fastest growing adult fitness company in the world. And because this was one of my well-respected friends, I decided to take a look at it. It helped that he, his wife and me and my wife were already close friends, so it made it a lot easier for my wife to open her mind to the idea. So after looking at the Camp Gladiator opportunity, I loved everything that the company was about and what it stood for, and I went ahead and became a certified personal trainer and started my CG journey in 2012. I loved the idea of being able to be an independent contractor and that I was able to be my own boss and make a decent living.
And at this point, I just wanted to make enough money to get me out of the corporate world. LOL! After nine mos. of working my job and trying to build my CG business in the morning before work and in the evening after work I started to realized how happy I was at CG and I would get to work and I was back to unfulfilled. I started to feel that passion reawakening in me, I was happy again when I was at CG, so I decided to step out on faith and quit my job and build my business full time.
I wasn't even making more money with CG than I was making on my job, but I knew that I couldn't build my business as fast as I wanted to because I was at work all day. I spent my first few years as a Head Trainer with CG in Cedar Hill where I was the first trainer and then moving into the Grand Prairie/Mansfield/Arlington area where I was the second trainer in that area. I only said that because now we have over 100 trainers between the Cedar Hill/Arlington/Mansfield/Grand Prairie area. We have grown so much, and I don't see any signs of slowing down.
I never thought that I would be as blessed as I have been through the opportunity with Camp Gladiator! It has truly been a game changer for me and my family. Through the opportunity with CG, I have been able to build a business that allows me to spend time with my family, and actually, my family is a huge part of what I do with CG. My wife and I have been able to get out of debt, and we truly are living our best life right now. Because of CG, we were able to purchase another business!
We purchased Bodies Race Company – DFW in September of 2018! We put on 1-mile walks, 5K's, and 10K's and we are looking to  add a half marathon around mid-year in 2019! But, this would not have been possible without CG. I currently run three CG locations in Grand Prairie where I am the Area Director, and I have a team of 14 amazing trainers! CG is a company that rewards hard work and allows you to run and build a business as big as you want to. My CG journey hasn't always been easy, but has it been worth it, ABSOLUTELY!
Running and operating my own CG business has giving me my time back, it has giving me my joy back, I don't have to answer to any boss, I don't have to clock in and clock out when I'm told, I can take my kids to school AND pick them up. Everything that I went through and felt like I lose, CG has given it back to me… and then some, I had no idea that I would find my happiness, feel complete, and most importantly find my purpose with Camp Gladiator, but I did! To GOD be the glory!
So to sum it all up! This journey to find my purpose in life that started when I was a kid, chasing the dreams of becoming an R&B singer/dance, to my early adult life with aspirations of owning a more traditional business, to later in life when almost all hope was gone… here comes Camp Gladiator! Through the years with CG I have learned so much about fitness, about running a business, and what I find the most value from is the teachings that involve the "successful mindset"! How we think is how we WIN!
So RIP mom, but I think you would be proud to know that I am getting some great education and that the search is over, because I am happy, fulfilled, and finally living out my GOD given purpose!
Overall, has it been relatively smooth? If not, what were some of the struggles along the way?
The road to anything great is never easy! There were definitely some challenges along the way, especially in the beginning. Trying to build a boot camp that is outside during the winter time is tough. Many times I was the only one out there and because no one would show. But there were other challenges, setbacks, and disappointments that I had to endure!
Camp Gladiator – what should we know? What do you guys do best? What sets you apart from the competition?
Camp Gladiator is different than any other fitness program in the world. There are a few things that sets us apart but one of the biggest things is our Community! You don't have a community in a cold gym, but with CG, every time you show up to workout, you are never alone! We live by the saying….we are Better Together! And this makes all the difference on the world, because no one wants to be alone.
What is "success" or "successful" for you?
I define success as internal satisfaction! Because in the fitness world, everyone is so consumed with how they look on the outside… but to me, the real win is how do you feel on the inside!
For example, don't stress over your weight and what the scale says, and celebrate those inches you lost. LOL!
Everyone might not see those inches you lost, but if you know you know you lost some inches, be proud of that and know that you are on the right track to losing pounds!
Pricing:
12 mos for $79/mo
24 mos for $69/mo
Contact Info: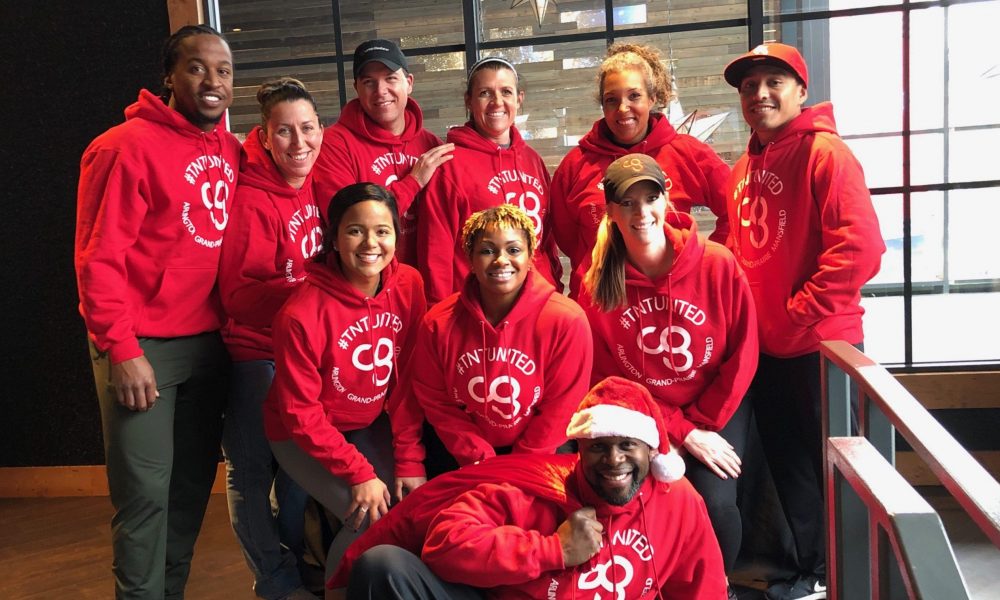 Getting in touch: VoyageDallas is built on recommendations from the community; it's how we uncover hidden gems, so if you know someone who deserves recognition please let us know here.