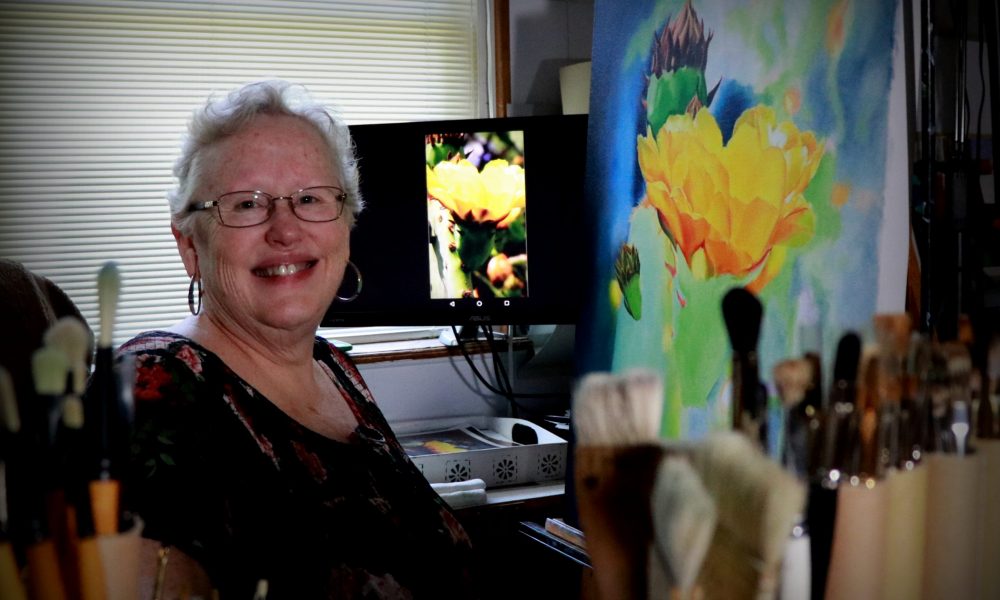 Today we'd like to introduce you to Linda Lucas Hardy.
Every artist has a unique story. Can you briefly walk us through yours?
I've been an artist my whole life. How can I say, or even understand that? I know it though, because I've looked back. There has to be a line one crosses from being a child who is merely playing, to an adult whose life is consumed by art, but I'm not sure where that line is, or how it happens.
As a child, drawing and coloring was a part of my everyday life, however there was no driving force just enjoyment. It was something I did. But I remember! I remember watching my Mother color in a coloring book. I may have been four or five. I'm pretty sure she was showing me how. There are no words in my memory just the visual. I think perhaps something happened in that moment.
My second-grade teacher, Mrs. Going, told Mother that she thought I should have art lessons. In the fourth grade my class was painting a paper mural attached to the blackboard. I don't remember the subject but I do remember the words, "Linda, let some of the others paint." At that time, I was making my own paper dolls and designing their clothes. At thirteen Mrs. Masters came into my life and I've never been the same. Mrs. Masters introduced me to oil painting. Mrs. Masters left an indelible mark. From that time on nothing else interested me. After I graduated from high school I spent a few years in college then got married. Seven wonderful children followed so naturally, art was put on the back burner.
In 1985, when my twins started school, I signed up for an oil painting class at a local community college. My love for art rekindled, I took every art class offered and many, more than once. What began as something to pass the time while my children were in school developed into a comprehensive art education that lasted eight years. It wasn't until I discovered colored pencils in 1988 that I felt I'd connected with the medium I was meant for. In love. with pencils but fascinated with color, colored pencils were a natural selection for an art medium for eighteen years. In 2006, however I returned to my first love, oil painting.
In 2002, I made a decision to refer to myself as a professional artist. Nothing came easy however. Living in a small town, having few resources and no mentors or advisers meant I had to be my own motivator and teacher. I realized the necessity of using what I had, meager as that might be, or give up and do nothing. Doing nothing means a dream can never be realized, so it was never an option. For me, the unknown became the inevitable…it's called flying by the seat of your pants.
Since that decision my art, and/or articles, have been published in two dozen magazines and a dozen books. My work has been juried into more than 75 National and International exhibitions and I've won an equal number of awards and honors, many being Best of Show.
Please tell us about your art.
I am a drawing artist who is also a painter. Or am I a painter who is also a drawing artist? Either way, I'm doing one or the other, as I do not do mixed media. Art is something I must do. It comes from somewhere deep inside, below the surface, like water that fills a well. I don't understand it and I don't question it. I let it take me, hold me, romance me and fulfill me. It's an inexplicable love affair.
What's the message or inspiration, what do you hope people take away from it? I'd like people to see the extraordinary. Most artists paint ordinary things but it's what the artists brings to the work of art that makes it something special. We each have our own identity, like a fingerprint, uniquely ours, that corresponds to our own individual character and interests. That's why art is appealing. People relate according to their life experiences and personal tastes.
What should we know about your artwork? I seem to be drawn to subject matter that's very complicated. The more complicated, the more it's like a mystery that must be solved. I've never quit working on a piece because it was difficult, I see difficulties as a challenge. Even if I don't accomplish what I set out to do, I've learned a great deal which only makes the next challenge a little more achievable. I paint what catches my eye so my subject matter is diverse, and I'm never in a hurry. I don't want to be a machine that cranks out paintings, I prefer to take my time so that I can fully relish the process.
We often hear from artists that being an artist can be lonely. Any advice for those looking to connect with other artists?
I'm rarely lonely but I do live a very reclusive life. I'm not lonely because I have a very supportive husband who goes with me everywhere, but I also teach. Teaching is a spark that generates learning, giving and sharing. When I'm not teaching, I'm doing what I love, painting.
As for advice, the Dallas/Fort Worth area is rich with art societies that anyone can join. They have monthly meetings with guest demonstrators so you not only learn, but it's an excellent way to meet people with like interests. Most galleries have monthly exhibits and artists receptions. Both are excellent places to connect with other artists. Or one could take an art class.
How or where can people see your work? How can people support your work?
I am represented by Southwest Gallery in Dallas and Davis & Blevins Main Street Gallery in St Jo, Texas. July 12 through August 19 I will be exhibiting at the Bridgeport Art Center in Chicago for the 26th Annual Colored Pencil Society of America's International Exhibition. Or people can visit my Web-page.
How can people support my work? Spend a day at Southwest Gallery in Dallas. It's one of my favorite places, not just because they represent me but because all the art and artists are exceptional. Hopefully something will catch the eye and a work of art will find a new home.
Contact Info:
Image Credit:
All the images belong to me.
Getting in touch: VoyageDallas is built on recommendations from the community; it's how we uncover hidden gems, so if you know someone who deserves recognition please let us know here.