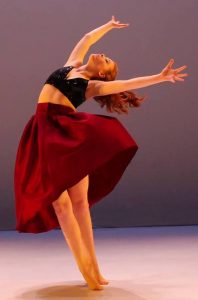 Today we'd like to introduce you to Martheya Nygaard.
Every artist has a unique story. Can you briefly walk us through yours?
My story began with the extraneous energy of a two-year-old. My energy needed an outlet, an aim, and, ultimately, dance. My mother found a dance studio that would accept an energetic child under the age of three and from then on one of my longest chosen relationships, dance, was ignited. I grew up training with several dance studios/companies in the Dallas metroplex; Dallas Powerhouse of Dance, Dallas Metropolitan Ballet, Tuzer Ballet, and Hathaway Academy of Ballet. Ballet facilitated an opportunity for movement, confidence development, and growing friendships. After focusing my energy on ballet, I discovered modern dance at Hathaway Academy of Ballet. This unique form of movement channeled my energy in new ways with room for my creative impulses. Ever since the birth of my younger sister, I had a dancer to demonstrate my choreographic ideas. Choreography has been a way to utilize both my mental creativity and physical energy, leading to opportunities as an officer of my high school drill team, where I choreographed a variety of pieces. My emerging choreographic style included ballet movements blended with both modern and hip hop.
After my choreographic debut throughout my childhood and young adult life, I entered my collegiate career at Sam Houston State University earning a Bachelor of Fine Arts in Dance (2015). Looking forward to exploring and refining my choreography and dance skills, I entered the Master of Fine Arts program in Dance at Texas Woman's University (TWU). During my time at TWU, my research was focused on deepening my understanding of my aesthetic interest in distortion by implementing methods to both generate movement and design, an installation environment.
With my continued energy and newfound knowledge and mentors, I co-created, with my colleague YeaJean Choi, a digital-based company, kNOwBOX dance. This company practices, encourages, and challenges aesthetic experience through our social media based laboratories facilitating a global presence for our collaborators to make, capture, and share art. We strive to say NO to the BOX. The box symbolizes the boundaries and confines that limit connections. In this company, we facilitate a multiplicity of possibilities of viewing and perceiving art. Most recently, kNOwBOX dance partnered with the Dance Council of North Texas and the Dallas Public Library to host the Dallas Dance Film Festival (DDFF). Similar to the entrepreneurial approach of creating kNOwBOX dance, the Dance Council of North Texas and kNOwBOX dance saw a need to provide global connection to the North Texas community. DDFF was honored to screen films from 10 countries including Australia, Germany, Singapore, Denmark, Spain, France, Norway, Italy, United Kingdom, and the United States offering a multifaceted experience for the audience. We look forward to making DDFF an annual event offering the community of North Texas a new way to engage with dance.
The relationship between choreographing, performing, and teaching has always been interconnected for me. As a professional dancer, I am challenged to harness my choreographic aesthetic in a different way of collaborating and performing with the Jordan Fuchs Company and Out On a Limb Dance Company. As an educator, I believe in creating an open, inclusive, and rigorous learning environment in dance where students are the center of my teaching and my work as an artist/scholar/leader is the core of my pedagogy. I am currently an Adjunct Professor at Eastfield College and Tarrant County College Southeast Campus. In summary, my story of finding and refining the art of dance has yet to conclude. My energy continues to grow as my passion develops for the art of movement and choreography.
Please tell us about your art.
My artmaking is focused on conversing with my aesthetic philosophy of distortion; to find beauty in the ugly, grotesque, and complex. Through that, I challenge western balletic conventions and expand notions of what audiences expect when viewing dance via the stage, the screen, alternative venues, and installations. I create unique choreography using Distortion Methods: deconstructing the body, twisting the body, and challenging movement patterns that produce a movement vocabulary that is uncomfortable, unnatural, and grotesque, providing the audience with an expanded subject matter that challenges the possibilities of what dance can look like. Not limiting vocabulary to clean lines and balletic inspired movement, I seek to connect to the long-standing tradition of creating art that expands possibilities of interpretation and too exposes "…a will to do something different- radically different" (Manns, 1998). In addition to creating choreography, I dance in other choreographers' works. Through experiencing the dancers' perspective, I am able to connect and collaborate with dancers and performers that participate in my works. These methods are applicable for any choreographic or performance outcome as they stimulate a process of generating unique movement phrases for any duration. I seek to challenge the audience of dance to re-engage with what it means to experience dance. I am engaging with aesthetics in a contrary way to western balletic conventions to expand notions of aesthetics. This aesthetic experience provides a space for the audience to understand other perspectives, which is why creating art that expands the possibilities of interpretation is valuable. My aesthetic philosophy of distortion provides a framework for making art that expands the audience's possibilities of interpretation.
Given everything that is going on in the world today, do you think the role of artists has changed? How do local, national or international events and issues affect your art?
The impact of social media and technology has greatly influenced the manner in which an audience prefers to encounter art and dance. Due to the easy accessibility of content via social media and technology, some patrons may prefer to be participants as opposed to viewers of art. Information and entertainment are now at the fingertips of many. Via a smartphone, entertainment can be manipulated and controlled by the participant. Thus, when an advertisement appears in a video on social media, many people choose to move on, as opposed to waiting for the advertisement to reach completion. Moving on from a video, that once was of interest, demonstrates impatience, which may negatively affect art that does not immediately grasp the attention of the viewer and hold that attention. The influence of technology and social media causes me to note a generational difference amongst a patrons' preference for partaking in art. For example, a patron from an older generation may enjoy passively observing dance performed on a stage, while a patron from a younger generation would prefer to interact with the dancers and partake in an experience rather than observe performers far from reach. It is a challenge for artists to continue to produce art in the same manner as always, because the attention spans, focus, and overall interest in passively observing art may shift. To compensate for this shift in viewer intent, I offer a multiplicity of ways to interact with my choreographic works: I create installations, dance films, and site-specific work by utilizing technology in my art and exploring unique ways to facilitate audience participation.
How or where can people see your work? How can people support your work?
To support my work, please follow me (@MartheyaNygaard) and kNOwBOX dance (@kNOwBOXdance) on social media for updates. You can also see excerpts of various projects on Vimeo (@Martheya).
Upcoming events:
February, kNOwBOX dance will be performing, presenting, choreographing and teaching at World Dance Alliance-Americas Conference in El Paso, Texas.
March, I will be presenting my latest work "Dainty" created with Tarrant County College-Southeast Campus at American College Dance Association's (ACDA) South-Central Conference in College Station, Texas.
April, Out On a Limb Dance Company presents Gobsmacked in Waco, Texas.
May, I look forward to performing in the Jordan Fuchs Company Concert.
June, kNOwBOX dance will travel in partnership with Jordan Fuchs internationally to present "Daily Group Actions" at the Prague Quadrennial (PQ) 2019 in Prague, Czech Republic.
Contact Info:
Image Credit:
Lynn Lane, Erika Record, YeaJean Choi, Out On a Limb Dance Company- Nicole Riggs Photography
Getting in touch: VoyageDallas is built on recommendations from the community; it's how we uncover hidden gems, so if you know someone who deserves recognition please let us know here.