Today we'd like to introduce you to Jasmine Mathew.
Jasmine, please share your story with us. How did you get to where you are today?
That's a long story! I was born and raised in Philadelphia, PA. I have always had an interest in music and dance. My sister and I would dance to Paula Abdul, Janet, and Michael Jackson. I learned the piano. I learned bharatnatyam, a classical Indian dance style through M.G. Dance Institute during grade school and some High School. I went to Temple University, changing majors from the Pre-Physical Therapy track to Exercise Physiology to finally, Recreational Therapy. I always knew there was something more to my calling, and in the end, it would be thinking "out of the box." I participated in dance performances at ISAT (Indian Students Association at Temple) shows. During my time in college, I worked in the Student Health Services department and also as a personal aide to a student with disabilities.
It was eye-opening to me the needs that weren't able to be met for persons with special needs, but that Temple University CHS was striving to service through research and lobbying. After graduation, everyone including my own parents couldn't understand the field that I chose, and it has been frustrating a lot of times the repetitive nature of explaining and defending its value, especially because such a new field didn't necessarily bring in a lot of money back then. I would like to say I got lucky in my very first position out of College as a Director of Recreation Therapy at Angela Care Pavilion Sub-acute Rehab Center, which serviced adult populations. I did prove my worth in receiving an award from JCAHO (Joint Commission on Accreditation of Hospital Organizations) for promoting new advances in their Recreation Therapy programming.
I did a bit of soul-searching afterward, and worked with different populations, added on more part-time jobs, and lived on my own to show my parents that I was self-sufficient. I worked at a Medical Day Care in NJ working with the pediatric population at Weisman Medical Center, where their Child Life department worked hand-in-hand with the Therapeutic Recreation department, and I first saw the very best team approach, using SLPs, Nursing, PT, OT, Dr's, TR, CL, all working together towards the same goals with different interventions. It showed me the first time other team members as well as parents requesting my services as a necessity and gave me even more motivation to do more with myself. I decided to put more under my belt and worked as a Physical Therapy Aide at a nearby hospital. I even dabbled in a little modeling in NYC. I moved to Rockland County, NY, further trying to find myself and worked at several different nursing homes, once again finding myself as a Director of TR, where its value was questioned by everyone ONCE AGAIN, but the Administrator and Social Workers rooted for me. I managed to fight through the frustration and used community resources, volunteers, headed a new nursing home newsletter, and hired new TR students. In the process of being this department head, I also taught Bollywood dance once a week to 3 different classes (4/5-year-olds, pre-teen, and teens) through Arya Dance Academy. I learned to work with some pretty demanding parents who thought this 12-year-old looking woman did not know much about the business, most resulting from miscommunication from the headquarters. Another learning experience!
Two years later, I met the love of my life, Tino, moved to Long Island, and worked in St. Mary's pediatric rehab hospital in Bayside, NY. I met some of the most eclectic, knowledgeable, hardest-working, unique, and team-building Recreation Therapists there. In fact, I invited them all to my wedding three months after working there. I am still truly close to all of them as well. Two years later, I became pregnant and decided I would take a year off from work after having my baby. After, of course, becoming a Certified Car Seat Safety Installer. However, I took EIGHT YEARS OFF! Like other stay-at-home moms know, it costs more to put them in daycare and work sometimes, than not working. It was such a crazy and foreign concept for me- staying at home and not working. I LOVED staying with my son at home, seeing all of his milestones accomplished. My husband was super supportive of me, stating that he would want me to be an integral part of our baby's young learning time and that honestly, he made enough money for us to do it. I also had a new highlight in my life introduced to me: my oldest nephew, Jonah. Jonah was born as a survivor of twin boys, born at 24 weeks. He was born with many different special needs, had required months of NICU time and years of therapy, some continuing today. He has come a long way defying the odds, and I got to witness my brother in law and sister in law as the most patient and faithful parents I know.
(* This mental toughness their family showed me continues to affect me in my interactions with my students' parents today.)
During my time as a stay-at-home mom, I did dabble in teaching a Bollywood Fit class, as well as a Bollywood Dance class for all ages at local dance studios. (Tropix Dance & Fitnezz Studio in Lynbrook, NY and Dream Center Dance Academy in Massapequa, NY) I was super grateful for the experience. I even started my own business "Jasmine's Beat, Inc.." Less than a year later, it made more sense to get unincorporated as I was not making enough money to support it. It devastated me. After some time, I got pregnant again with my beautiful daughter. I decided my time for my own business was not then.
Once again, I loved staying at home and loving my kids, and their zest for life as well as enjoyed bringing them new places to experience. I continued with my love of dance by helping choreograph dances for weddings. I did feel this pull to accomplish something that would bring something to the world we live in and not just my own family. Suddenly, we got an opportunity for our family to move to TX and we jumped on it. It was incredibly awesome but also difficult at times initially, because I only knew a couple people, and was not close with them. It's been four years since we moved here, and now I have a close group of awesome mom friends, my cousins, and my parents live nearby too. To top off the awesomeness, we had our 3rd child in Texas! I learned not to be afraid to open up, network with acquaintances, and also to pay attention and LISTEN to other people's experiences. Texans always weirded me out in the beginning because they were super-friendly, talkative and super-nice! That's not typically the case where I have lived. (Haha-ok, maybe I exaggerate a little. Anyway, that southern hospitality gave me an extra bit of motivation to go for it again. I missed my work with young kids wor, so I trained and worked as a Preschool ballet and jazz dance teacher for Stretch-n-Grow McKinney. My youngest was in preschool, and it was good timing to get started slowly. As of May 2018, I work as a contract Recreational Therapist for Complete Treatment, LLC, a community-based therapy company owned by another Recreational Therapist. The owner, Mashi Epstein, encouraged me to pursue my dance business again and my personal aspiration was to teach people with special needs, so it connects what my academic background is along with my passion. My own kids have been taking dance classes at Next Step Dance for the last four years. The owner of NSD, Michelle Stafford, has welcomed an Adaptive Dance class from "Jasmine's Beat." I have opportunities to bring my clients as well as the general public to this class. Currently, I have volunteers that range from high school dance students, dance teachers, therapists, and others with a passion for dance.
Next Step Dance and I will offer a sensory-sensitive recital in June of 2019, and it will be the first show of their whole recital! I am super excited about this opportunity. NSD, an established dance family, partnered with me to also work with special needs kids' families with financial issues, so there are no obstacles in their kids pursuing their passions. I have also teamed up with North Texas Performing Arts in Plano, and will be providing an Adaptive Dance class in 2019, providing choreography for kids with special needs for their musical "The Little Mermaid." I recently spoke with the owner of 4 The Love of Dance studio, who knows the home-schooled population, intertwined with various types of kids' needs, and was willing to promote "Jasmine's Beat" there as well! My next endeavor would be to start a wheelchair dancing class. Now, to figure out how to schedule all this with afterschool activities for each of my own three kids! To top it all off, I also sell Usborne Books on the side. Hustlin' Mama here! However, my heart is now so full with this abundance of opportunities for me to make a difference in these lives!
Overall, has it been relatively smooth? If not, what were some of the struggles along the way?
It has definitely not been a smooth road. I think I learned early on, that there would be pushback from everyone I knew, one way or another. The mantra "You can't please everyone" is something I have to remind myself often. I think I am far from someone to give advice about starting a passionate journey. I can tell you that I am a people pleaser and that mantra has kept me from losing my mind often. One of the first things that have made a difference, especially moving into a new place, with new people, is the concept of listening. Listen to others. Listen to their needs, their wants, and their stories of their experiences. Ask for more details. A best friend once told me when I was in grade school that I talk too much about myself. As much as it hurt then to hear it, it also has helped me focus on others and that, in turn, helps others value your services because you listened and understood them. Another piece of advice that I have followed is not to be ashamed of owning your passion and branding it. I could've named my business something other than "Jasmine's Beat," but I also thought of the idea of tying my passion and my education and I don't owe my hard work and "my beat" to anyone else. Neither should anyone else working to pursue their dreams. Finally, I have also learned from my mistakes, and I am still learning. Accept the fact that you will make mistakes, again and again, but don't stop improving yourself. I started out pretty naïve in what I thought I needed to do to get started. I'm still pretty naïve, but I have learned to constantly reinvent myself. Also, in the process of reinventing oneself, don't forget to take care of yourself! Be a little selfish and have your "invest in me" time. My own kids and even my students will notice the difference in me and my spirit when I do!
Alright – so let's talk about your work. Tell us about Jasmine's Beat – what should we know?
I am proud to say that I am a Recreation Therapist, a Therapeutic Dance Director, and a CEO. As a Recreation Therapist and Therapeutic Dance Director, I work for Complete Treatment, LLC, as well as Covenant Kids now, I use recreational activities to progress to goals with special needs kids in the community and after school.
As a CEO, I am aiming to bring "Jasmine's Beat" as an established Adaptive Fusion Dance business in the Frisco/DFW area. I am known for being adaptive to my environment when working with my clients and families, as well as my co-workers. I am also known for working on issues, further than what is presented to me.
As a brand, I am proud of the fact that my clients, as well as their parents, prefer, and even, now seek out my services. It tells me that I LISTENED and I helped to the best of my ability. I think what sets me apart is my multitude of experience in different populations and settings, with different teams, in different states, and my own family experiences filled with unwavering hope. For me, creating recreational experiences that clients can continue to do after working with me, such as providing an Adaptive Dance class, that will provide a Sensory-Sensitive recital at a neurotypical dance studio is exactly what should happen. When anyone questions whether a client should participate in intrinsically motivated passions, whether it be a sport, an art, a pastime, or a mentorship, I say: "WHY NOT?" Inclusion, it's everywhere you want to be (part of)!
Do you feel like there was something about the experiences you had growing up that played an outsized role in setting you up for success later in life?
Growing up, I had some pretty strict Indian parents, who left their home country almost a decade before I ever came in the picture. Their stories of not knowing anyone else here, working extremely hard, pulling three shifts at work if necessary, living among supportive friends, getting their citizenship, and being proud of the U.S. and all of its opportunities have all had an impact on me. It tells me that I really can't complain when things get tough because they had it much tougher.
Another factor that I think that still affects to this day is that growing up I was the oldest of only daughters. It is old-fashioned in thinking now. However, I grew up hearing "I wish we also had a son to do this" or "Boys would've been able to help with this." It fueled me into proving to them that this tiny-boned girl could do just as much. From being handy in the house to lifting things that looked pretty odd for someone my height to carry, it is something I still instill in my own daughter. I look back at it now and find it sort of comical because I call my 6'3″ husband for quite a lot now. Growing up, where I lived, and where I went to school, I faced bullying, made true friends who always did the right thing, had an extended family to call for any need, and was always known as the dancer in the family. All of this definitely set me up for where I am today.
Are there any apps, books, podcasts, blogs or other resources that help you do your best in life (at work or otherwise)?
Funny you ask about blogs-I have one of my own! www.dancingm0m.blogspot.com It's been a minute since I have added to it, as it requires some continuous time and energy from me. It's a learning experience from how naïve I was when I started it. Don't worry. I will add more to it though- soon enough! As far as resources for life and work, I have watched a few TED talks online, enjoyed some motivational books such as "You Are A BadAss," and "Lines for all occasions- Pep Talks & Picker-Uppers" and also like funny but motivational reads such as "Why Not me?", "Bossypants," and "Girl, Wash Your Face."
I recently got introduced to apps I can download on my phone to help me calm my anxiety and fears using meditation and positive thinking. They are Headspace, Selfish Babe, and The Mindfulness App. OH, and parents! I highly recommend the app: Choremonster, as it has gotten my kids and my husband and me in agreement for chores, rewards, and reminders. Out of any resource I have used, my favorite ones are my husband, my sisters and brothers, my parents, my network of friends, professionals, therapists, dance teachers, other business owners, parents, my clients, and GOD!
Contact Info:
Address: *Next Step Dance@ The Star in Frisco (6635 Cowboys Way, Suite 130, Frisco, TX 75034)
*North Texas Performing Arts in Plano (6121 West Park Blvd, B216, Plano, TX 75093)
Phone: 2152194928
Email: jasmine@completetreatmentdfw.com
Instagram: @jasminesbeat
Facebook: @jasminesbeat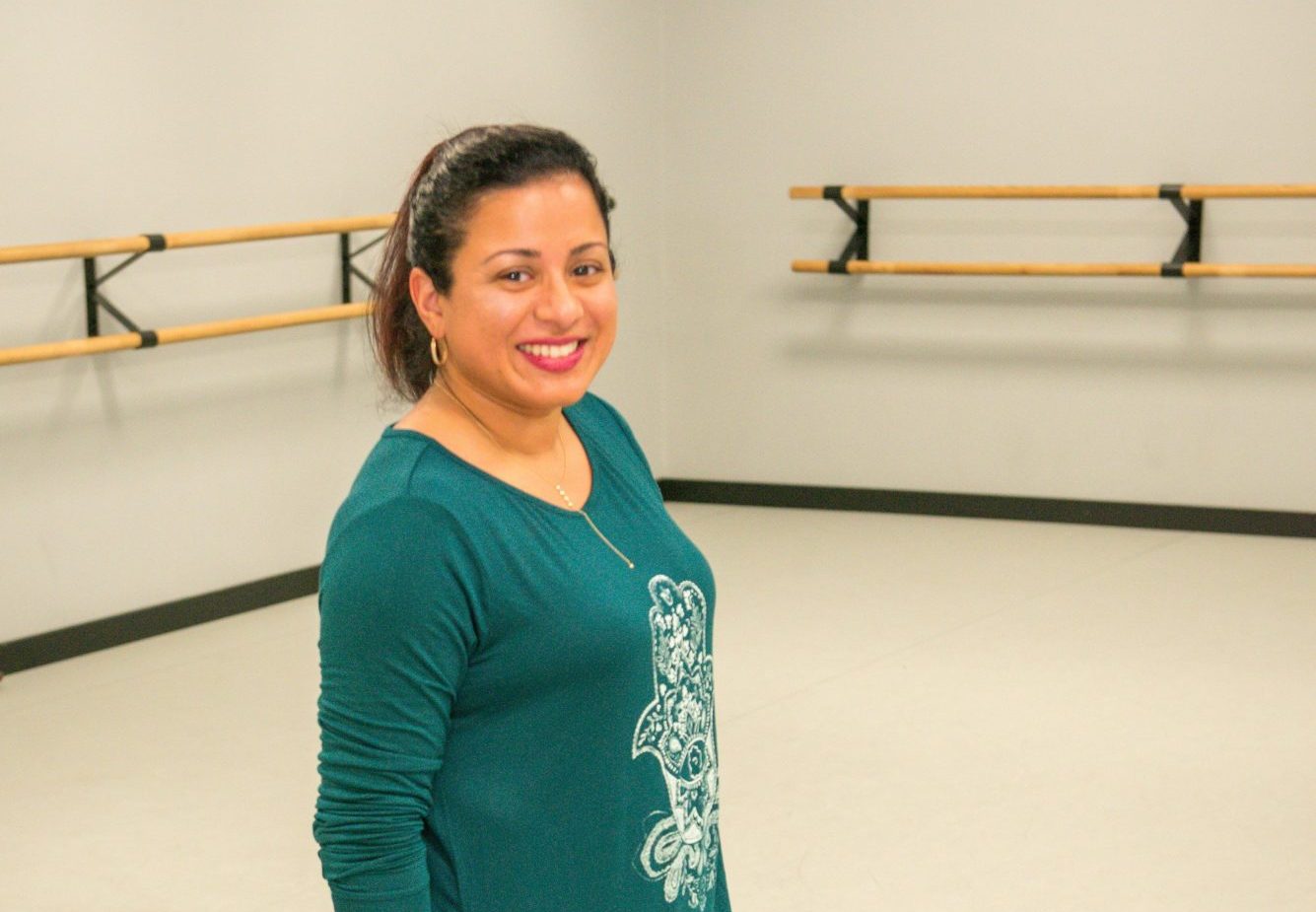 Image Credit:
Kiki's Photography, Barb Michniak, Next Step Dance, NTPA, Oceanside Local Luxuries-2012
Getting in touch: VoyageDallas is built on recommendations from the community; it's how we uncover hidden gems, so if you know someone who deserves recognition please let us know here.