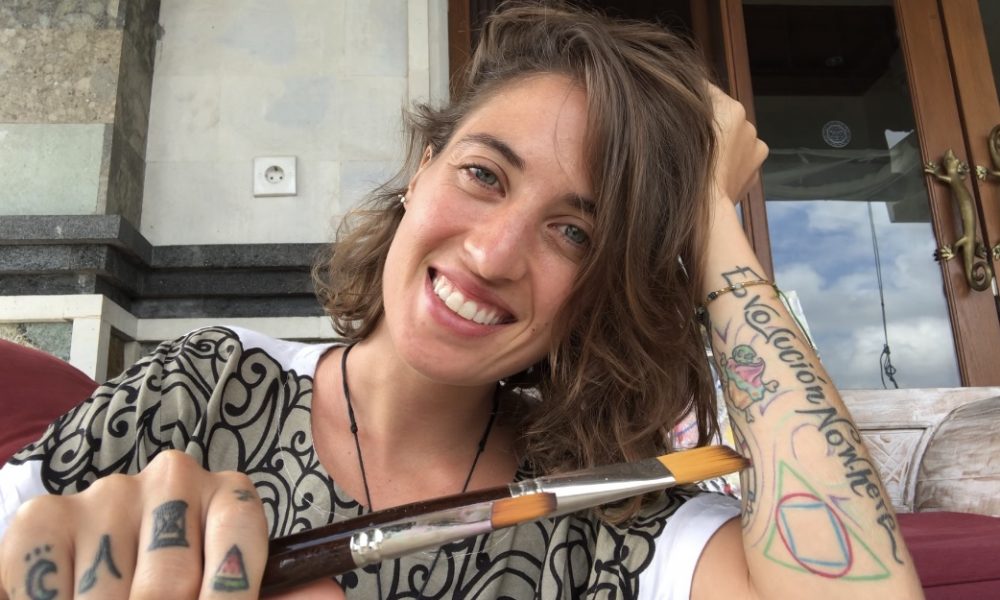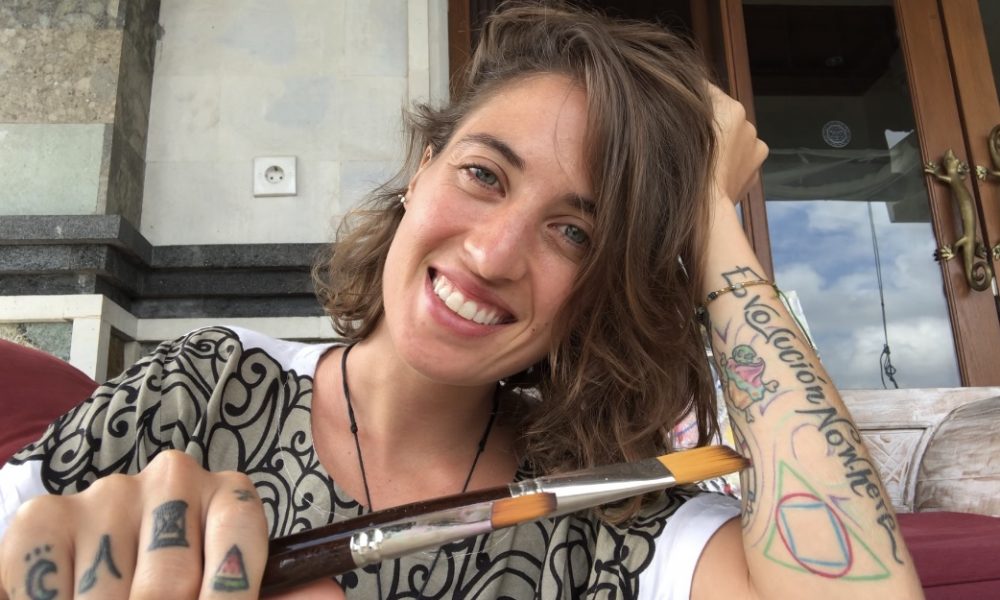 Today we'd like to introduce you to Nanu Berks.
Nanu, please share your story with us. How did you get to where you are today?
Thank you for taking the time to put this story together, I have been healing from some intense life events for the past six months and my mind still feels quite scattered. 
I am originally from Argentina. I have had a very hard childhood, when I was nine, I started traveling around Argentina on my own, later to become completely nomadic around the age of 18.
Since I was a kid, I knew I'd be a writer, artist, and performer, I've written three books to date and have developed a successful visual arts career, but only now I am starting to understand, that I prefer to embody the creative spirit and live as art, versus being an "art maker" creative expression is one of the most healing tools we all have, I try to embody this truth as much as possible in my day to day life, as well as help others get inspired and in touch with their own creative gifts.
In 2002, there was a big financial crisis in Argentina and my family and I lost all of our life-savings overnight (wasn't much but, to begin with, but we lived a normal humble life in a small apt with access to basic needs).
My mom (a single mother) was left to take care of a house and two kids with nothing. I mean, no job (she was a media/journalist literally threatened to death if she worked), no shoes, no more access to education, and eating ice cream for dinner three times a week because it was the cheapest food around.
Life was not easy, I dove into my art as a coping mechanism. I remember when I was five years old, I asked for art history lessons, I took a few and loved it, but quickly realized I did not want to study art. I wanted to make art all the time and I did not want to know what existed before or what was considered "good or bad art," I wanted to keep my creativity pure. I was always collecting paper scraps, sticks, coins, anything I could find to make art with, I was constantly drawing on napkins, walls, and in my early teens cutting up my clothes and spraypainting them, modifying everything I could around me.
When I was 13, I started painting bigger pictures, drawing on walls, and really fell in love with the dancing and meditative nature of this experience.
At 16-25, I backpacked/hitched hiked alone around the Americas, north-central and south, Europe and the middle east, painting murals, making music, and teaching healing art classes, in exchange of housing food and transportation. I also went to UMass Amherst college outside of Boston, Massachusetts during this time on and off while traveling as a professor supervised my writings while I was on the road. She basically made it possible for me to get credits for school by sending essays from the places I was traveling to instead of being in school. I graduated with a degree in communications from the honors college and a minor in creative writing
I backpacked for about a decade straight — in that life within this life, I got to live in a tent for months at a time on the beaches of Peru, land a raw-food-chef gig in an 11 room mansion on a private beach the next week, paint murals and teach healing art classes, yoga, music, in exchange of an abundant life traveling all over the world without computers and barely touching any money.
At some point around age 21, I started also receiving monetary payment for murals as well as later on took on some remote writing gigs online while on the road, as to get a break from traveling all the time as well as to have time to get newly inspired between paintings. I received a payment in bitcoin in 2012 from an experimental writing gig and took note of the blockchain movement, although I was not interested in technology at that time.
I was really interested in the concept of a trade-economic system and loved living semi off the grid most of this time, without having to think about money, everything just flowing and working out. i had no idea that years later, technology would be a main part of my art career as I adopted blockchain symbology as one of my obsessions (in efforts to communicate and explain more about this trade economic system) blockchain gives a technology structure to the way that nomads live on the road, while holding everyone accountable for their trades in a secure and transparent way.
I eventually settled in Austin, Texas (the past three years), the first place ive lived in for long enough to see plants through the seasons, it was mind-blowing to me to actually identify seasons and see flowers change through this cycle. I found a sense of community and home I had never felt anywhere before. I built an art studio and was able to fully thrive as an artist, made a name for myself as a muralist and fine art painter, as well as received my first "big" media coverages on Forbes magazine three times for my non profit art donations as well as my work in empowering planet positive technology. I also was interviewed by the American alliance of museums which was a big deal considering my non-traditional art path. Also, global coverage in all things blockchain and bitcoin including virtual art shows in Hong Kong, and physical art shows in Paris, NY, SF, Portugal, Houston, Fort Worth, Austin, etc.
I consider myself one of the lucky ones, that through all the wild immigration to the US at a wild time, still got the education, had the love and support of friends and a small hard-working family, that escaped the loop, that moved to a 1st world country, that was healthy enough, and honestly, "white looking enough" to get by with added privilege, and that worked 'round the clock since I can remember to make my dreams into a reality. I have been selling jewelry I made and paintings and busking music on the street since I was nine.
I have a voice in this space (street art and future art, tech blockchain art) because I have earned it and because it is a part of my purpose to continue bridging the extremes. I am here to help others get in touch with their creative nature, to help heal themselves, to continue to give blockchain technology a voice and to put blockchain technology to use, now, in real-time, and towards planet positive awareness and action, helping some of the worlds most needing economies (we have seen a lot of progress in Venezuela, PR, Argentina and Mexico already) houses being built, supplies reaching families all with cryptocurrency (donations without middle man).
I refuse to be a victim of a broken government and system, I choose to be an example of an unbreakable soul motivated to leave this pale-blue-dot floating through space, better than I found it through fully embodying my creativity.
We're always bombarded by how great it is to pursue your passion, etc. – but we've spoken with enough people to know that it's not always easy. Overall, would you say things have been easy for you?
The crisis of 02 and 08 definitely difficult, the whole country was in a state of panic and violence, I remember joining "caserolasos" on the street riots for justice of the people literally with cacerloas (metal pots).
My parents got divorced when I was nine because my father was gay. He was unable to come clean about his nature earlier because of his violent home environment in Argentina at that time being gay would have gotten him killed. He finally came out after years of suppressing his emotions with drug use.
My dad is a very well known doctor in Argentina, he holds over seven different specialty medicine degrees, he is brilliant and kind and has been clean for over 15 years. However, growing up with him was very difficult he was always leaving or causing trouble and eventually we just could not have him as part of the family anymore until he was clean.
I remember waking up in the middle of the night when I was a young kid maybe five, to notes by him saying he had moved to another country, my brother and I alone in the apartment when my mom was working, now we have a civil relationship, I haven't seen him in five years, we text and send photos to each other on Whatsapp across the world. I miss my culture and my family very much and hope to be able to visit Argentina again sometime soon.
I am currently healing from a very difficult car accident that I was in five years ago, I was riding my bicycle in Argentina and a truck ran a red light and hit me, I broke my hip and ankle and organs shut down, died in ambulance died again in a nine-hour operation with two teams over eight ppl operating on me, it was crazy, I had to re-learn how to walk and overcome PTSD of traffic (couldn't even cross a street for many years). I am currently in Bali, Indonesia and ride a motorcycle around everywhere and love it. But this progress has come now after five years of living in terror (while building my art career in Austin, no one knew I would have panic attacks every time I got in a car or crossed a street), I only started talking about this recently because I didn't want people to feel pity for me, but as I've been able to heal my own PTSD with the help of healing arts, I've begun talking about this because it is important to work that can help many people.
With the help of a Ph.D. psychologist and reiki master, I have been experimenting with and learning from different healing art modalities and have been able to access my subconscious to clear my PTSD and reduce the size of my amygdala again (organ in brain that perceives fear) this is how I am able now to live a normal life and cross streets and even enjoy riding a motorcycle which I never thought was possible.
I currently love holding sound healing sessions and other creative exploration art installations, performances and collective visual art experiences that help others with their own healing as well.
Do you have any advice for young women starting out?
Advice for young women starting: never compromise your standards or your ethics. In a world ruled by power and still often influenced by sexism and patriarchy, there will be many times in your career/life where stretching your boundaries will make or break an opportunity, let that opportunity go if it's not 100% in resonance with your beliefs and boundaries. There are so many opportunities out there, and by saying no to each one that feels miss-aligned, you only clear the path for those in full-alignment to show up more often. This has been true every time, for myself and other successful women around me. The more you stand up for yourself, your value, and honor your truth, the more you shine unapologetically in your own weird creative nature, the more abundance of joy, success and health flow into your life.
We'd love to hear more about your artwork.
I enjoy creating mural art in cities where certain information or education is not as accessible to the public. Big impactful art generates conversations and sparks curiosity in ways that include everyone into the dialogue and this is very important to me.
For the same reason, I design art wearables or art clothes with information about technology for good and planet positive messages of compassion and unconditional love. A really extreme looking art shirt is a great conversation starter and I often receive stories via email from people who share their experiences of these pieces sparking interesting conversations while hanging out with friends and strangers. nanuberks.com/art has my art store
I could have never anticipated that the nomadic rebellious artist in me would end up adopting the symbology of this latest technology to talk about freedom, equal opportunity, compassion, love, and healing.
I still love mixed media art the most, however, the idea comes first, and then the medium that will carry it to full life. Sometimes, it's a sculpture or an art installation a sound healing journey, graffiti art clothing or a fine art collectible.
I am most proud of always working with integrity, being willing to lose a great art project if the intentions are not pure and true. I am also proud of myself for working so hard even though every time I felt I would collapse under the pressure of running a business while being the talent, it's been a lot to be my own pr agent, advisor, creative, event planner, producer, artist, gallery, saleswoman, etc. many artists and entrepreneurs go through this for most of their lives and my heart extends in gratitude and owe of all of us always continuing to build upon our truth of expression.
Do you recommend any apps, books or podcasts that have been helpful to you?
Love listening to artist's podcasts, the moth stories, and traveling learning from new cultures from the root. I also loved the artist way, a book every creative would benefit from, you can heal your life by Louise hay, and Anastasia and the ringing cedars series.
Best resource is asking people a lot of questions. Everyone is creative and everyone's story is wild complicated and beautiful. You can ask 100 people what they feel about the color blue and in their answers, you will find endless inspiration. Everyone's unique lens of the world is an endless resource of creativity.
I love the app think app, you can record your own positive affirmations in it and listen to them in your own voice before going to sleep or upon waking up and this has helped me tremendously to stay focused and balanced.
Pricing:
prints and clothing from $20 – $600
original collectibles and fine art from 600 – 30,000
mural work from 5,000 to 60,000
Contact Info:
Suggest a story: VoyageDallas is built on recommendations from the community; it's how we uncover hidden gems, so if you or someone you know deserves recognition please let us know here.