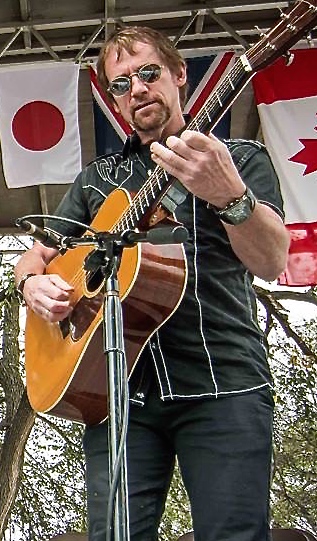 Today we'd like to introduce you to Brad Davis.
Brad, please kick things off for us by telling us about yourself and your journey so far.
Started playing classical guitar at the age of five, a couple years later my brother started playing banjo and I realized that my classical guitar was just not loud enough and so I asked my parents for a steel string and they purchased me a Yamaha flat top guitar. I begin to digest Bluegrass and folk records from doc Watson to Tony Rice and Gordon Lightfoot. My brother and I had to do all very similar to flat and Scruggs and we played local shows in Dallas, Fort Worth, Austin Arkansas, Oklahoma, Missouri, Georgia, Kansas and we were known as the Davis brothers. As a young kid growing up it's not hard to understand why I also loved rock 'n' roll. I would learn rock 'n' roll lyrics and bluegrass licks and mix them together and that's how I stumbled onto my double down up speed picking technique for the right hand.
I was listening to Eddie Van Halen and had no idea that he was tapping the strings to get the speed and clarity he was achieving, and I believed he was doing it with a flat pack. When I saw the band live for the first time I realized how wrong I was and had doubts about my new technique. But over time the technique got stronger and better, and more efficient. It would be the one thing that gives me a special song print as a guitar player is my own technique. All the time playing bluegrass I begin to devil on the electric guitar. I was called to play a session in Abilene and the leader of the session was the bandleader for Ricky Skaggs. Skaggs had a number one on the radio and was doing well at that time. The bandleader Gary Smith asked if I Would be interested in an audition for rhythm guitar and back up harmony for Rickey's band? And I said absolutely. He called me a couple days later and said you got the job go ahead and move to Nashville and will be in touch. I got to Nashville and to Weeks went by and no phone call from the Ricky Skaggs camp and I was getting worried. I finally got a phone call and was told that the job was given to someone else and had several hard days of depression.
I received a phone call the next day and upon my arriving in Nashville I recorded Ricky Skaggs country boy solo on my answering machine, and the man that was calling me was Jack Smith the bandleader for the Forrester sisters on Warner Bros. records. He had heard about me from his brother Gary, the bandleader for Ricky Skaggs, and when he heard the solo for country boy on my answering machine, he asked if I would want to lead guitar job with the Forrester sisters? I quickly scramble to the phone and said yes when do I start. I was a brand new electric guitar player but could learn post anything that I heard. I started rehearsing with the Forrester sisters and Georgia and we went on a European tour opening for Conway Twitty, then Kenny Rogers and many other major artists. After five years with the Forrester sisters I met my lovely wife Rashelle Weaver.
We dated three months then got engaged and got married in Nashville. I continued working for the Forrester sisters but was looking at an audition for Marty Stuart. I wasn't sure if I was qualified not being a veteran telecaster player, but I needed to make a change. I wanted to move to a job where I would be challenged and I could learn more. I tried out for Marty Stuart and got the job and began taking private lessons from Marty's producer at MCA records, Richard Bennett. It was there with Richard Bennett and Marty Stuart that I would learn all my professional skills as a major player. I work with Marty Stuart for five years and then felt the need to take a break. I rehearsed and entered the Winfield national guitar championship and did not place but received a standing ovation. I guess you could say I did it for me. The following month I was offered a job with the sweetheart of the rodeo bluegrass group. I was excited and took the job. They allowed me to play my Brad vendor, bending mechanism for the acoustic guitar while I was in that group and I toured with them and recorded for two years. Marty Stuart asked me to come back to the band.
It was A new year and a new time and I was looking forward to the challenges ahead as we opened for Travis Tritt in large major venues. My wife and I had a beautiful little girl name Briley and 18 months later we had a handsome boy name Landon. My wife and the kids were quite busy while I was on the road as I started touring with Earl Scruggs family and friends at the same time touring with Marty Stuart. I work with Marty Stuart for 11 years, Earl Scruggs six years and my next job was an offer from one of my biggest Bluegrass heroes, Sam Bush. I was asked to replace John Randall and I would tour with Sam for two years and record and have some of the best traveling days of my career. After working with Sam Bush I'll begin working closely with Hollywood actor Billy Bob Thornton. I met Billy Bob Thornton through my contact with Marty Stuart and Billy Bob and I became good friends. I begin to engineer at his studio in Hollywood for many years as we wrote songs and created music and formed a band called the Box Masters. We toured Europe for five months and many tours after that in the US. While at Billy Bob Thornton's studio, the cave, Warren Zevon arrived barely alive to finish his last song for his final record, and I just happened to be playing guitar and singing that day on his final song, knocking on heaven's door.
The album one folk album of the year and that was the first Grammy record that I would have the pleasure of performing on. My wife's father became very ill, and we move back to Texas, East Texas rather, and settled in a small town called commerce Texas. I begin getting calls from John Jorgenson's Django quartet to play guitar and tour with him and that provided money for us to live on. We soon purchased a building downtown Commerce and begin constructing a fantastic production facility where I work currently. The daughter just graduated nursing school and my son is going to school and A&M and I am finishing my degree at Berkeley online. I teach audio production at Texas A&M, tour as a solo artist on Louisiana hayride record label and perform shows for a Gretsch guitar company and Alvarez guitar company I hope that's not too much for the brief that's all I've got right now it was easier to talk it into my voice recorder and have it print out the information
Can you give our readers some background on your art?
I write, perform and produce music. I own my own professional recording studio in Commerce, Texas – braddavisrecordingstudio.com. My goal is to create music that will make history.
Any advice for aspiring or new artists?
Is to always be charitable to everyone and to remember that not to get upset about things we cannot control.
What's the best way for someone to check out your work and provide support?
braddavismusic.com, iTunes, Amazon, Spotify, Instagram, Facebook, cdbaby, Louisiana Hayride records.
Contact Info:
Getting in touch: VoyageDallas is built on recommendations from the community; it's how we uncover hidden gems, so if you know someone who deserves recognition please let us know here.