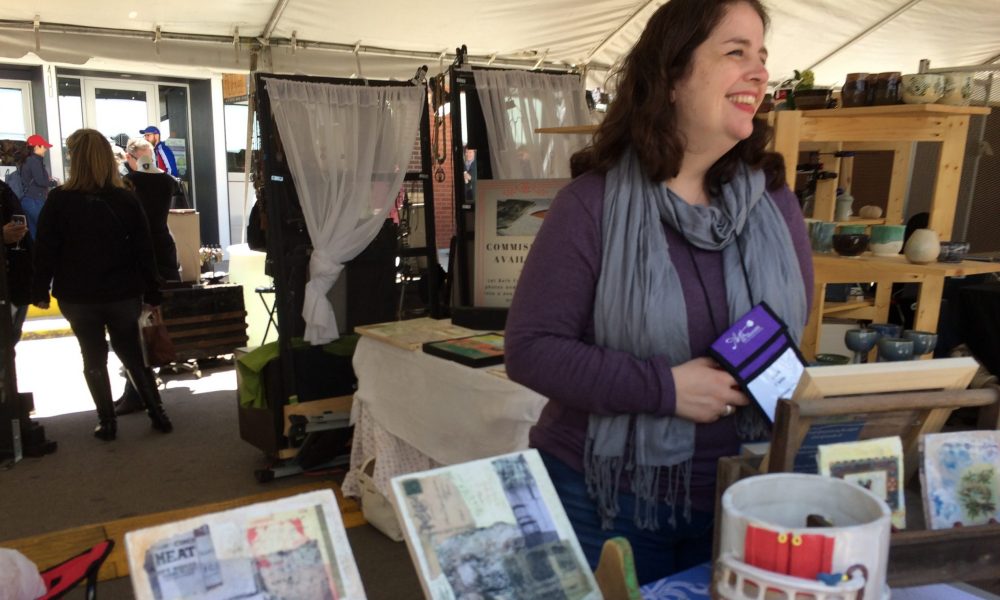 Today we'd like to introduce you to Beth Fields.
Beth, we'd love to hear your story and how you got to where you are today both personally and as an artist.
I followed a wandering path before finding my heart home in McKinney, TX. After growing up in Carrollton, I went to New York for college at Eugene Lang which is part of the New School. This gave me the opportunity to take a pottery class at Parsons School of Design, and from the first time I touched clay I was hooked. To have the opportunity to create something that was both beautiful and functional felt transcendent. When living in Providence, RI, I had the opportunity to join the Pottery Studio at South County Art Association. When I moved to London and then back to Texas, working with clay stayed on the periphery until I found the phenomenal McKinney Art Studio. This place has been a tremendously nurturing as community for me as I've reconnected with my love for pottery and taken my work in many new directions.
On a parallel path, I've always loved to create collage and have many objects covered with vintage images all over my house. I took my first workshop at The Encaustic Center in Richardson on the recommendation of a friend who recognized how the medium was a good fit for my style. I felt like the medium of working with beeswax and resin was able to take my interest in putting images together to a whole new level.
I launched myself as an artist in July 2017, which was an amazing synthesis of being a lifetime pursuer of art. Even as a kid I was interested in museums, drawn to vibrant color, and obsessed with anything old. Throughout my life I've "curated" my house by arranging beautiful, quirky, and old things into displays. It's crazy that it took time for me to feel comfortable telling someone, "I am an artist" when I've been thinking and working like an artist for years.
We'd love to hear more about your art. What do you do you do and why and what do you hope others will take away from your work?
I work in two different mediums – pottery and encaustic collage. I find that the two speak to me differently but also feed each other in interesting ways. With pottery, the process of taking a lump of wet dirt and shaping it, either by hand or with the wheel, into a distinct form that is then fired, glazed, and fired again feels like a very grounded way to create beautiful art. I originally started exclusively as a wheel potter and loved the way that I worked in partnership with the force of the wheel to shape pieces. Coming to the McKinney Art Studio, my amazing teacher Lisa LaBarge was working on a piece one day that was a building, with doors, windows, even a staircase. I was enchanted! That's when I started adding doors to some of my wheel thrown pieces and then branched off into hand building large buildings and even a whole "city block". One of my favorite ways to indulge my love for architecture is to create "doornaments" – small pieces the size of a cell phone that feature a doorway and other architectural elements. I'm often drawing on pictures of crumbling old buildings I take on my travels or just walking around the square in downtown McKinney.
With encaustic collage, I love the opportunity to I draw on my love for color, pattern, and old things of all kinds to craft individual pieces that carry an echo of another time and place. The process of encaustic uses a mix of beeswax and resin that, when warmed, can be brushed on to serve as a medium to hold the elements of the collage together. You can also add oil pigment to the encaustic medium to create encaustic paint – which is a very textural way to paint. I love to layer up and scrape back – using the same tools we use to trim clay, interestingly enough!
Encaustic collage pieces are a vehicle for my fascination with vintage ephemera – the stories vintage items can tell us and the ways that pieces of history mesh with our present reality to reveal unexpected beauty. Many of my pieces feature family artifacts brought together in juxtaposition with items I love for their color, design, texture, or text features. I have nurtured a life-long collection of items – postage stamps, book pages, postcard imagery, product labels – that still resonate with the purpose they served before and stand ready to reveal whispers of the past repurposed. I'm like a magpie, always stashing away little bits of paper to incorporate in a future piece. When I go to the Encaustic Center for a work session, I come with a rolling bag and 3-4 tote bags full of stuff that I can pluck out and be inspired by. I really enjoy the opportunity to work with others on commission to make one-of-a-kind art pieces that feature copies of their family treasures. Being able to bring together their memories into a finished piece that gets those pictures and papers out of a dusty box and on display is a joyful privilege.
The sterotype of a starving artist scares away many potentially talented artists from pursuing art – any advice or thoughts about how to deal with the financial concerns an aspiring artist might be concerned about?
I work full time in addition to pursuing my art, which creates its own set of challenges. However not having to depend on my art for income frees me up to focus on process and not feel pressure to produce at higher levels than time allows in order to maintain an income stream.
The McKinney artist community is filled with inspiring individuals who are making the artist life work for them financially and from what I see it comes from a mix of creating pieces they are personally passionate about that tell a compelling story that others are drawn to buy, creating commissioned work, and teaching workshops. I do know that any time I am trying to make something that I think the market would want instead of what I am personally drawn to create, those pieces are missing the spark of my own artistic perspective and don't do as well.
Do you have any events or exhibitions coming up? Where would one go to see more of your work? How can people support you and your artwork?
I am excited to join the other amazing artists currently at Bay Willow Design off the square at 222 E. Virginia Street in McKinney. My work will be available in the retail space starting in June 2018. I also currently have two encaustic collage pieces on display at Frisco City Hall, 6101 Frisco Square Blvd, as a part of the Art in the Atrium 16 show through September 2018.
My website is a great source of information as well as an online store: www.bethfieldsfineart.com. I also post regularly on social media – you can find me on Instagram @bethfieldsfineart and on Facebook at Beth Fields Fine Art.
Contact Info:
Image Credit:
Beth Fields
Getting in touch: VoyageDallas is built on recommendations from the community; it's how we uncover hidden gems, so if you know someone who deserves recognition please let us know here.