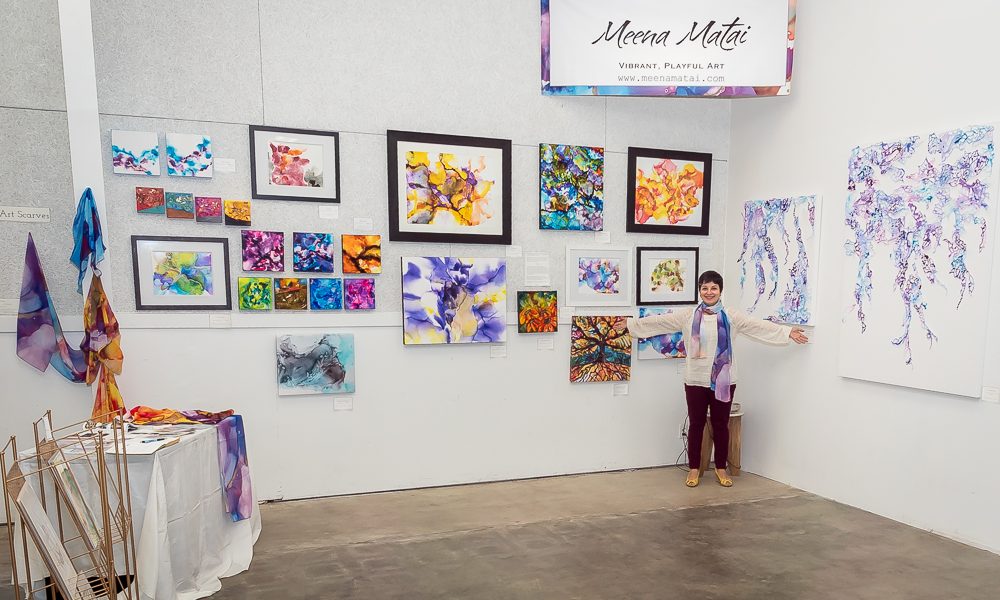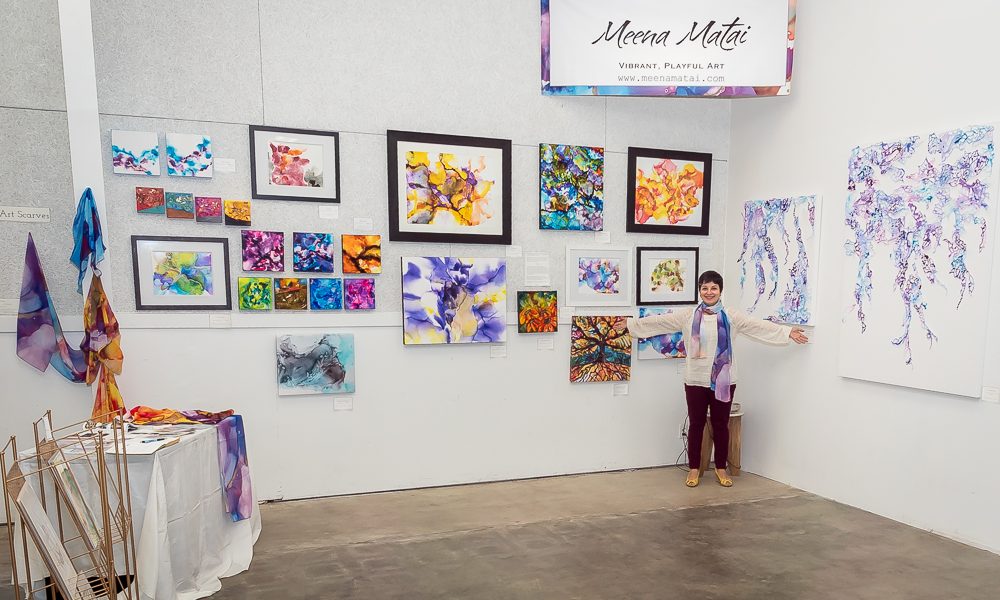 Today we'd like to introduce you to Meena Matai.
Meena, we'd love to hear your story and how you got to where you are today both personally and as an artist.
Art has been the one constant in my life. I have created art for as long as I can remember. When I was eight years old, I'd go to our neighbor's house, an artist and watch her paint. She was my first art teacher. I was born in India and moved to the United States in 2001. With my family's direction, I took up engineering in college. I do love math and enjoy science, so I did well, got a Masters in EE and worked for fifteen years. I never gave up my art and painted all along. I took courses at the School of Art at University of Arizona while doing my Masters. After graduating, community colleges and the local art centers were my go-to places to keep learning art. In all of these years I participated in art shows and also taught on the side. I was trying to balance being an engineer, artist, teacher and a parent all at the same time. Somewhere in there I got overwhelmed and decided to take time off to figure out my life. While I was in this process of sorting out my many roles, my father passed away all of a sudden and I came face to face with the fragility of life. That's when I understood that I had to be the real me. I had to tell my story via art. I had to vibrate at such a high authentic energy that only love spreads through my art. I share my story with everyone I meet, show my art around Austin and also teach art. It's thanks to my family, friends and art appreciators who have made this journey possible by supporting me and inspiring my work.
We'd love to hear more about your art. What do you do you do and why and what do you hope others will take away from your work?
I create radiant art that's full of energy. I choose vibrant colors to evoke positivity and collaboration. My creative journey is spontaneous and playful, yet meditative and introspective.
This past year I've grown my body of work in two main areas – Warli tribal art and Abstract art.
Wari Tribal art: Warli is an ancient tribal art form from India, where I'm originally from. The Warli tribal community uses simple forms, circles (to depict the sun, moon) and triangles (to depict mountains, trees), to produce intricate artworks telling stories. These are created as murals on cobwalls using a rice flour paste, which is why the foreground is always white. In my case, I celebrate the union of tradition and modern life. I maintain tradition by keeping the foreground white and add backgrounds of varied colors and textures to indicate modern times. As my daughter grows up in the USA, far away from the country where her mother grew up this is my effort to inculcate respect and honor for her roots as she forms her own dynamic identity. My goal on a broader scale is to bring attention to our roots, to raise awareness of ancient artforms and to honor and protect them. I'm very honored that one of my Warli paintings is part of this year's People's Gallery exhibition at the Austin City Hall.
Abstract art: My abstracts are inspired by nature's elements, making them uniquely relatable for each individual. They are created with alcohol inks on yupo paper or canvas and my main technique includes blowing the inks around with a straw, allowing the colors to blend and form patterns organically. This year I have taken my art in a new direction. To make this style of art, I start off creating my alcohol ink abstracts on yupo paper, just like I always do. I then carve out holes and burn the edges using a soldering iron – a tool that has been in my house since my early engineering days. I then arrange these pieces to form exquisite patterns using pins, play with light and shadow to convey messages of community and collaboration through my art.
Have things improved for artists? What should cities do to empower artists?
Artists, today, and forever have been the storytellers of the times. We provide snapshots into society and the current human condition. It's true today as it has been for as long as our species has known to draw. However, today we are living in times of quick snapshots and the real challenge for artists is being able to capture the interest of viewers within a couple seconds. In this day of age of swiping over millions of images, it is hard to tell a story within a fraction of a second. This is the real challenge we face now. While social media has made it easy for artists to show and share our art and easy for viewers to see art from the comfort of their living rooms, it has made it harder to get people's attention. Not many people visit art galleries and museums in person these days and even if they do a few handfuls engage with the art. Artists today are not just selling their art, we have to figure out how to sell an immersive experience, compelling enough for people to pay for it.
I have been very lucky to have a supportive and nurturing community that surrounds me and directly contributes to my success. Texas has a great variety of art galleries and art events that keep our creative culture alive. It might be convenient to decorate walls with mass produced art but if we want to leave a rich history of culture, art and human development for the next generation then I request people to go visit art galleries, museums and art events. It is one thing to be able to see an artist's work on Instagram and completely another to get to talk to them about their work in person.
I'm thankful that our city councils have a dedicated budget for art, grants, events and exhibitions. It would warm my heart to see art being given the importance it deserves because of how much it impacts our socio-political climate. A larger budget for art and cultural development and art education would help this cause. Texas has several non-profit organizations dedicated to supporting art and arts education – Big Medium, Chula League where I'm a board member and Creative Arts Society are my favorites. I'm sure these organizations would benefit from donations from the public and the corporate sector enabling them to better work towards their missions. The Contemporary Austin has some amazing educational programs for school kids and I was lucky to be invited to be a guest artist instructor at one such program. I also teach art at my home studio and the reason I'm able to do this is because there are people who believe that their children must learn art. It's as simple as that! A connected belief in art as a community is what we can do to help art and artists thrive.
Do you have any events or exhibitions coming up? Where would one go to see more of your work? How can people support you and your artwork?
All of my art, originals, prints, scarves, cards can be found on my website: www.meenamatai.com. People can purchase everything online. It is super convenient and easy to shop on my website. For future shows, exhibitions, even sales/ discounts, I highly recommend subscribing to my newsletter on my website.
For people who are in Austin, Texas, they can find my work in galleries around town – Austin City Hall's People's Gallery and Art for the People have my art. I also have my work at several local stores, one of them being Enlightened Baby. My artwork is also part of group shows organized by Creative Arts Society, a local non-profit that works to promote Austin artists, and we show our work at iconic Austin locations – restaurants like Cypress Grill and co-working spaces.
Contact Info:
Image Credit:
Thanks to Crafting Exposure.
Getting in touch: VoyageDallas is built on recommendations from the community; it's how we uncover hidden gems, so if you know someone who deserves recognition please let us know here.