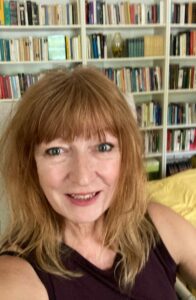 Today we'd like to introduce you to Verena Mahlow.
Verena, we appreciate you taking the time to share your story with us today. Where does your story begin?
I was born in a small German town above the Rhine river, and already as a kid, was curious about the big, wide world. My parents, who always started the car first day of summer break to travel all over Europe, planted this seed in me. I attended exchange programs in France, took scholarships in Italy, was a Fulbright student in Middlebury, VT., a scholar at the IWT Center of Rhodes, the University of Milan, the Literaturhaus Munich, and lived in NYC, Rome, Paris, Sicily, Berlin and other places. As a student, I waited tables at wine fests and carnival sessions to earn the money for euro-rail-passes and plane tickets and went exploring the European continent from Greece to Gibraltar and the USA from coast to coast. Still, I never would have thought that one fine day I would live in Dallas, TX. This had to do with a man – it's always about money or love, as they say – whom I had met in Mainz on the Rhine. He had come from Dallas for a two-year job overseas. Five years later, we got married, and after seven years, I followed him to Texas and found a great second home in East Dallas, in the hood called Little Forest Hills, a wonderfully diverse and cool part of town.
When I arrived in Dallas, my job was writing scripts for German TV movies and crime series. I have always loved writing, reading and languages, and already as a student, worked as a journalist, translator and interpreter. Later, I also wrote short stories, non-fiction and a novel which was awarded 1st prize of a female literature contest. After graduating from university with a M.A. and PhD, I experimented with academia for a while, but as teaching was not so much my cup of tea, got a training as a scriptwriter instead. While in Europe, I lived part of many years on the Spanish island of Ibiza, translated a book on Ibizan ethnology and developed the idea for a second novel, a thriller, which I never found the time to actually write until some years ago after I had settled in my new life on both sides of the Big Pond. I wrote a first draft in German, let it collect dust for a while and then decided to pick it up again and write the second version in English. And now, hooray, "Island of Dead Gods" has been published.
I'm sure you wouldn't say it's been obstacle free, but so far would you say the journey have been a fairly smooth road?
Yes, there were some struggles. The biggest one: When I had finished the first draft of my thriller, "Island of Dead Gods," I gave it to my agent in Frankfurt, and while he was initially… well, thrilled by it, even told me it could be "big," he suddenly had things to complain. "Too many women" and "should be more mainstream" were the reasons I fired him. This, of course, set me back for a while, but I knew I would eventually pick it up again, and I was sure that my topic – including all-female characters – was relevant. Also, when I started to write the second version in English, I was a bit insecure concerning my language skills. I loved the challenge of writing in English, but I needed some critical eyes to look at what I was doing and give me an honest feedback. Fortunately, I discovered Writing Workshops Dallas and enrolled in a fiction class, in which the instructor Blake Kimzey and we students openly discussed and critiqued each others' first fifty pages. Blake and the others encouraged me so much I kept on writing till I was done. They also waved off my doubts if potential readers in the US might even be interested in fictional occurrences on a faraway island in Spain. One of my protagonists is a Texan, so there is a connection, but still, I wasn't sure. After this class, though, my doubts had vanished.
Thanks for sharing that. So, maybe next you can tell us a bit more about your work?
I am a writer and have been one – and a journalist, translator and interpreter – for many years, first only in Germany and now also in the USA. When I look back at everything I did or wrote, I can say that my first basic interest is to look beyond horizons, to think out of the box. My German box and the boxes of others. That's why, at university, I was so interested in Comparative Literature classes and graduated in German, American and Italian Studies. That´s also why I spent so much time in other countries and why I love to dig into history, cultures, societal evolutions and changes.
Related to this, I'm especially interested in female lives, their positions in society over the course of history and around the world, and the specific female-male dynamics in history and today. That's the reason I chose to write my PhD-thesis about the Jewish writer Claire Goll and female identity in the arts. She was born a German in the times of the Expressionist avant-garde, migrated to France in the Nazi-times, then to the USA and later went back to Germany to dictate a "chronique scandaleuse" from her deathbed about her life among artists and writers, all those men who tried to evoke the "new man" and really only meant man and not woman. Claire Goll wrote prose and poem, many as a dialogue with her husband, the famous Expressionist Yvan Goll but she never got her share of the fame. And still when I was ready to write my thesis about Claire Goll's work and submitted my application for a graduate students' grant, I was told that she was not in the literary canon and if I could not rather write about him! So I had to fight hard to convince the committee that researching on Claire Goll was worthwhile. Well, in the end I got the grant, and now she is part of the canon. I guess to have done my share to get her there is what I'm most proud of.
I'm aware that some of the scripts I wrote for TV-movies were way more banale – what my clients, the producers, wanted, and a few of them I even wrote merely to pay the bills. But even in those scripts, and in most of my short stories and my two novels, I focused on the interaction between the sexes and specifically on the female perspective. This, I would say, is my dominating theme. I wouldn't say that it sets me apart from others who also work in this field, but I can say that I have expertise in this area, from a multitude of angles.
Have you learned any interesting or important lessons due to the Covid-19 Crisis?
As sitting alone at my desk is a normality for me, I didn't really suffer in seclusion. But being alone most of the time — without meetings, conferences and going out to a restaurant, a movie theatre or a pub – certainly made me aware of the importance of a social life, friends, the fact that we humans are pack animals and need connections. Also, one interesting experience during the pandemic for me was how much more observant I became in regard of the – smaller than ever before – world around me. The birds in my backyard, the forms and colors of rocks, a sunset, the beauty of nature in little details – all that suddenly didn't seem as self-understood and normal as before; I looked at my surroundings with new eyes. And books! I have always read a lot, but shelter in place for me meant devouring books, also re-reading old ones and discovering many that I had missed before. The one really bad thing, however, that I also learned over the last year was how a new situation like the Covid-crisis can stir paranoia. To experience firsthand how some people, who seemed reasonable enough before, turned into believers of the most unreasonable ideas, lies and conspiracy theories was quite creepy. And a lesson learned about the nature of wolves and sheep, and how an uncertain situation like a pandemic can be used to manipulate others.
Pricing:
The book "Island of Dead Gods " can be bought for 19.99 $
Contact Info:
Suggest a Story:
 VoyageDallas is built on recommendations from the community; it's how we uncover hidden gems, so if you or someone you know deserves recognition please let us know 
here.