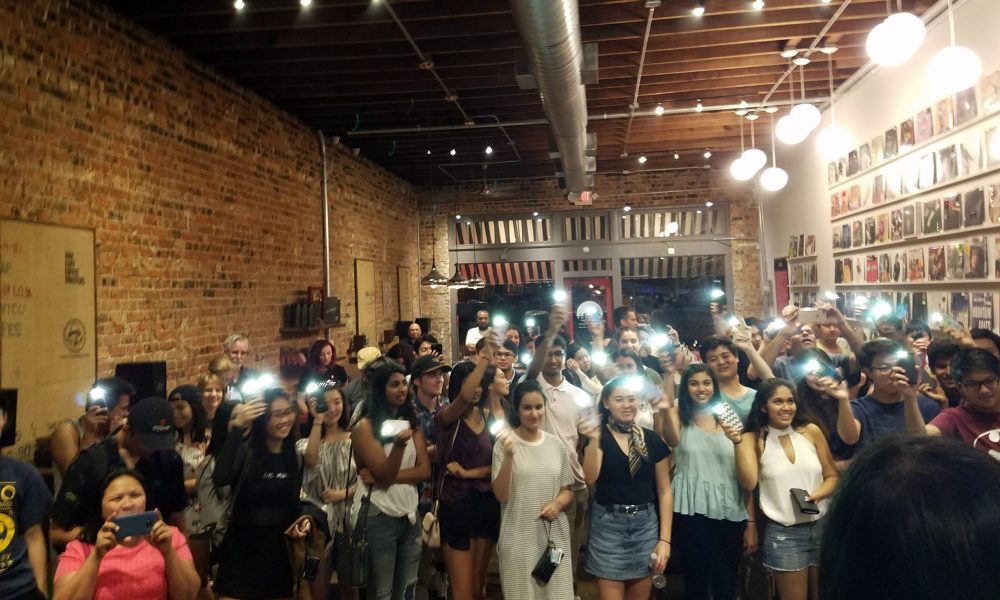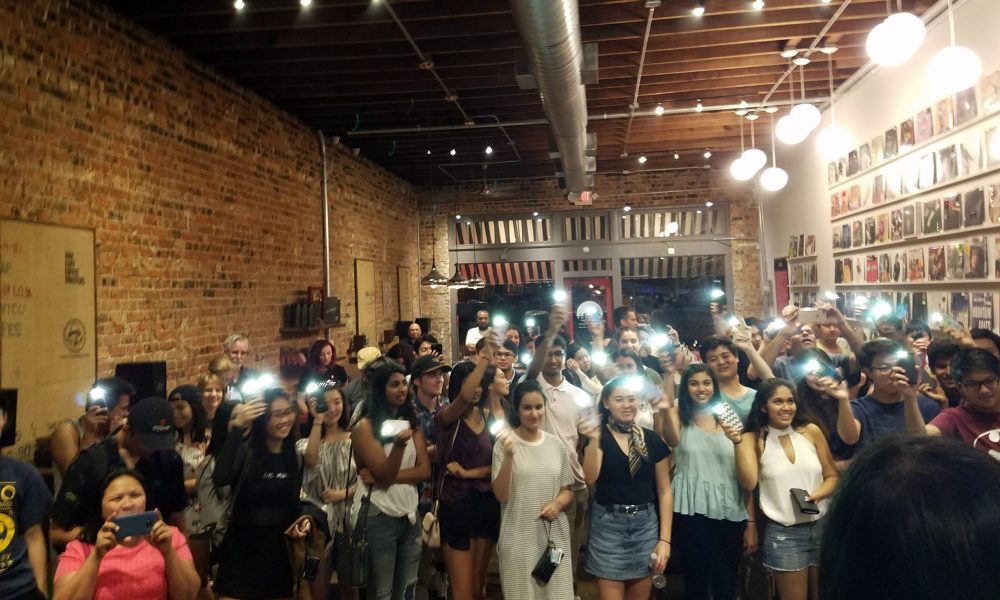 Today we'd like to introduce you to Jake Dixon, Sarah Chen and Abbi Muyco.
Thanks for sharing your story with us Jake, Sarah and Abbi. So, let's start at the beginning and we can move on from there.
Jake: My parents were both in rock bands throughout my childhood, and their stage presence was always a huge inspiration to me. In my freshman year of high-school, Abbi and I started writing songs together, and when Sarah and I became friends, we started to send music recommendations to each other. Our similar tastes were apparent, so I was ecstatic when we decided to form a band together! From that point on, it was a usually slow process of writing, collaboration, and experimentation. We would experiment with Sarah's flute at practices and mess around with keyboard settings and guitar pedals. As we finally got a solid setlist together, we started looking for gigs, and we were thrilled when people came out to support us.
That eventually led to us having a large enough audience to sell T-shirts to, and from there we were able to raise enough money to book some studio time at a recording studio. Social Media and personal connections are the two most influential tools we used. Through social media, we were able to promote and spread our music as well as awareness about upcoming events. It's also how Calvin Lauber, our brilliant sound engineer behind the album, discovered us; he then mixed and mastered the album remotely from Nashville. Through personal connections, we got invited to play at the Dallas Museum of Art, which was a one-of-a-kind opportunity. None of us expected the amount of success we have achieved thus far. I never once thought that we would end up selling our own T-Shirts, have the opportunity to record an album at Fifty50 Studios, be invited to play at the Dallas Museum of Art, or be discovered by sound engineer Calvin Lauber, but our natural desire to grow and to achieve our goals allowed us to do all of that.
Abbi: I first met Jake in middle school, when we were both in orchestra together. We kind of had that same musical mindset from the beginning, where although we were classically trained initially, we wanted to create our own music to share with the world. We jammed a bit during the summer of 2017 and he introduced me to the idea of starting a band with Sarah and Sam. Of course, I jumped at the opportunity since I've always wanted to be in one. At our first practice, I just knew. The moment we played together (I believe the first song we played at practice was Take On Me by A-ha), I knew that these were the people I wanted to make music with. It was like magic. As time passed, we slowly received more opportunities to play publicly. From Spinster Records to the DMA as well as some restaurant and school gigs, we enjoyed every single time we played for people! Releasing our latest album, I feel like, was honestly just the first step in our musical journey. I hope to continue making music with these amazing musicians for years to come and if time allows it.
We're always bombarded by how great it is to pursue your passion, etc – but we've spoken with enough people to know that it's not always easy. Overall, would you say things have been easy for you?
Jake: The hardest thing for our band has been the rotating members. Due to scheduling compilations and musical style differences, our drummer Sam left the band after our first few gigs. It was tough to see him go, but he still remains a supporter and friend to this day. Our friend Colman then took up drums and introduced jazz-inspired percussion to our group and ended up tracking all of the drums on our album. After recording the album, Sarah, who is a few years older than us, went off to college in Ireland! We wanted to continue to perform and write, so we asked our friend Michelle to join us. Sarah is one of the legs on the metaphorical tripod that our band is built upon, so it wasn't easy, especially since we didn't perform the songs that she wrote.
However, Michelle was a great addition to the team and brought lots of laughs; it was a joy to have her join in with our backstage shenanigans. Our friend David even helped us out at one point for a school talent show. When you include our guest tambourine players, we've built up a pretty large cast of musicians, and we've had a lot of help behind the scenes as well. Additionally, we're super lucky to have been treated with kindness and respect despite our young age. When we first started the band, I didn't have a car, nor could I drive. It was bumpy in that we depended on our parents for rides and even musical equipment when we first started.
Abbi: We had quite a few problems with our schedules. Each member had a lot of commitments with school and extracurricular clubs so we kind of had to juggle our practices and readjust them frequently. As Jake stated above, we also had to rotate members for gigs which was hard to get used to at first, but I feel incredibly grateful that we all grew up in a great musical community since it wasn't really hard to find people to cover certain instruments for us.
Please tell us about Maybe No Moons.
Jake: Maybe No Moons was initially just a way for some high schoolers to achieve our dreams of becoming rock stars without having to wait for adulthood. The music we make is also personal to each member's own creative endeavors. Sarah's songs always had deeper meanings that explored herself and her relationship with the world. Even as she left for college, she's continued to find her voice as an artist by creating unique poetry and even more musical projects. Abbi's songs were always about having fun. I especially love how her songs encourage audience participation. From singing along to swaying with cell-phone lights in hand, Abbi could get a crowd involved. And for me personally, I wrote some really cool bass lines that I'm really proud of. I explored new musical ideas with my bass playing, but I also branched out and tackled a variety of roles. I composed music for Violin and Cello on our song Wish, and I played other instruments besides bass on several tracks. The thing I'm absolutely most proud of is appearing on KXT 91.7 as a part of the Local Show. We released music on Spotify, we recorded two music videos, we sold T-shirts, I was interviewed on an online radio show (DC's Barside Jive), and we played at THE Dallas Museum of Art. But nothing screams "we made it!" like seeing our band name on the little FM radio display. I know a lot of our friends tuned in, but I can't imagine how many people around the DFW area heard our song "Monaco" and it excites me! Ironically, it's the only song I don't play bass on. The thing that sets us apart is that we're young. Even now, I only just graduated from high school, and Colman is starting his senior year in the fall. But despite being in this early stage of my life, I already have this history and legacy with this amazing band. I learned so much about booking gigs, communicating with venues, recording, collaborating, scheduling, and teambuilding. The most invaluable lessons learned from being a part of Maybe No Moons have given me the expertise and knowledge to continue developing and growing as a musician. I know for certain that Abbi and Sarah share the drive and desire I have for making music and spreading love. As young people, we've even learned that we now have a following and a platform that we are able to use to speak up about issues we care about. Our youth is that special flare that gives us our drive, excitement, and readiness to learn, grow, and take on the next challenge.
I think when I look again at some of the pictures we're submitting, what we did with Maybe No Moons was create a community, The idea of knowing someone in a band is something not a lot of high school students get to experience, and I think that was a big driving force of what made the band popular and exciting for our friends. Then friends reached our to more friends and we had friends of friends coming to our gigs. It was really fun and wholesome to see a small little community grow. The most fun thing was to see everyone at our gigs; family, friends, and even strangers all came together to just enjoy our music. I remember our gig at Sucre Cafe, there were so many people packed into one tiny boba shop that the baristas had to shout over our music. We typically film our shows, and when we went back to listen to the recordings, you couldn't hear any of the music over the conversations and laughter. And it didn't matter about the music in that moment because what mattered is that we had brought people together! That's probably what I'm most proud of. Aside from the music, we created a community!
Abbi: The band is our way to creatively express ourselves in a smaller musical group. Many of us, prior to the creation of Maybe No Moons, were involved with our schools' Band and Orchestra. Although we did enjoy playing music for our school, we didn't get to have exclusive control over what music we could play. As a band, we don't really have a set genre that we follow with our songs. What I like most about Maybe No Moons is the flexibility we all have in playing whatever kind of music that's thrown our way. The unique musical preference of each member is so prevalent when we play that we tend to incorporate our own styles into each other's songs. I often write indie pop/rock songs that are greatly influenced by the 80s but having the other members blend their own genres into my songwriting makes the whole process fun and the music even more distinctive when compared to more mainstream indie bands. In addition to that, the covers we play also range from many different genres! From the Jackson 5 to the 1975, we feel as though covering a wide variety of music also makes gigs enjoyable for the audience.
Has luck played a meaningful role in your life and business?
Jake: With art, I feel like there's a certain kind of luck that comes from just being "in the scene." Artists and people of talent are attracted to each other naturally. This is a big part of what propelled Maybe No Moons to success. I think in one way you can say we were "lucky" that a close friend of Sarah's was willing to shoot a music video for us. We were "lucky" that we had some friends who interned at the Dallas Museum of Art. But in reality, those are just connections. Creative people are naturally drawn to each other and establish those connections with each other.
However, we did encounter one extremely lucky circumstance. Our mixing and mastering was done by an amazingly talented guy from Nashville named Calvin Lauber. He was the recording engineer on Julien Baker's album "Turn Out the Lights" which has been a huge inspiration to me as Julien Baker is one of my favorite artists. It was really surreal having him find us from a random YouTube algorithm and then also deciding to reach out to us. What ended up happening is he took a chance on some kids with a dream. His effort on the mixing and mastering side of the album making process sort of saved the album and finalized the music into something we were proud of. And that was luck I guess. He just happened to click on our video and then felt the need to go one extra step and reach out to us. And I'll be forever thankful for that.
As Abbi talks about below, how we all met each other was really lucky, too. Plano has a knack for raising up talented artistic students, so it wasn't much of a surprise that many of my friends were also music students. However, Sarah I happened to meet at a debate tournament. It was a completely random occurrence, but her great music taste brought us together as friends and eventually as bandmates. Abbi, like Sarah, is older than me. We didn't have the same classes in high school (except for orchestra) so if it wasn't for the small interactions like her bringing her guitar to school, I wouldn't have known to start a band with her.
Abbi: I think luck played a huge role in how we all met and formed a band. Initially, we all didn't really know each other very well. Sure I knew Jake, but he honestly would not have known I knew how to play guitar or sing if it wasn't for this one school project, where I was forced to bring my guitar and play as part of a presentation. He just so happened to see me bring my guitar into the orchestra room and heard me play for my friends during our lunch break. It was very lucky that we found each other and instantly clicked musically. I'm guessing the same happened with him and the other members. From what I've heard, Sarah was a gaming buddy he sometimes played with on Animal Crossing. Overall, what I'm trying to say is that I see Jake as our lucky chance. It was that chance that allowed us to meet him and eventually meet each other at a singular point in our lives. He brings out the best in us in our music. He was the one who brought us all together and I feel very lucky to have met him in middle school.
Contact Info:
Image Credit:
The first image (our team image) was taken by Gregory Castillo and is being used courtesy of the Dallas Museum of Art.
Suggest a story: VoyageDallas is built on recommendations from the community; it's how we uncover hidden gems, so if you or someone you know deserves recognition please let us know here.