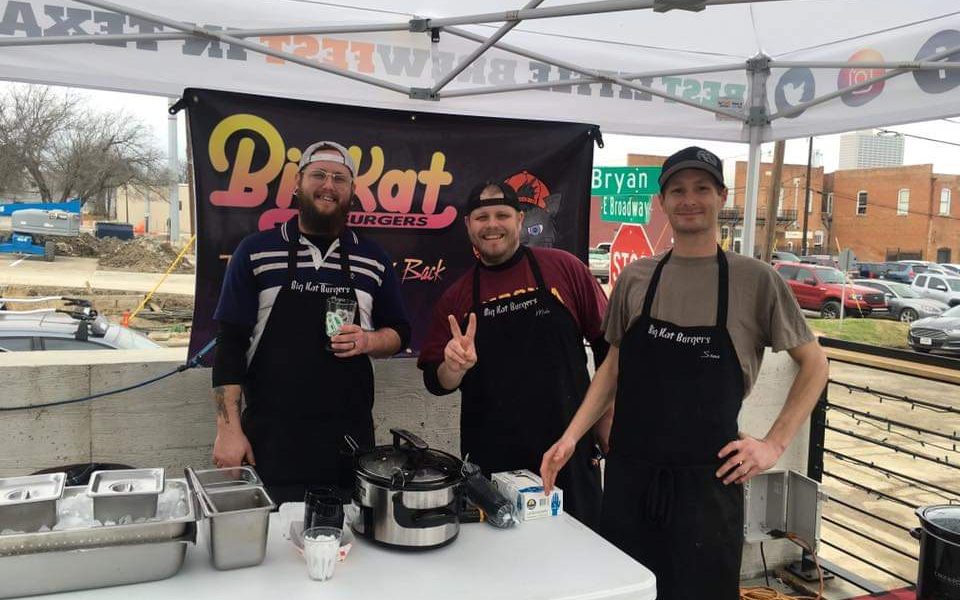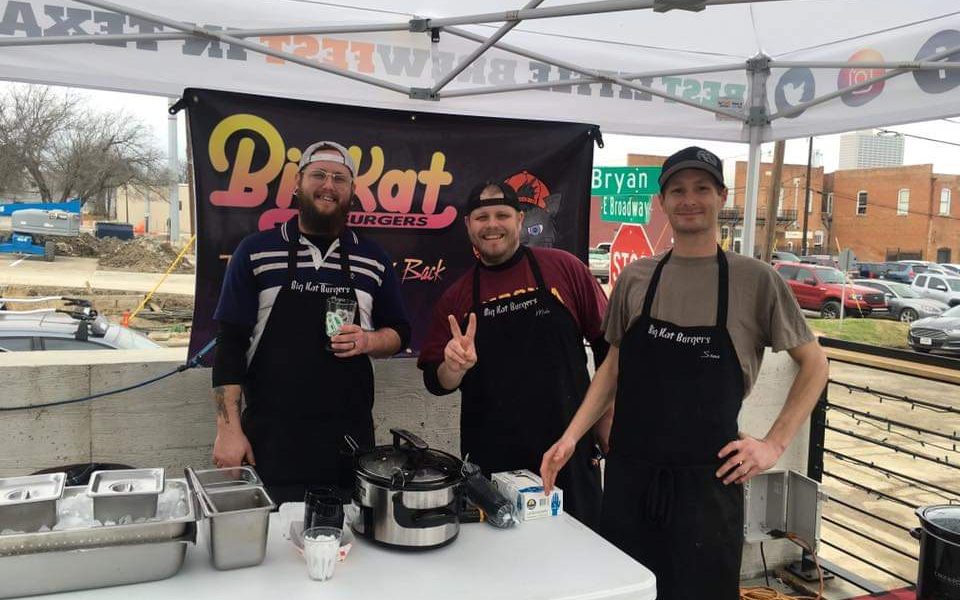 Today we'd like to introduce you to Mike Sugg, Sean Chadwick, and Bryce Blackburn.
Mike, Sean, and Bryce, please share your story with us. How did you get to where you are today?
Big Kat Burgers is what happens when you get a handful of individuals who are fed up with the status quo in the kitchen. Sean, Bryce and I are three long time friends. We've known each other since the 3rd grade, and, with the exception of about eight years after high school, we've been together that whole time. Well, a few years after I moved back from Tyler, Tx and finished my associates in accounting, I went to culinary school and we got back together.
It would seem that even though we would go our separate ways after, high school, we all ended up in food service. Bryce was a line/prep cook at a notable national Italian food chain, Sean was a Kitchen manager at a BBQ joint and I was a sous chef at a Hospital. We talked for hours about our current jobs and what we liked and disliked about them. Needless to say, the general consensus was about the same.
Look, kitchen work is really difficult. It's hot, fast-paced, stressful and everyone is agitated. If you're just there for a paycheck, you ain't gonna last long. It ain't for everyone. You're surrounded by people who just don't seem to have the same levels of passion and love for cooking, being crushed under rules created by people who don't have to work with them and have no clue how a kitchen actually operates.
I was busy coming to terms with the fact that my current 'e-sports bar idea', would be slightly more expensive than I expected. I knew for sure that I was tired of giving 120% to earn someone else money and the fellas felt about the same. We started to kick around the idea of a brick and mortar, but as everyone knows they have an 80% failure rate and can be incredibly expensive to own and maintain. That's when we landed on the food truck.
Relatively cheap startup costs and not very expensive to operate. We determined it was low-risk because we could recover most of the cost of startup through liquidation if this thing went south. Besides insurance and maybe a loan payment, if you don't operate that day no money is going out the window. The goal is still to open up shop somewhere, of course! But we are going to do it after we've already established a customer base and a following to increase our odds of the brick and mortar being successful, once it finally comes to fruition. If you can't make it on a truck, you dang sure can't make it as a brick and mortar… and it's a helluva cheaper way to find out.
Well, a couple trips to the local SBC and a few banks later, we finally got a business plan together and got enough capital to start the truck! And it's been off to the races ever since!
Overall, has it been relatively smooth? If not, what were some of the struggles along the way?
Though if I'm being honest, owning a food truck has presented with some unique challenges. For starters, one of my key points about buying new was having a warranty on all your kitchen equipment. It wasn't until the first thing broke, as I desperately thumb through an owner's manual, that I found out that, by nature, everything about food trucking voids the warranty on your cooking equipment. From the moving and jostling to the required ambient air temperatures for your refrigeration to work properly (what? Commercial fridges aren't designed to operate in a 126 degree truck in the middle of a Texas July?!).
Learning that while a trailer might look enticing because it's cheaper than a box truck and bigger, your ability to maneuver it would eventually become a factor on taking certain jobs. Or learning that some counties straight up don't even allow trailers. Turns out we don't have a uniform state-wide code on food trucks and requirements can sometimes very heavily from municipality to municipality, each sometimes requiring their own set of inspections and fees taking time and money. You can't just set-up on the side of the street wherever you please!
Imagine finding out the importance of ensuring all your equipment is strapped down, not only on the bottom, but up top too, when you get to a job site and see that your entire merchandising fridge has tipped over, spilling product and glass everywhere, rendering all the food that's prepped in your salad/sandwich fridge dangerous and throwing it all away.
One particular story stands out. We had a gig in the country at this lovely ranch around Springtown, TX. It was a 30-year high school reunion and we were contracted to cater it. Our generator had been a real source of pain and suffering for us but Bryce, who's also a Journeyman Electrician by trade, was determined to make it work. Well, she finally gave up on us RIGHT in the middle of this high school reunion gig. This meant no more lights in the truck and no more refrigeration. We had to decide to leave and not finish the job or to try and make something work with the generator. The choice would have been obvious had they not had a catering kitchen on site with fridges in it. So, we trucked everything out of the trailer and into those fridges and cooked by cellphone light. It was way more effort than it had to be, and folding would have been easier. But it's when you're standing at those crossroads, trying to make the right choice, that makes all the difference.
Needless to say, we have a much better, more reliable generator now.
It's moments like those that really test your resolve and make you start thinking, "Was starting a food truck really the right decision?" But I'm experienced enough now to know that no matter what you do in life, even if you're doing the thing you love, is without its tough moments. Do not let those moments discourage you! Learn to revel in the suck, learn from it and grow. They say calm water never made a good sea captain and pursuing your dreams is no different.
Big Kat Burgers – what should we know? What do you guys do best? What sets you apart from the competition?
So, the premise of Big Kat Burgers is simple really. Buy quality products, treat them with honor and respect, and cook everything from scratch, even if it kills us. After operating the food truck for a while, I can definitely see how buying what we call slash 'n' burn products (pre-made, pre-packaged stuff that you just open and apply heat) can be enticing. Especially when food prep. is just one small facet of the job. You're a cook, a driver, a manager, an accountant, a plumber, an electrician, a social media guru, a waiter, a cashier, a webmaster and a looking for new work cold caller. So many of the jobs involved in running a restaurant are taken care of by teams of people in the real world and you don't realize how much work it is until you're in the thick of it.
Regardless, Our business model is: "We cook food that we like to eat, and we think you'll like it too. If it's not good enough for the family, it isn't good enough for the customer!" During our R&D phase our family members were our guinea pigs, and while we have plenty of people who blanket told us our food was great, we still have enough industry professionals in the family to rake us over the coals when we needed it and be brutally honest. That really helped shape and form our menu.
I'd say the heart and soul of what makes our burgers great, is cutting and grinding burgers by hand, from primal cuts of quality beef. It's no secret that grinding burgers by hand makes a quality product that is light years ahead of anything you can get frozen and prepackaged. Even our sides and apps are made from scratch and cooked to order. The only thing in our freezer is ice. Plenty of brick and mortar burger joints know this and utilize this practice, but we noticed a dirge in the market for, specifically, burger food trucks that also engaged in this practice. A raw, fresh burger patty can typically take anywhere from 4 to 6 minutes to cook from fresh and we're in an industry where most of the food you get off trucks is being hot-held and sold to you in about 60 seconds. This hurts our turnaround because we can't maintain the same volume as some other trucks, but we think in the long-run people are willing to wait a few extra minutes for a fresher, more quality product. And that has made all the difference.
We are not a high-school concession stand on wheels. We are a fine, hand-made burger joint who will be in a brick and mortar one day and we need our customers to come back to us! That is why it is mission critical for every burger to go out perfectly, from the fine introductory 'Classic Kat' to the overworked monstrosity known as the 'The Big Kat' we put time and consideration into every bite.
What is "success" or "successful" for you?
I can be a bit of a perfectionist. This ties me up in considerable trepidation and analysis paralysis. Sometimes, it's so bad, I might not even start something because I get overwhelmed in considering ever eventuality.
A wise man, by the name of Hayden Blackburn, or Master Haydn as I call him (that's a composer joke because the man is also a rock star symphonic musician) once told me. "Progress, not perfection." And I don't know why, but it struck a chord with me. It helped me re-write in my mind what I considered to be a success.
We know how much we need to earn to live and grow, and it can be disheartening not hitting those markers straight away. But when you look at our month to month sales growth, you begin to see a different story. You can start to see how, "Yeah, this thing just might work out."
For me, in this case, I consider success more people sending you emails inquiring about catering opportunities, and profit growth.
Our first fiscal year, we doubled our quarterly earnings for two quarters before plateauing for the last quarter and we're picking up more corporate catering gigs, and receiving more opportunities for special events around town. We rely heavily on word of mouth and good food speaks for itself. Next up on the block to break through this plateau and move on to the next level is getting more involved in the larger events and festivals around Texas, and attending more Food Truck competitions to try and win some prizes and develop more of a name for ourselves.
Contact Info:
Image Credit:
Michael Sugg, Bryce Blackburn, Sean Chadwick
Getting in touch: VoyageDallas is built on recommendations from the community; it's how we uncover hidden gems, so if you know someone who deserves recognition please let us know here.