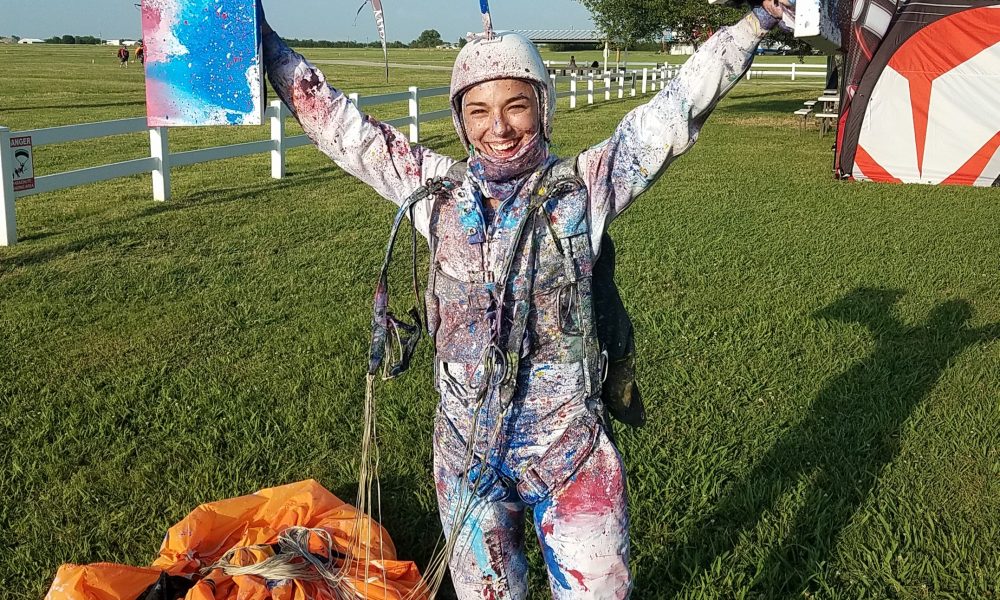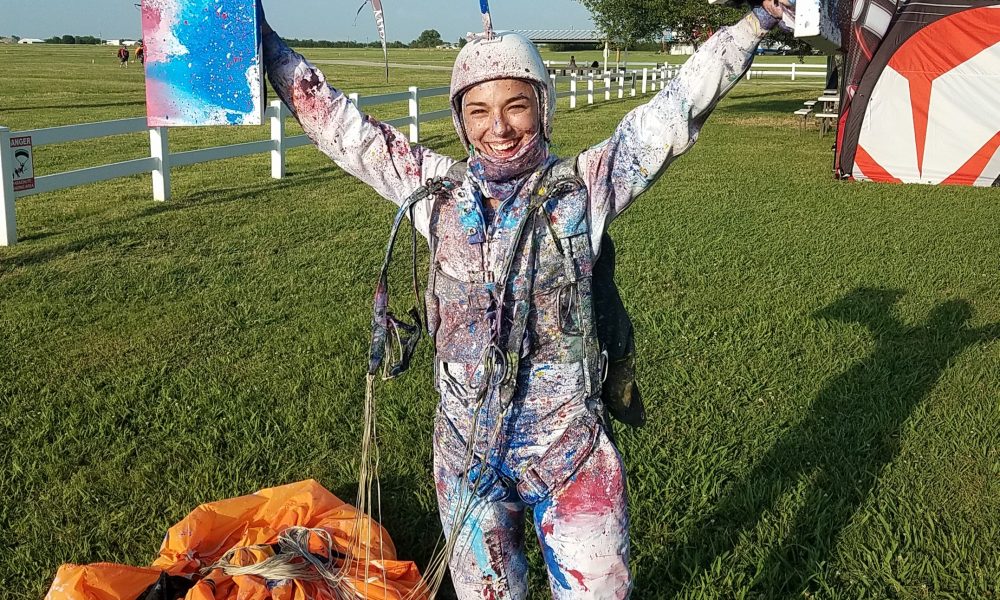 Today we'd like to introduce you to Michelle Nirumandrad.
Michelle, can you briefly walk us through your story – how you started and how you got to where you are today.
When I was in college, I made the thoughtlessly benign comment, "I've always wanted to go skydiving" which started my life on a course-correcting journey to becoming a professional jumper and the first aerial artist. As my Dad has often said, my head has always been in the clouds. But when I started jumping, euphemism became my reality and my infatuation with the wind only grew. I longed desperately for a souvenir from my time up there. I would look at the shirt I made my first jump in, a Pink Floyd favorite I still own, and think, "Wow, that shirt has jumped out of a plane, that shirt has touched the sky!" In an effort to recreate this sentiment in something more representative of the sky, the artist endeavor I call Captured Sky was born.
Has it been a smooth road?
Captured Sky combines gestural abstraction (think Jackson Pollock) during freefall skydives to create impressions of the sky, her finger paintings if you will. I am the only person who creates in this manner, so it has felt like re-inventing the wheel in some sense. Challenging, but an evolution of technique, practice, and trial and error have made it possible!
Years of working in the sport allowed for the accrual of body flight, canopy, and gear knowledge necessary to add abstract painting to the foray of things I can do safely while skydiving. But for a good reason, practices outside the accepted norms in the sport are held to high scrutiny, so it was an endeavor of patience to finally make it safely to this point. I had to become an expert on the materials I wanted to use and the gear I intended to work with so I could effectively alleviate safety concerns from well-meaning Safety and Training Advisors and Drop Zone managers alike who were cautious about letting me attempt my concept.
So that really would be my advice to anyone starting down a path that feels riddled with obstacles – become an expert in your field. Soak up and absorb as much as you possibly can, because as they say, knowledge is power. The more knowledgeable you are, the more powerful you become and the more powerful you become, the larger the obstacle you can overcome!
We'd love to hear more about Captured Sky.
Captured Sky is a one-of-a-kind art form which attempts to bridge the inherent gap between man and the heavens by giving the sky the tools she needs to create works of art. Canvases are rigged with industrial strength Velcro straps and worn on my thigh(s) and/or arm(s).
Paints are sealed in 2oz flip top containers and held in an outward-facing vest. I catch a lift, typically in a twin otter, up to 13.5k ft (about 2.5 vertical miles above the surface of the Earth) and JUMP OUT! While in free fall and under canopy I release the colors and allow the winds of the sky to paint the canvas for me.
The unique blending, stippling, and final images are the closest thing you can hold in your hand as being a product of the sky. If you love the ocean, she'll give you a shell, love the forest he'll lend you a leaf, but if you love the sky?
Well, now, she can give you her art. To some, it may seem fascinating or gimmicky to paint while skydiving. But really the skydiving is not what makes this art special. It is merely a tool, just like a paintbrush, necessary to create something entirely different and capture a piece of the intangible – Captured Sky. That is the true gift of this work.
After the piece dries, I go back with a wood-burning tool and engrave the conception details into the wood of its canvas frame. So, they will remain bound together forever. This information includes the name of the piece, the date that it was jumped, the "amount of sky captured" which is the total amount of time the piece spent at terminal velocity, as well as the conditions of the sky when it was caught. In this way, the artwork is "signed" by the true artist, Sister Sky.
What's the most important piece of advice you could give to a young woman just starting her career?
The most important piece of advice I could give to a young woman just starting her career would be, it's a big vast world out there, don't be afraid to get lost.
What I mean by that is you're at a pretty pivotal point in your life. You've been grown-up, educated, and released like a fawn into the wild! Sure, you've been making your own choices for a while, but under the guidance of your parents, siblings, teachers, and peers. Now, you're on your own. The choices you make from here on out will dictate how much happiness and success you command in this life; so you wanna be sure you're headed the right way. Going down the path meant especially for you.
But where is it? How do you find it? How will you know? Well, you have to seek it out. By trying new things, by saying 'yes' instead of 'no', and taking a little taste of all the amazing opportunities this world has to offer.
I am a former pre-law student and I always thought I was destined for some sort of white-collar work. I am by no means an adrenaline junkie. But I have always tried to be a try-anything-once kind of gal. And that's what I thought I was doing that warm balmy day in April when I fell from an airplane for the first time. Trying something for the one and only time. Little did I know, that right at that moment, the entire course and direction of my life were also falling into place! I connected with the experience in a way I would have never expected, and although I was terrified, I had a relentless fury to conquer my fear and get back in the wind. I went on to finish my B.A. but ultimately I made my career in the sport as a free fall videographer, SDU coach, wind tunnel instructor… and sky catcher! I married a skydiver and we have little baby future jumpers together! And I couldn't be happier! Yes, I could have continued down the path I had been set on. I could have gone on to get my law degree and I think I could have worked hard enough to be successful. But would it have connected with my spirit and given me the satisfaction and fulfillment that Captured Sky has? No way. And to think, I never would have known that if I hadn't been willing to make that first jump.
So, try new things, visit different places, connect with people whose views are the opposite of your own – because one of these experiences may just be the key to where your future lies. Don't be afraid to get a little lost trying to find it. Conversely, if you spend your time trying new things and none of it jives with you then, hey, at the very least you made some interesting memories and you can be reassured that the path you're on IS the one meant for you. You can never lose by keeping an open mind, my friends. Because minds, like parachutes, work best when they are open!
Pricing:
Jumped-From-Plane-Originals start around $100 and go upwards to $400.
Limited Edition Archival Prints start at $30 and go upwards based on size.
Jump-From-Plane-Jewelry to be announced soon.
Contact Info:
Image Credit:
William Franklin Cole III, Michelle Nirumandrad
Suggest a story: VoyageDallas is built on recommendations from the community; it's how we uncover hidden gems, so if you or someone you know deserves recognition please let us know here.