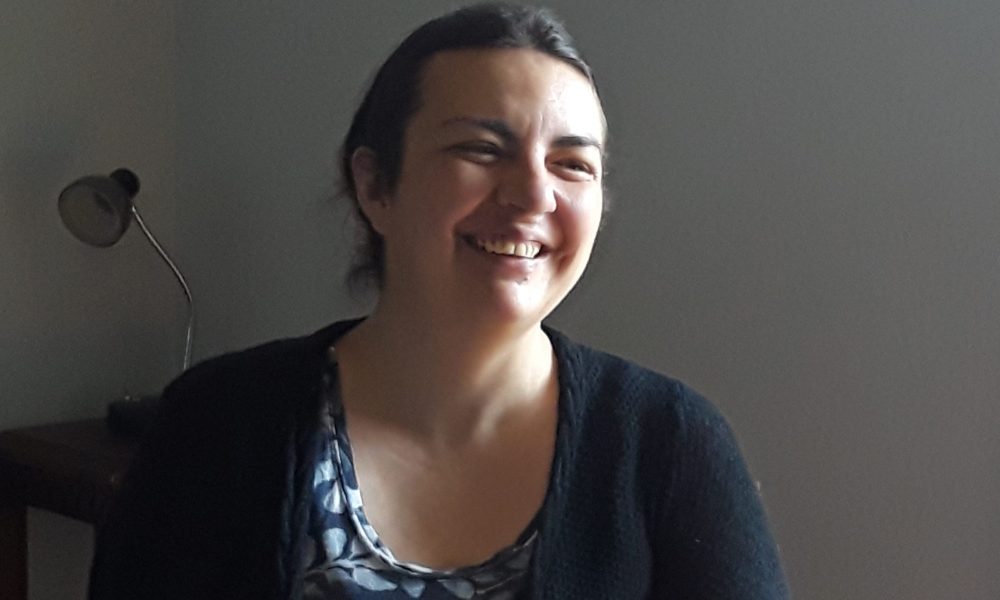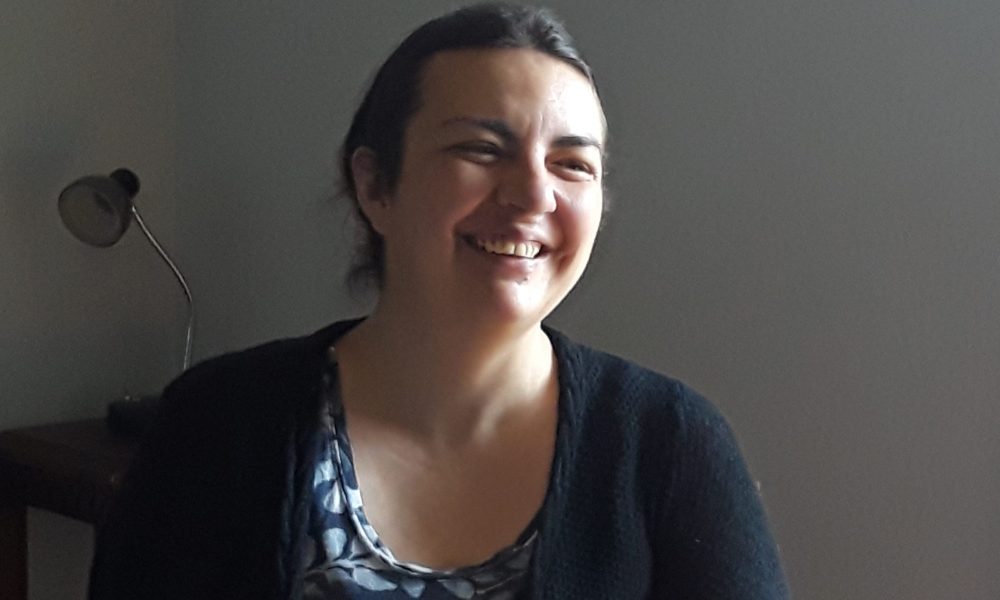 Today we'd like to introduce you to Karla Garcia.
Karla, please kick things off for us by telling us about yourself and your journey so far.
I was born in the border town of Juarez, Mexico. After my parent's divorce, my mom came over to the States to get her Nursing degree. My brother and I stayed in Juarez with our grandmother. We later joined our mom thanks to an amazing job offer at the hospital where she still works. We didn't speak English at the time, but we all adjusted to a new country, learned a new language, and became part of this incredible country. My brother passed away when he was 18, soon after graduating High School. I think about him when I make art, but the way that my feelings are shown in my work has become an abstracted metaphor of time and memory.
I have two younger siblings from my mom's second marriage to a great human who was an immigrant from Syria. During the time I got to know him, our home became a beautiful blend of three cultures. Christmas season was particularly marvelous as we got to enjoy traditional Mexican foods like tamales, Syrian homemade foods like kibbeh, tabouli, and dolmas, and American foods such as pumpkin pie. English became our middle language to go back and forth between Spanish and Arabic.
Since then, I received my Bachelor of Arts in Communication and Graphic Design from the University of Texas at El Paso, in 2001, and worked as a graphic designer and production artist at a major newspaper as well as a trade journal between 2003 and 2015. I began my graduate program at the University of North Texas in the Spring of 2015 in Studio Art. I am part of the Ceramics program but my work is interdisciplinary. I draw inspiration and influences from a multitude of sources to create exhibitions that are explorative, allowing visitors to slow down and reflect.
It has been a long four years but my time as a graduate student at UNT has allowed me to explore my life experience through memory and materiality. Thanks to my mentors, family, and the friends that support my passion, I am finishing up my program with a Thesis exhibition coming up in Spring 2019. I have also completed a certificate of Art Museum Education and have spent this summer at the Amon Carter Museum working with the Education team in Public Programs and Interpretation. The internship has been full of amazing experiences where I get to be part of a culture of learning. In the museum, we are not only learning facts about the collections, we are also learning about ways to connect with each other through art. This experience brought a whole new perspective to my art making and I am excited to continue my work as an artist and as an educator.
Can you give our readers some background on your art?
In my creative process, I think about my own memories and what is it about them that draws me back in. I use digital fabrication and handmade processes to explore these memories through materiality. I have been scanning photographs from my childhood in the 1980s, as well as taking digital photographs of landscapes from the border and various road trips through West Texas and New Mexico. I take these digital formats and alter them so that they can be etched on glass. I use different iterations of the selected images and they are etched on glass panes of different sizes with a laser cutting machine. The smallest are 2in x 2in and are used in a Kodak carousel. This technique is a twist of the lantern slides from the 1800s. However, rather than getting a clear image, the laser etched image is magnified through the projector; what I am interested in seeing is the abstraction produced where the laser hits the glass. It creates a beautiful organic image when it is projected. The other formats are laser etched images installed in picture frames such as the ones you would see at home. The etching creates a cast shadow when light is directed to the frame. A third size I am in progress of making will be window sized frames, however the fabrication lab at UNT is currently closed so those works will be finished later this semester. The clay and fibers objects in my work represent what I call "memory artifacts." These objects are presented on found furniture pieces that reference the concept of home. The objects are made with different types of clay, such as stoneware, earthenware, and porcelain, and are fired in both oxidation and reduction atmospheres, as I like the different surfaces each firing technique produces. My fiber objects, which are crocheted, are transformed into clay using casting slip, which is my symbolic way of bringing a memory or part of a memory into the physical world as a solid clay object.
While abstraction is often harder to understand, it is important that we become exposed to different points of view. It is essential to see contemporary art made by artists of different backgrounds as everyone has a unique way of seeing beauty. In my research, I took a class called Digital vs. Handmade, in which we read an article by Helen Plumb, author of Impermanent Art – The Essence of Beauty in Imperfection. Plumb states that although technology today allows us to create perfect forms, we seek beauty in imperfection. My work is in line with this way of thinking. To me, beauty is not about the perfect representation of objects but is instead the way in which the "imperfect" object becomes a symbol of my human experience. The materials that I have chosen undergo a physical transformation, through firing processes of ceramics and the etching of images on glass or paper, whereby the image and material are transformed into one. Thus, to create abstractions, the idea of memory undergoes a mediation process between materials and imagery.
Any advice for aspiring or new artists?
Definitely! Thanks to the opportunities that I have found during my graduate program, I have learned of other avenues that I want to pursue such as Museum Education. Working as an artist is amazing, but we all need that other side that keeps us grounded. My advice is to find ways in which your passion can be both enriching and pragmatic. I can't really tell anyone what it is that will work for them, but I can tell them that being curious is what drove me to find my passion for teaching. I love working in the museum setting and helping people find meaning in artworks.
During my internship at the Amon Carter, one of my favorite things to do was creating and facilitating an Art Cart. We created an activity where visitors can learn about the artist and artwork, but we also get to talk about the visitor's life experiences, find ways to connect, and discover how museums can inspire them. For my Art Cart activity, I researched Louise Nevelson, and the activity is related to the Lunar Landscape sculpture currently on display. In this activity, visitors were not making an art project per se; they were investigating the formal qualities by using objects that mimic Nevelson's creative process. She worked with found objects that she spray-painted black and then constructed into large scale assemblages. In the activity, visitors learned about her inspirations and influences that she drew from to make the artwork that made her one of the most important artists in the history of American Art.
I also developed content and read a Story Time for families with young children. I loved how visitors learned in a very relaxed and fun way about art. Art is full of complex knowledge, and when people become part of that culture, they are learning about diversity, formal qualities, materials, and the contributions that the artist made to our history. I assisted in the Access programs for people of different ages and abilities and saw the human compassion that is part of museum education programs. People connect to and explore art in diverse ways, but in the grand scheme of things, it is our humanity that we strive understand through art.
What's the best way for someone to check out your work and provide support?
My work is currently available to view only in my studio and on my website. It has taken a long time to really hone into how I want to show my work. It is important that artwork is explored in as many ways as possible in order to understand materials and to get to the nitty gritty of what we are saying with it. I think that my glass-etched work captures that feeling that you can't fully describe, and my clay objects give you more information about it. I like to not fully explain the work in a literal way and to let those that want to explore it find their own interpretation. I want my work to be journey of self-discovery, which is something that we are all exploring at any given time.
Contact Info:
Image Credit:
Portrait photo credit: Manuel Aragon.
Getting in touch: VoyageDallas is built on recommendations from the community; it's how we uncover hidden gems, so if you know someone who deserves recognition please let us know here.