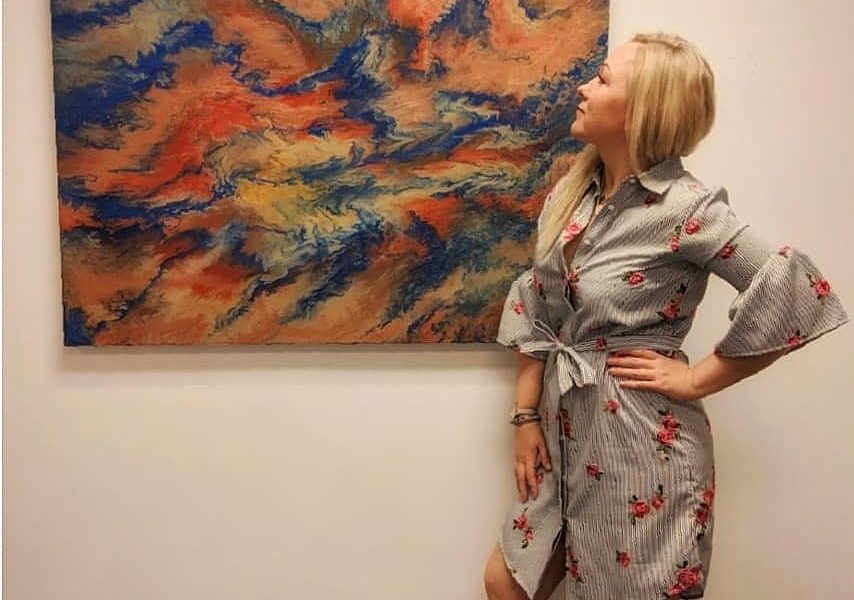 Today we'd like to introduce you to Lauren Dickinson.
Lauren, please kick things off for us by telling us about yourself and your journey so far.
Art has woven a beautiful tapestry throughout my life. I attended a small art school in Northwest Washington for a few semesters and received acceptance into the Art Program at Fairhaven College at Western Washington University in Bellingham, and the prestigious Cornish College of Arts Visual Arts program in Seattle. Major family events kept me from finishing my degree, but the creativity remained as I focused on other career interests, namely in the healing arts thereafter. Although I tried to pick up the brush again over the years, my wellspring of creativity remained elusive until the beautifully expressive world of abstract art opened itself to me in the summer of 2016, where my latent creativity and innate love for art has absolutely flourished.
I had my first art show in Dallas in December of 2016. From there it has been a flurry of creative excitement that has led me through attending many art shows in the Dallas area, including my first gallery. I had my first art gallery exhibit at the TVAA Gallery in the Plaza of the Americas in downtown Dallas in October 2017, and now serve on its Advisory Board to the Gallery Director. I curated my first gallery exhibit in May of 2018, Signs of the Unseen, along with a solo exhibition with the same theme. Some of my work can be seen at the TVAA Gallery and 500X Gallery's June exhibition, as well as at an exclusive artist showcase at Slate Venues in Richardson. I am awe struck by the beauty and growth art has given me both personally and professionally, and it is something that has brought me a deep amount of healing to my spirit and an immense amount of joy.
Can you give our readers some background on your art?
I have always believed that everyone who has loved you and you them, every experience you cherish, and every struggle and triumph in this human experience is infused into every piece of art you create; simultaneously, subtly, and often times vicariously when words are inadequate. Art, especially of the abstract, can be a powerful voice, an expression of the artist's essence and real authenticity. When we tap into that field of creativity and inspiration, the flow washes through the spirit, which then acts as a filter onto the canvas. Art then, is who we are, all at once, in every piece. Such is the abstraction of life.
I am a deeply spiritual and intuitive person, and I strive to weave an intentionally peaceful and soulful presence throughout my abstract pieces – Contemporary Art for the Soul. My artwork focuses on the primordial dance of the dark and the light, through unique, contrasting color palettes and combinations. With every painting, I put an intention into the work, and especially with my commissioned pieces I meditate beforehand on the colors and how I would like them manifested into the painting according to what I know and intuitively feel about the client. Each painting thus comes out truly unique and at the same time, so very specific to its owner. I have specialized lately in custom wedding art, using the wedding colors, and have found a great joy in infusing each piece with love and a sense of celebration for the couples' union.
What responsibility, if any, do you think artists have to use their art to help alleviate problems faced by others? Has your art been affected by issues you've concerned about?
As an empath, world events affect me deeply. I am often saddened by what I see in the world and strive always to focus on the consciousness shift that is simultaneously happening in our human evolution. I think it is vital as artists to express our inherent, innate, and very necessary creativity to combat much of the negativity in the world. While my art is far from political, I find it crucial that we develop and remain balanced in our creativity and inspiration, as that is one thing that cannot be controlled or manipulated from external force.
All inspiration comes from a divine source, and the more in tune and adept we are at expressing this and manifesting it into the physical world, the more power we create in reminding the rest of the world of their individuality and divine uniqueness. I truly believe, as many did during the Reformation and Renaissance art periods following the Dark and Middle Ages, that art will save the world; in it we are reminded of the truth of our soul and divine human potential, in the macrocosm of our conscious evolution.
What's the best way for someone to check out your work and provide support?
I have a website at www.soulscapeart.com where people can view my Fine Art Collection, and I have an exclusive artist showcase at Slate Venues in Richardson with an ongoing rotation of artwork, for private viewing with an appointment. I have two June exhibitions, at the TVAA Art Gallery in the Plaza of the Americas, and the 500X Gallery in Deep Ellum. Commissions are welcome as I offer in-home design consultations to properly compliment your home design and decor. I've been commissioned on corporate art design projects in the Dallas area, for which local businesses can support my work with commissioned pieces for their office space.
I have upcoming shows and exhibitions in both Dallas and New York through the fall of 2018, for which there is a calendar on my website to see all upcoming events and showcases. My Instagram is where I post much of my behind-the-scenes shots and thoughts, and where you can also find updates on upcoming events and showcases. My next major event is the Palate to Palette charity event in September I am participating in. It's been a wonderful blessing to have such a joyful part of my life back, and I am grateful to be able to share both my work with the world and give back in return.
Contact Info:
Website: www.soulscapeart.com
Email: soulscapestudio@gmail.com
Instagram: @soulscapestudio
Facebook: Soulscape Art
Image Credit:
Soulscape Art
Getting in touch: VoyageDallas is built on recommendations from the community; it's how we uncover hidden gems, so if you know someone who deserves recognition please let us know here.