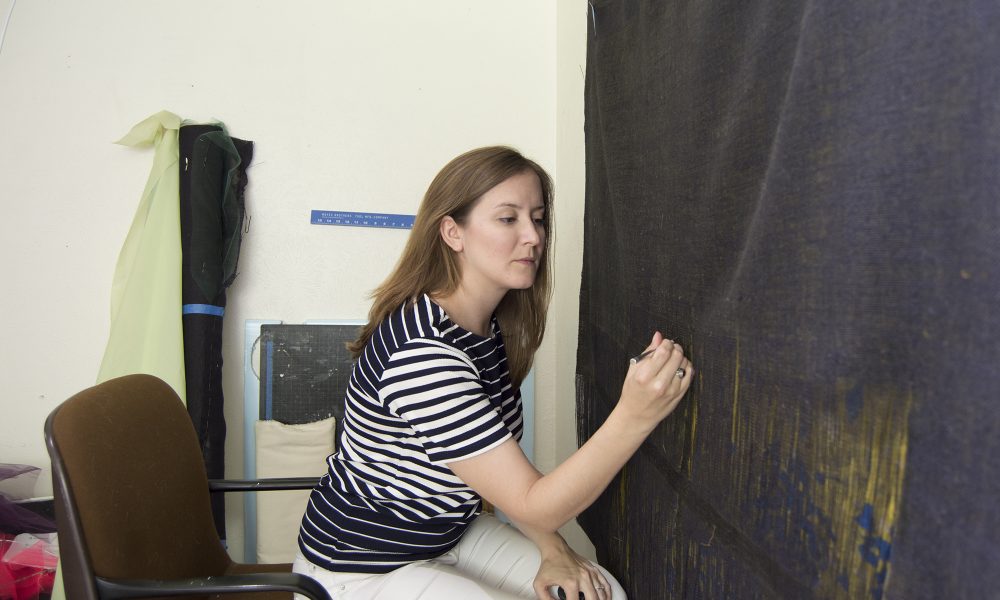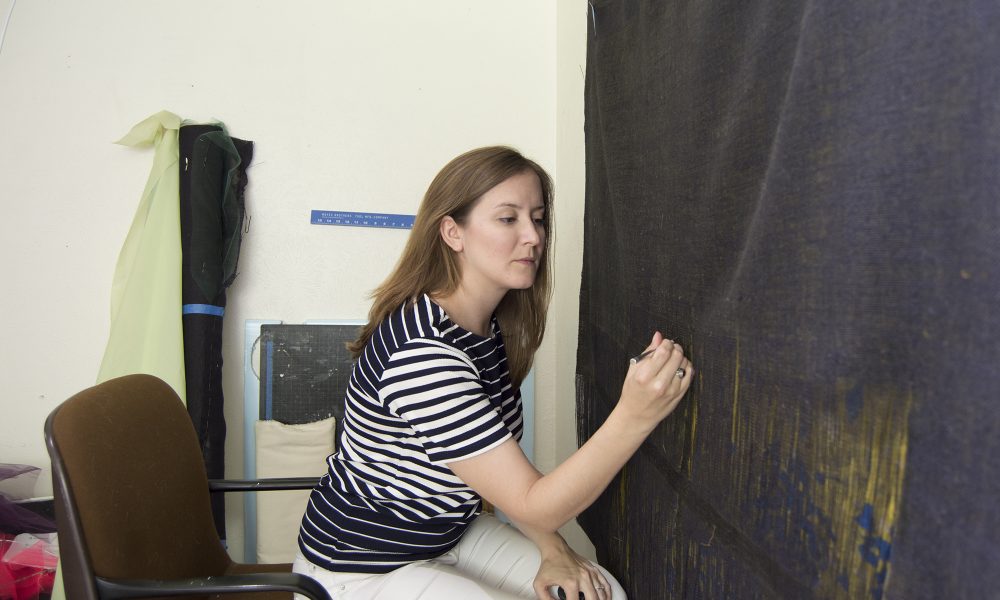 Today we'd like to introduce you to Michelle Thomas Richardson.
Michelle, please kick things off for us by telling us about yourself and your journey so far.
I am a native of Dallas, Texas. I took art classes in school growing up, but also did well in other subjects like math which led me to start a degree in architecture. When I went to college, I decided to go to a school that had both art and architecture, Louisiana State University, just "in case" I decided to switch – I think I knew art was ultimately where I wanted to be, but needed to try something else first. After one year, I changed majors to fine arts and never looked back. During my final architecture studio critique, I took pictures of stool tops in the classroom that I thought had interesting spatial compositions I may use for paintings. For the next few years I experimented with flat space and the depth achievable within the surface of painting. I created a painting at the end of that series that when viewed felt like it was breathing with me, and at that point I felt like I had truly made something worthwhile. Around this same time, I saw an Art21 episode with artists including Ann Hamilton and James Turrell, and I realized what art could be/do.
About half way through graduate school something changed in my work. I was creating two-sided drawings on fabric, focused on theories of space with mixed media materials; however, because of these interests, I felt it important to experiment with a larger scale. I decided to create an 8' x 14' drawing on linen fabric which fit the wall of the critique room. Suddenly my work became an architectural installation, engaging with space in a much more physical way. My MFA show was the first time my work came off the wall and into space with a fifty-foot drawing hung in the center of the gallery; it was the most invigorated I had ever felt because I was also creating an experience for the first time in a gallery space. Since graduating with my MFA from the University of North Texas in 2015, I have maintained a special interest in installations though I still consider my work akin to painting, bringing my mix of learning experiences full circle with connections between disciplines that truly surprised me. I think continuing to surprise myself is what keeps me and my work going.
Today, I am a Public Art Project Manager with the Arts Council of Fort Worth and Tarrant County. In addition to this position, I also teach art appreciation at Eastfield College as an Adjunct Professor. I am a new member at 500X Gallery, the oldest artist-run gallery space in Texas celebrating its 40th year this coming season, and look forward to being a part of that community.
Can you give our readers some background on your art? What do you create? What do you hope people will take away from it?
My work is centered around the presence of space. This has developed into an interest in how our physical reality can be perceived, and how our internal reality can be affected. Responding to a given space, the combination of two-dimensional and three-dimensional works I create open a dialogue about our lived environment(s). I often choose to explore these topics through installation because experience is paramount to my ideas.
To me, the experience of space begins with the relationships between elements of an environment and its architecture, but more importantly, the viewer's increased awareness of their own relationship to those same features. These installations are meant to be impactful, transformative works that partner with space to become one living, breathing entity; the end goal is to have a space become truly felt. Temporary in nature, the take away from this type of work is the questions it raises, the experience of it in the moment, and [potentially] the memory of its impact long after its dismantling.
Though I utilize a variety of media, I am often drawn to fabric as a material for installation because of its relationship to painting and drawing as well as its permeability. Its loose, airy quality, and inherent ability to invite space as an additional element within its surface have become increasingly important to my work. The material itself is also common, equitable, and inclusive; the tactility of fabrics offers familiarity within an unusually-made installation.
Presented as one environment, my latest work creates a unique combination of perspectives that highlights the connections between individual space, our current space in time, and space in history as a means of questioning and understanding lived reality. The charged space creates a multilayered experience both physically and psychologically in an ongoing narrative.
Given everything that is going on in the world today, do you think the role of artists has changed? How do local, national, and international events and issues affect your art?
Artists' roles have not necessarily changed, but rather become fore-fronted. As the saying goes, art reflects the culture and time in which it was created.
I think the current political climate has pushed a lot of artists to reflect on their work and look at it through a new lens, myself included. Though work doesn't have to be political to have been impacted by current events, I personally have been thinking about the issues we face today as well as what I value about my work and my practice. I would also add that my position in public art has contributed to my heightened awareness of work related to contemporary culture; whereas before my work was more purely abstract and theoretical, it is now becoming more intricate by rooting itself in these topics.
The plasticity of how space is defined has been a constant challenge that I continue to question. I have created work in response to space with the idea of being fully present; this has taken on a new meaning for me, being present in our current time. My recent work Mirror, for example, responded initially to the physical gallery, a tight and potentially confrontational space. Relating these characteristics to our space in time, media images reflecting current social movements, though specifically referencing the #meToo movement, populated the entirety of the gallery walls drawing a parallel to Picasso's Guernica, a historic painting depicting tragedy and loss of innocence as well as loss of life. Mirror was intended to allow self-reflection for individual viewers and also act as a series of layered reflections between the work itself, the space it inhabited, the time in which it was made, and the cyclical nature of history. It is altogether a complex reality I plan to continue exploring.
What's the best way for someone to check out your work and provide support?
The best way to support artists is to go see their work whenever possible. This is especially true for work like mine because experience is the basis of the work. While I document my installations as best as possible, there is nothing like being present with the work.
For the latest information about exhibitions, check out my website and/or social media outlets. I will be participating in a few group shows in the Dallas area this August (see details below). Stay tuned for more information about future shows including a solo exhibition this November at The Magnolia with Ro2 Art. And in the meantime, please feel free to reach out!
Chaos!!!!!!
Ro2 Art
Dallas, Texas
August 4 – September 8, 2018
Member's Group Show
500X Gallery
Dallas, Texas
August 18 – September 2, 2018
Contact Info:
Getting in touch: VoyageDallas is built on recommendations from the community; it's how we uncover hidden gems, so if you know someone who deserves recognition please let us know here.