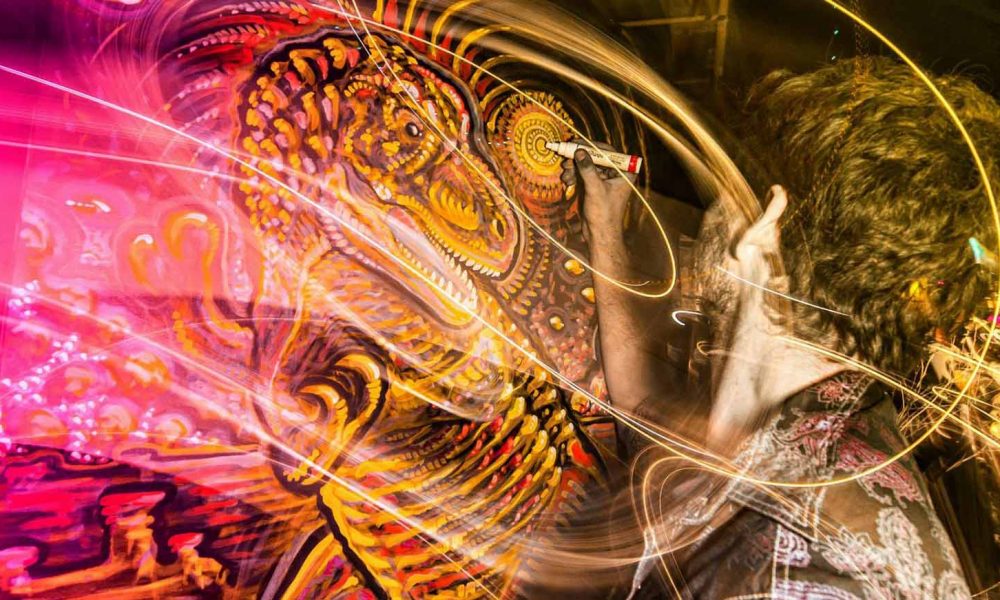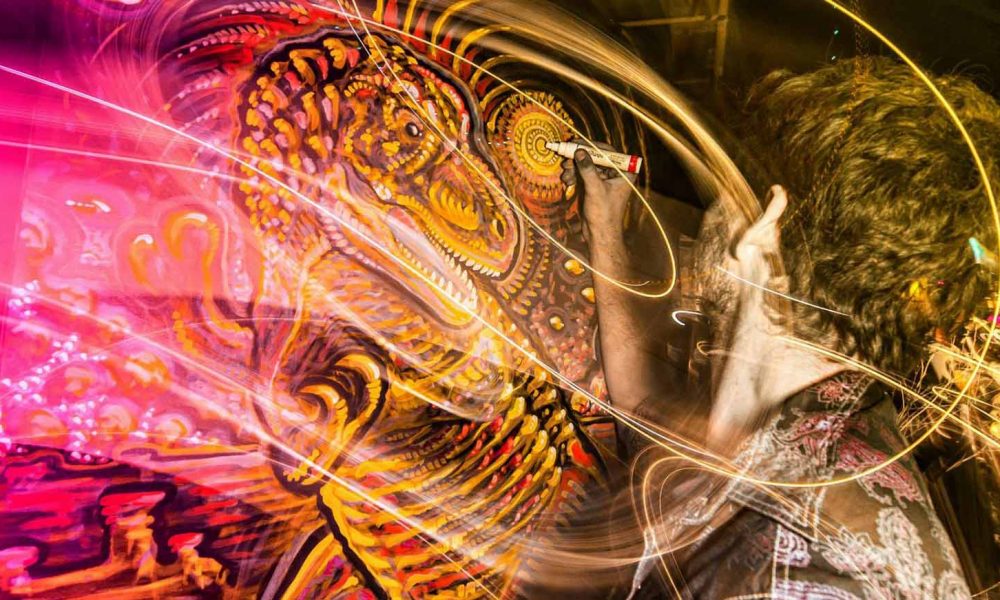 Today we'd like to introduce you to Michael Garfield.
Michael, we'd love to hear your story and how you got to where you are today both personally and as an artist.
For me, art and science have always been intimately intertwined, reflected in each other. Not truly different, except as we perceive them culturally. My real entrance into scientific passion was by meeting paleontologist Robert Bakker at the age of three and hanging out with him while he drew dinosaurs for a long line of fans. He made it clear to me that discovery and creation, imagination and rigorous pursuit of truth, were all bound up in one another – and that, importantly, both benefited from their marriage.
As I grew up, a classroom doodler devoted to an imagined future life as a dinosaur hunter, learning and drawing were simultaneous for my entire childhood. I fell easily into a scientific illustration job in college, working for the University of Kansas Natural History Museum, where my ability to know what details to leave out of a new species description, how NOT to be a camera in useful ways, was a sort of negative image of the imaginative projections of paleontological artwork. I did a fair amount of both extinct species reconstructions and modern species descriptions while listening to philosophy podcasts, which was in some sense my academic undoing – when I got out of college and fell out of academia (largely related to not knowing how to ask the kind of Giant Questions that I wanted to within a single discipline), I fell into live painting at concerts and music festivals as a way of making a living.
From 2007 until 2018, (and while doing many other things, including touring as a solo guitarist across three continents and hosting nearly a hundred episodes of Future Fossils Podcast), I made my living as a live performance painter inspired by the notion that I was still a kind of scientific illustrator, faithfully rendering the vistas on the horizon of emerging electronic planetary culture, the same futures that were evoked by the musicians and installation artists in the media ecologies I traveled through. And I was deeply inspired by Aldous Huxley's essay Heaven and Hell, in which he suggested that the bizarre contents of the psychedelic experience were like a kind of exotic wildlife that deserved their own naturalists to catalogue them. So, it was a very natural thing for me to identify as a "speculative" or "fantastic" realist in the international "visionary art" movement, the elders and exemplars of which are still passionate about their dedication to capturing high-fidelity representations of the strange phenomena of "non-ordinary" states of consciousness – the kind of states becoming more and more ordinary as our world gets weirder and weirder.
So, here I am, applying a kind of ironic and playful attitude toward the rigorous work of representational and illustrative art, and similarly a scientific attitude to the expressionistic and seemingly abstract (or at least deconstructed) perspectives of 21st Century existence. I'm as much a futurist and "metamodern" artist as I am a paleontologist and scientific illustrator, now – which is to say, either very much or not at all or both. You tell me.
We'd love to hear more about your art. What do you do you do and why and what do you hope others will take away from your work?
I paint, I make music, I host a podcast, I'm writing a book about applying evolutionary dynamics to future studies. You tell me what to take away from it. I just hope to inspire curiosity and a love for the unknown and the process of discovery, because we are for sure not getting any closer to pat answers in this century…
The sterotype of a starving artist scares away many potentially talented artists from pursuing art – any advice or thoughts about how to deal with the financial concerns an aspiring artist might be concerned about?
If you only have five minutes a day to do it, give yourself five minutes a day. Be uncompromising about giving yourself that five minutes a day. Life is full of compromises but don't compromise your soul. Also, don't be unrealistic about what that means. Art is better when it comes from healthy and well-balanced people.
Do you have any events or exhibitions coming up? Where would one go to see more of your work? How can people support you and your artwork?
Please find everything you care to learn about me at https://patreon.com/michaelgarfield Or just skip to my artwork at https://michaelgarfieldart.com. Or just skip to my podcast at https://shows.pippa.io/futurefossils. Or just skip to my music at https://michaelgarfield.bandcamp.com. You'll find my full EPK at https://michaelgarfield.net/p/michael.html if you are interested in press clippings. You won't hurt my feelings narrowing your explorations to one angle, but you'll miss some soul by doing so.
Contact Info:
Image Credit:
All art photography mine
Google Glass photo by I Must Be Dead Photography
Tracers photo by Harmonic Light Photography
Guitar photo free license c/o Creative Commons
Getting in touch: VoyageDallas is built on recommendations from the community; it's how we uncover hidden gems, so if you know someone who deserves recognition please let us know here.