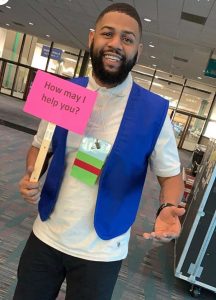 Hi Aaron, can you start by introducing yourself? We'd love to learn more about how you got to where you are today?
Keeping My Promise the idea was conceived after the tragic death of my older brother Alexander Harris in Oct. of 2009. At the time, I was just shy of 21 years old, as an underachieving undergrad student attending Murray State University in Murray, KY. With little motivation or regard for school, I struggled to maintain my academics while excelling in the social aspect of college. During a conversation shared with my brother days prior to his death, my brother mentioned to me "that I had too many people invested in me to fail." The conversation was result of prior ones. It was those words throughout "mourning" his death that fueled my ambitions to make a change in my behaviors and strive to honor those words uttered.
Throughout the course of grieving and mourning my brother's death, I coped with substances ranging like alcohol and weed which eventually landed me a brief stint in the county jail in February of 2010. During my brief stint and hearing my mother crying over the phone, it became apparent a change was needed. After spending the next two years recovering academically and finding myself, I ultimately graduated in May of 2012. Without a plan, I returned to Louisville, KY (home) weeks later. After a month or so in Louisville, I landed a job at Toyota Manufacturing Kentucky in July of 2012. Unsatisfied and fulfilled with my role, I decided to leave Toyota in December of 2012, returning to Murray State to begin pursuing a Masters of Science in Human Development and Leadership in January of 2013. Initially denied as a result of my low undergraduate GPA (2.36), I shared my story regarding my brother's death and prior struggles with Dr. Lee Kem (Program Advisor), who took a chance and admitted me conditionally.
After a successful first semester, I was tapped on cash and spent the summer working as a Building Service Technician (BST) through the university in order to pay for school and earn money to survive. While working as a BST, I applied for and was later awarded a graduate fellowship which covered my remaining tuition for the next 1.5 years, in addition to a graduate assistantship position. Tara McWhorter (at the time Tara Hawthorne) was my first graduate supervisor, who I give credit to for helping me identify a future in higher education. Supporting Tara and the Office of Admissions/New Student Orientation (August 2013 – April 2014), I developed a passion for working with students, which turned into a career in higher education.
Throughout the last six years working in higher education at Indiana University Southeast, Eastern Kentucky University, Purdue University, and now Texas Christian University, successfully supporting students via admissions & orientation; student success; career development; creating a scholarship at Eastern Kentucky University (https://stories.eku.edu/people/new-horizons-minority-scholarship-established); teaching at Purdue & TCU; & among other community initiatives, Keeping My Promise was formally founded in July of 2019. Designed to support high school and college students, Keeping My Promise allows me to take my education and career background to support students with educational access/support & career readiness training. Keeping My Promise provides mentorship opportunities, prepares students for career endeavors through professional development programming/activities while supporting student's matriculation efforts.
Eleven years since initially conceived, Keeping My Promise is a culmination of my life experiences as a person, student, and professional. I am the kids I hope to serve, I am them as they are me! My struggles and adversity faced have made the man I am and I know there are many kids that come from a background like mine. The only difference between now and then is Keeping My Promise is here to support their aspirations. Formally Founded July of 2020.
Would you say it's been a smooth road, and if not what are some of the biggest challenges you've faced along the way?
There have definitely been struggles ranging from self-doubt, not knowing how to start a business, capital, and identifying a space for a program as such. Operating Keeping My Promise as a sole individual has presented multiple challenges, including working full-time, moving to a new state, finding connections, and connecting with students in a new community.
Appreciate you sharing that. What should we know about Keeping My Promise?
Keeping My Promise is a non-profit educational access/support and career-readiness program for youth and young adults. Keeping My Promise's services are free and are designed for under-represented communities and students seeking a brighter future. Keeping My Promise specializes in higher education access, students support services, and career readiness and development training. What sets Keeping My Promise apart from other educational organizations is the knowledge basis I provided with a background in education and career development, connections, and authenticity & transparency which guides our services. Readers and viewers should know Keeping My Promise is here to support students and their goals. Students don't know what they're not exposed to and Keeping My Promise is the bridge between their unknowns and their dreams. "A Promise Made a Promise Kept"
Where we are in life is often partly because of others. Who/what else deserves credit for how your story turned out?
Family for not allowing me to settle! My nieces Al'mari, MyKelle, and A'aliyah, K.K., nephews William & JoJo for being my motivation! Tara McWhorter (former graduate supervisor and now colleague at Texas Christian University), providing me with an opportunity in higher education, which allowed me to discover my passion for supporting students Michael Magnus (Professor Texas Christian University (instrumental in web development/marketing efforts; also pushed me to take the leap to begin formally establishing Keeping My Promise. Bo Nelson (roommate from college) instrumental in pushing me along the way. I paid for books and other items my first semester in graduate school. A believer from the first time I shared my vision until now. Da'Marrion Fleming (founder of Sowing Seeds With Faith), instrumental in assisting with paperwork and establishing KMP formally. Tyrone Thurston (now deceased Oct. 2020) childhood bestfriend. My accountability partner, mentor, confidant All Keeping My Promise supporters who donated to our first fundraiser supporting our wristband initiative. All students who I have had the pleasure to work with the last six years in education. They've shown me the need for such a program and have allowed me to be apart of their success.
 Contact Info:
Suggest a story
: VoyageDallas is built on recommendations from the community; it's how we uncover hidden gems, so if you or someone you know deserves recognition please let us know
here
.