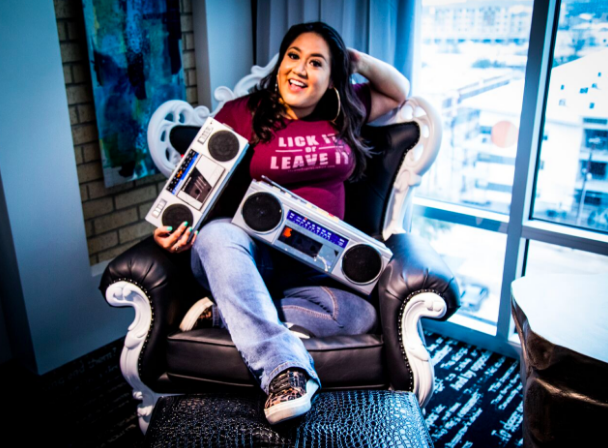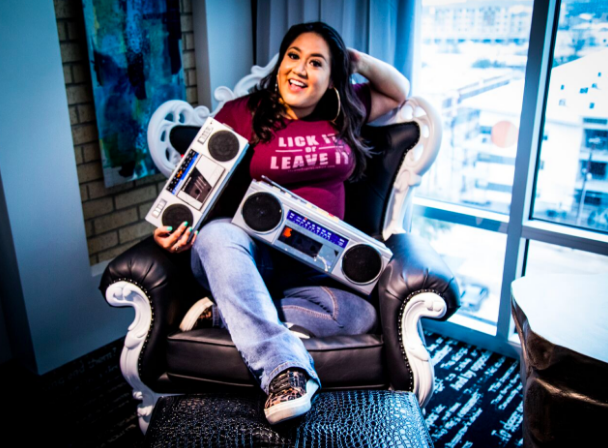 Today we'd like to introduce you to Ally Fiesta.
Ally, please share your story with us. How did you get to where you are today?
I started blogging on LiveJournal in 2001 about different parties I was going to at the time. I was friends with a small crew in Arlington and would post event info and then after the party. Eventually, I wanted my own domain and bought a version of HydroSupraLicked.
The name comes from my 3 favorite things: water, going fast and savoring flavors. I have had various domains with .net or .org but I always liked HydroSupraLicked.
For a long time, I used the website as a form of photography therapy. My posts were mostly images captured with a Canon Elf and limited words. Then, I started to get more into psychedelic trance but had a hard time explaining the music to friends. I did my first interview with DJ UHM to promote a festival that was organized by a group of friends who I was traveling to various psytrance events in the states, Atrium Obscurum, in 2012. It was a great way to promote Deep in the Heart of Trances festival. The type of music is not popular in the USA but I'm still working on putting on these types of festivals. May 12-13,2018, I will be in Mexico City with the founding member and new crew members from Mexico putting on Hawthorn Moon festival. My heart is about to explode with love as I went to Mexico several times last year for psytrance festival. The scene is fully dedicated and I was humbled by the organization, talent of all the artists – visual, dance and audio – and the beautiful venues used in Mexico City and Guadalajara.
Besides finding community in the music scene, I find food to be a great way to bond with others. There are so many restaurants that are opening as well as recipes to share for potlucks that I started to share those photos on my Instagram.
In 2014, I joined Fitfluential as an ambassador to showcase fitness on my account. I met a wonderful group of supportive fitness lovers and from there focused on my Instagram. I then had the opportunity to spend a summer in Ecuador which is where I learned about travel bloggers. I wasn't working full time anymore during that time, so I was able to start to apply for campaigns and as my account was growing and I was involved with Sweat Pink at this time, brands started to write me.
During 2015, I started taking online courses to learn how to edit photos, fully use social media and how to be a writer. I mostly met people in twitter chats and mostly on Snapchat. I wasn't in Dallas very often and traveling for my job at the time. Then in 2016, I decided to move to Dallas and from there wanted to network with Dallas bloggers. It was wonderful meeting other Latina bloggers with DFW Latina Bloggers in August 2017. Since then, I've been excited about showcases the events in Dallas, new restaurants and world-class music and art we have here. I plan on going to Detroit during Memorial Day week, along with a group of other Techno fans that live in Dallas so you can follow me to see the amazing food spots there as well as the phenomenal music.
Great, so let's dig a little deeper into the story – has it been an easy path overall and if not, what were the challenges you've had to overcome?
The hardest part of getting to this point was having people simply tell me that I am wasting my time. I already knew that psytrance is not popular in the USA, let alone Texas. I know that people make fun of others for taking pics of food. My mom was the person who encouraged me to be professional about what I posted and to find other people who were using online platforms. She has always taken me to networking events for women so that is the route I sought. Finding time out of my day to create content became an issue as I started working over 40 hours a week but still wanted to share information – so I began using a bullet journal. My schedule is planned about 2 months in advance but I have everything there from events, festivals, a national day of (insert whatever random day) as well as family gatherings.
I also had to deal with getting gross messages for a while. I eventually have my notifications online set to wear only friends can message me. I definitely suggest having thick skin because strangers can be rude and they are mostly just bored anyways. For a while, I was very concerned about my engagement rate and that can end up causing a loss in the reason in my original mission: to show people who to celebrate life through music, food, and dance. I know that as long as I remain true to my core that engagement comes and goes but my most important thing to focus on is creating content that helps others connect in real life.
For young women, it will always be important to have a support group of friends who motivate and encourage you. Do not compare yourself to others as their mission will never be the same but I always learned from them.
Never stop learning. There are free resources available online from other women when it comes to social media, writing, editing – even idea on what to blog about.
Invest in yourself. Do not try to do everything that is free. There is a reason why it's free and I've had amazing results from spending money on a course, a workshop, a networking mixer, and learning camp. For what I have spent on these, I have been able to earn more online income.
Use a planner. I can't stress this enough since I have a full-time job, socialize, family and have scheduled posts. There are even special blogger planners but I am devoted to my iPhone calendar & use a bullet journal. The only way I ever miss anything is if I have an emergency & I do notify anyone I work with that I will be unable to show up. As an event coordinator, I understand how things come up but I need to know so I can make adjustments to the lineup or other gear planning.
Please tell us about HydroSupraLicked.
I specialize in events with food, music, and dance. Most of my followers know me from my IG stories going on the IG main story for music events in Deep Ellum or Knox Henderson. I have had several who swipe up on my stories to follow my Spotify and Soundcloud playlists that I curate based on concerts or private parties that are happening that week. Since, I'm an ambassador for larger festivals, such as movement happening in Detroit during Memorial Day week, my followers are able to purchase tickets from me as well. Since I was there last year, I can also help them know where to go and what to expect.
My obsession with beautiful food! I love to cook at home but I want it to look amazing as well. During various trips last year, I made a point to document the awesome restaurants. There are wonderful new restaurants opening in the DFW and I like to share the full dining experience since I like to dine with friends and bonding over food is a habit of mine my followers can see how a place will be as an experience, not just the food but the ambiance as well.
What I am the proudest of is how I take these beautiful photos of my experiences and I sometimes just scroll my own feed and remember how much fun I had. I want my followers to fall in love with these spaces and know they are not alone. I have been working with local charities as well and hope to fund to help those when they need it most. My account, just like my personality, has always been about creating a safe community that can bond with music and food. And because sometimes, I have too much tres leche – gotta dance that off!
I'm different than other accounts because of my love for music. I mention some music in all my posts.
Often it feels as if the media, by and large, is only focused on the obstacles faced by women, but we feel it's important to also look for the opportunities. In your view, are there opportunities that you see that women are particularly well positioned for?
Women are well positioned for social aspects such as event planning. We are the social back bone to our communities. We know how important it is to be together as a community and celebrate or how to remember traditions.
We are wonderful at negotiating rates for venues, catering, deciding the guestlist, curating the entertainment and scheduling everything. Deciding what food to serve based on how we know what others enjoy. We are excellent at multitasking the different elements of any event.
The most important aspect of behind the scene before an event even happens is the excitement and energy behind it. Nobody really cares or even makes plans until there a team of people who spread the word, let you know what is about to happen! Then the work that goes into making sure each detail there and constantly checking in on everything and everyone to make sure that positive energy is there.
Contact Info:
Image Credit:
Andrew Sherman, MyCurlyAdventues, Aaron Rockabich, Wall Street Photography
Getting in touch: VoyageDallas is built on recommendations from the community; it's how we uncover hidden gems, so if you know someone who deserves recognition please let us know here.