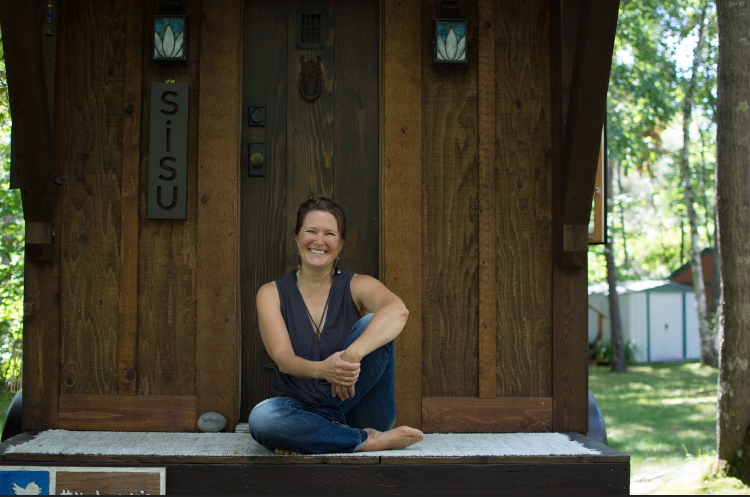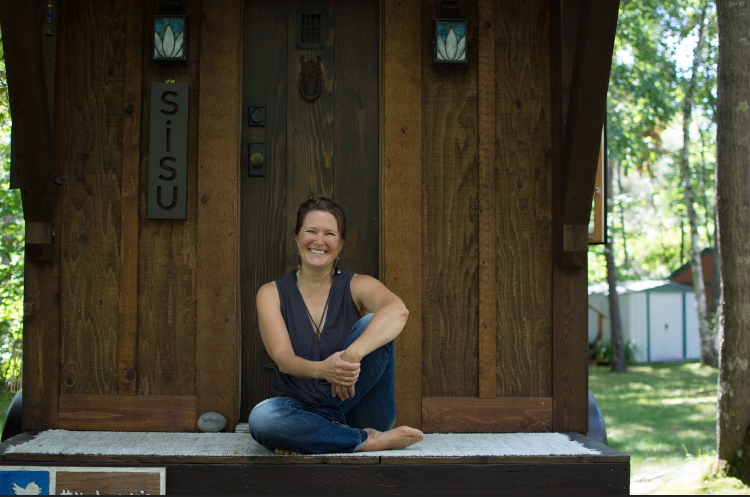 Today we'd like to introduce you to BA Norrgard.
BA, let's start with your story. We'd love to hear how you got started and how the journey has been so far.
In 2012, I decided to start intentionally deconstructing the life I'd built. For my 40+ years, I'd done exactly what was expected of me – I graduated college, got married, bought a house, and got the 9-5 job in the fancy downtown law firm. And I just kept going to work.
But in 2012, I was at a crossroads both personally and professionally, and I decided to listen to my heart and make radical changes. I walked away from a successful career. I ended a 9-year relationship. I sold my 1929 Tudor in a historic district of Dallas, and I had an estate sale and sold everything I owned – well, I kept my power tools and my camping gear.
In 2013 and 2014, I first downsized to a 600 square foot apartment, and I attended my first tiny house workshop hosted by Jay Shafer in northern California. Life changing. No really: LIFE CHANGING. I'd found my people. My heart felt full and my spirit fed and ready to go live a life of adventure! I bought construction plans, and I started making trips to the lumber store.
I spent weekends building my new little abode: a tiny house on wheels. Yeah, like on TV; one of those, except back then there weren't any TV shows. There weren't any tiny house festivals, Pinterest boards about living small or thousands of authors writing blogs and books about their newly crafted minimal lifestyles. Instead, I was in Dallas – Garland, actually – happily building alone. Pulling up YouTube videos and hitting up Habitat for Humanity friends when I needed to learn something new.
I started blogging to keep me out of state family and friends apprised of what I was doing, and soon strangers were following me and asking to come out and see. And helping me! I was so surprised that people were so interested in what I was doing, but I guess back then it was novel to be living a pretty great life in Dallas and to choose to walk away from it all in search of something bigger. Or… well, something smaller. The strangers who came out to build with me became friends… and so it began.
In March 2014, I launched DFW Tiny House Enthusiasts – join us on Meetup and on Facebook! We are the largest tiny house oriented Meetup in the nation! Currently, we have 0ver 2400 members, which is pretty wild. I remember being SO EXCITED when I had 20 members! I try to emphasize the local aspect of the group – we are not only online, we actually get together in PERSON and do things! I know, right?? It's a really vibrant group. It's a great place to get hands-on experience building tiny houses, converting vans and school buses into homes. We lift each other up – we want each other to succeed- and we learn together.
In April 2014, I opened my home for an exhibit for the first time at EarthX, and was absolutely blown away at the reaction – people were so fascinated by it all. And you know, I was just doing what worked for me. I had no idea anyone else would think it was cool.
In August 2014, I began traveling with my tiny house. I've gone about 14,000 miles to date – but there are several homes that have traveled more than I have! I did the west coast – and then I've been back and forth between Minnesota and Texas several times. I absolutely adore my 78 square feet – it's so much more than a house!
I also have fallen into a role of public speaking, teaching tiny house workshops, and curating DIY tiny house village exhibits. That means I gather up about 20 homes that are lived in as full-time residences and were hand built by their owners, and we park them in a village layout, and we open them to the public for tour. It's one of the most rewarding experiences – both for we homeowners and for the attendees (I hope) who tour them. It's a fantastic opportunity to live by example and to open people's minds to an alternative way of living.
Nearly every time that I spoke there would be a woman near the front who would ask me what I was going to do when I "met a nice man" and wanted to settle down, and I always laughed. Been there, done that, and happily single. But yeah you guessed it, that happened. I was back in my hometown in Minnesota, being a caregiver to my mom and dad, and I reconnected with a high school classmate.
In very short order we found ourselves on the porch of the tiny house chapel at the National Tiny House Jamboree, getting married! So now there are two of us sharing 78 square feet, lol! He knew nothing about tiny houses going in, but he jumped in and downsized very quickly. We are planning a straw bale house on a foundation, but for now, yep, we share 78 square feet!
Looking back, if anyone had written out my itinerary for the last five years and said, "here you go, this is what you're going to be doing" I would have laughed out loud. It's been a crazy fun whirlwind! I've had so many experiences, met so many resourceful and wonderful people, learned SO much about myself and others, and just been just really privileged to have been able to voluntarily choose this experience.
I know it isn't for everyone, but I have just really loved it, and I have no regrets. Life is for living – and change can be scary – but it's so worth it.
Has it been a smooth road?
Ahh ha ha ha! Downsizing was easy for me. Living small is easy for me. It's not all polka dots and lollipops, but it's pretty damn close. I guess my biggest obstacles have been the two diesel trucks that I've owned to pull my house. I am not a mechanic! (Nor do I endeavor to be one…) Man, they were money pits.
How do you think the industry will change over the next decade?
Tiny houses have gained a lot of momentum in the last five years – I think television has had a huge role in that. Also, the "breaking away from social constructs" is very hip and trendy now. People were living small well before I was – I just happened to be among the first in Dallas – but so many people are very public about their lifestyle now with blogs, and websites. And then the workplace has really changed.
Thanks to the internet, many employers are allowing employees to work remotely, and that has opened up a whole new avenue – digital nomads. People are choosing to forego the 30-year mortgage and are building mobile residences – they are working in really beautiful places in homes they built with their own hands. It's fantastic.
So I definitely believe living small has surpassed being trendy. Tiny house communities – both urban and suburban are around now. ADUs are becoming more accepted. Tiny houses offer a solution to both the housing crisis and the lack of affordable housing. They can increase density in urban areas by being placed in backyards and on non-buildable lots.
I am proud to have been a part of the group who got Appendix Q into the IRC – tiny houses on the foundation are now a part of the residential building code. Cities have the option to adopt Appendix Q and allow tiny houses within their city limits. (It still requires rezoning, but it's a start.)
Contact Info:
Getting in touch: VoyageDallas is built on recommendations from the community; it's how we uncover hidden gems, so if you know someone who deserves recognition please let us know here.