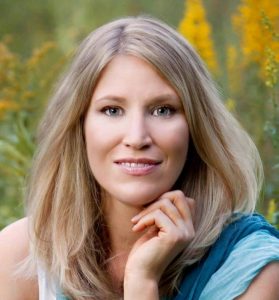 Today we'd like to introduce you to Kirsten Soriano Broberg.
Kirsten, let's start with your story. We'd love to hear how you got started and how the journey has been so far.
As long as I can remember, I dreamed of becoming a composer. I remember having difficulty sleeping at night when I was a child because I had original orchestral music running through my head. For the longest time, I didn't know where this orchestral music came from, as I don't come from a musical family. It finally occurred to me that this was likely was the result of studying dance during my formative years, as I performed ballet to Tchaikovsky as early as age three. Regarding my musical studies, I began playing French horn in band in elementary school and my parents bought a piano when I was thirteen, so I began playing the piano by ear and improvising at that point.
A year later, I started studying classical piano privately and also started playing trumpet in the jazz band, so my early musical and artistic life was actually quite varied. My improvisations on piano eventually turned into compositions that I wrote down by hand in musical notation and I won my first composition contest in high school. During my undergraduate years at Concordia College in Moorhead, Minnesota, I majored in music theory and composition and I began composing for a wider range of instruments and voices. I also earned a minor in creative writing, focusing on writing poetry, which now gives me passion and insight for setting various poems or texts to music for vocalists and choirs. I then earned a masters degree from the University of Minnesota where I studied composition and orchestration with Judith Lang Zaimont. During this time, I won first place in their call for orchestral scores, resulting in a public performance of my first orchestral work, "Night Visions."
I then moved to the Chicago area to complete my doctorate in music composition at Northwestern University as a student of Jay Alan Yim, Jason Eckardt, and Augusta Read Thomas, who was the composer-in-residence of the Chicago Symphony Orchestra at the time. Chicago is where I really began to hone my compositional voice. During this time, I founded a contemporary music ensemble called Ensemble Dal Niente, which is still going strong and performing internationally. Through this, I had an amazing opportunity to compose for ensemble members who were not only stellar musicians, but also extremely nice, open and exploratory people. This allowed me to try out various techniques — both instrumental and stylistic — and really discover who I was as an artist. I also was able to come in contact with some of my favorite living composers such as Kaija Saariaho, Tristan Murail and Philippe Hurel, with whom studied in Paris and in the South of France in 2013.
During the time from when I started my undergraduate degree until I completed my doctoral degree, I held numerous jobs and positions to both gain experience and pay the bills. I tell my students now that I took any job during that had the word music in it, and I am glad I did! I was able to gain a wide range of experience in music administration and higher education as a result of this openness. I sold season subscriptions for the Minnesota Orchestra, raised funds for the Chicago Symphony, held a marketing internship for the International Contemporary Ensemble and was on the Board of Directors for New Music Chicago—all of which ended up programming my original music at some point in time. I remember sitting in the audience at the Chicago Symphony Orchestra's Music Now concert series. Repertoire for the following season was being announced from the stage and I was stunned to hear my name mentioned! I was also fortunate enough to be selected for the Minnesota Orchestra Composer Institute in 2016, which resulted in a performance of my orchestral work, "Constellations–>Celestial Dawning" by the Minnesota Orchestra on their regular concert series. All of these administrative positions taught me skills that helped me learn how to direct Ensemble Dal Niente and have aided me in my current position at the University of North Texas as the Director of Undergraduate Studies in the College of Music.
I also knew at 8 o'clock in the morning on my first day of college when I met my music theory instructor that I wanted to become a professor and teach music in higher education. From the time I started my master's degree to the time I completed my doctorate, I had taught nearly every course in a typical undergraduate music curriculum at six different institutions, sometimes teaching at three colleges or universities the same semester. When I graduated with my doctorate in music composition, I returned home to Minnesota where I was a Visiting Assistant Professor at St. Olaf College and taught at two other institutions simultaneously. I was, of course, then thrilled to be offered a tenure track position at the University of North Texas in Denton, Texas and I accepted happily. I am now tenured and have been promoted to Associate Professor in the Division of Composition Studies and, as mentioned, am the Director of Undergraduate Studies in the College of Music.
At UNT, I particularly enjoy teaching private composition lessons because I can support and help guide my students to discover their personal artistic voices and help them hone their own compositional techniques and craft. I feel fortunate that over the past several years my music has been performed throughout the United States and in several countries, including a premiere by the Kronos Quartet in Spain (commissioned by the Fromm Foundation at Harvard University), a premiere at the American Academy in Rome in Italy and at festivals in Scotland, England, Germany and Hong Kong. I recently started composing for film (another life-long dream) and wrote the soundtrack for the documentary 489 Days, directed by Rania Al Malky, which will be premiered on KERA—the PBS Frame of Mind series. I have an album coming out soon featuring Grammy-Award winning soprano Estelí Gomez, a performance coming up at Carnegie Hall by pianist Matthew McCright and upcoming premieres by the Verdigris Ensemble (Choir) in Dallas, Symphony Number One in Baltimore and Ensemble Ipse in New York … so to say the least, it's a bit of a whirlwind! I love what I do, though, and wouldn't change a thing. I get fired up every time I start a new piece and I am already getting excited for the new school year to start as this fall I am teaching a seminar in Spectralism, during which we will delve into music that uses acoustical data, formulae, overtones and spectra in the compositional process.
Overall, has it been relatively smooth? If not, what were some of the struggles along the way?
It has definitely not been a smooth road. I wish I could say it was! Being a composer or an artist doesn't provide a clear or direct path for life or for success like some other professions offer. You accept the opportunities that are presented to you and you do the best you can with them and hope they lead somewhere: to another performance of your work, to a recording of the piece or better yet, a new commission! Sometimes, I am inspired to write a piece — I have come up with a concept for it — but I don't have an opportunity lined up for that particular work to receive a premiere. In that case, I really don't have a choice. Once I have the piece in my head, I have a burning desire to get it on paper, and so I start composing. It might be a fairly ambitious work and I am conceptualizing large instrumental forces such as a full orchestra or both choir and orchestra. This means the piece will require a great deal of time and physical effort to get it down on paper. In that case, I devote months and months to compose the work and I have no idea if it will ever get performed. That happened with a recent work of mine, "Odes of Praise" for choir and orchestra, that includes text set in Latin (Psalms 148 and 150). I had composed the work and there wasn't a premiere lined up yet. I was incredibly grateful that Maestro Richard Sparks programmed the work with University Singers and the Concert Orchestra last year in Winspear Performance Hall at UNT, and they did a beautiful job.
Please tell us more about your music, what you are currently focused on and most proud of.
I would say that my music tends to be very colorful, gestural, textural, expressive and descriptive. I often like to write a piece around an idea, a concept, a text, image or imagery. I love to tell a story in my work or have some sort of emotional progression, or abstract textural process, that leads to a dramatic moment or climax. I want my music to be impactful and incite something — a thought, an emotion or connection — in the audience member.
What is "success" or "successful" for you?
I think success starts with authenticity and passion. I think we strive more and have more drive to develop skills and knowledge we genuinely care about, so when embarking on a long and arduous process to gain knowledge and learn a craft or technique, it really matters that we care a lot about the subject matter. Then, we just have to be incredibly resilient. We have to be prepared to try and fail and try again. We cannot give up, even if our work is criticized or we know we have to improve it. In composition, it is through this constant process of composing a work, collaborating with musicians and conductors, hearing the piece performed, then revising it and hearing again that we learn to compose. We have to learn from each piece we write — what works and what doesn't work — and then reflect on that before starting the next composition. It is also critical to be true to ourselves when we are composing. If a composer is writing to try to please a teacher or a critic or someone else, then the work will lack that authenticity and the composer won't strive as hard or have that drive to really create something special and original. I think those traits: authenticity, passion, drive and resilience, in combination with being humble and able to accept criticism, will translate into success in many facets of life, not just in composition.
Contact Info:
Image Credit:
Leslie Crane
Suggest a story: VoyageDallas is built on recommendations from the community; it's how we uncover hidden gems, so if you or someone you know deserves recognition please let us know here.