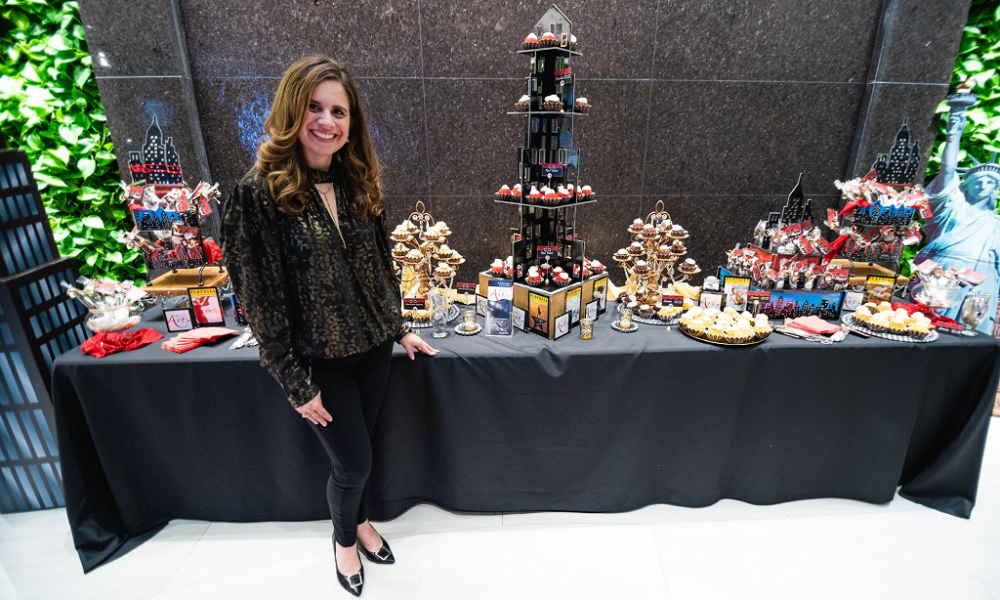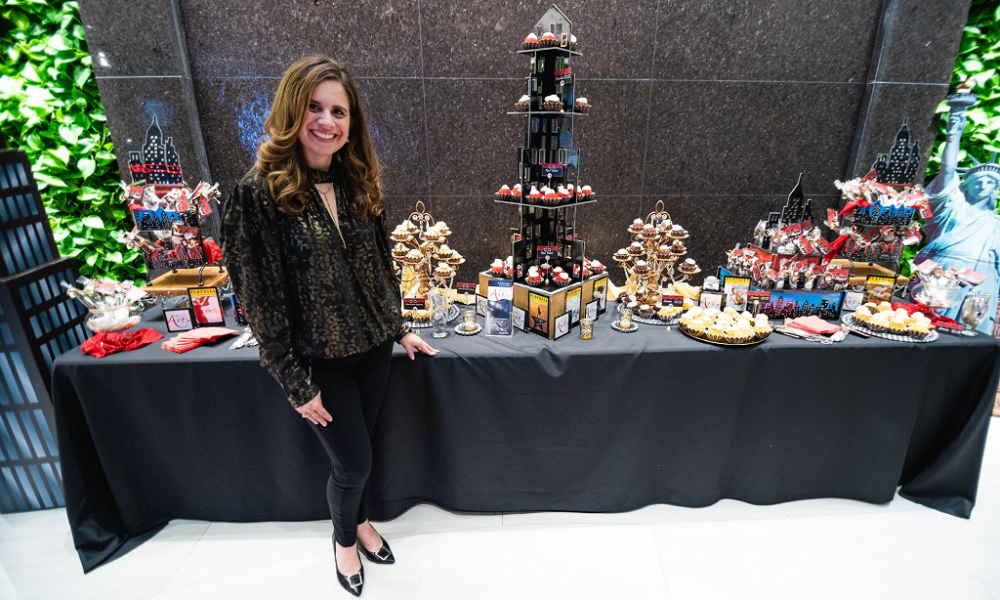 Today we'd like to introduce you to Lilian Chavira.
Lilian, can you briefly walk us through your story – how you started and how you got to where you are today.
I'm an award-winning entrepreneur, published author, founder of JOY IN THE BREAKROOM, but mostly a passionate dreamer! Originally from Mexico, I met the love of my life when I was 19 years old and we married 3 years later in El Paso, TX. I earned a Bachelor degree in Business while working in Marketing & Design. In 2004, my husband was transferred to Okemos, MI where we raised our two babies Daniel and Sarai. They were my inspiration to start our 1st venture, a gourmet bakery "Petite Pleasures by Gellocake" that was later on featured in USA Today, as well as 19 statewide and local publications and TV shows. I was thrilled to be recognized as the 2009 Meridian Emerging Entrepreneur of the Year by The MARC/MISBTDC in Meridian Township. I used to say my bakery was my third baby; I really thought I was going to run that company until my last day with the ambitious vision of transforming it into a nation-wide franchise, but life is always full of surprises!
In 2013, my husband's job relocated us to Frisco, TX. I closed my blooming business and followed my amazing man once again. Here in Dallas, I was not interested in starting anything new, so I went back to corporate for almost two years. But… who is a baker without an oven? After being an entrepreneur, how can you be "normal" again? During that very dry season, I was running on "survival mode"; something inside was truly dying day by day until December 2015, when a cancer scare and surgery brought everything into perspective. The word JOY had a new meaning, life was my gift, and it was my choice what to do with it. God placed in my heart a new vision and I found the courage to reinvent myself using every talent within me. I created this new concept from scratch determined to make my own little difference. JOY IN THE BREAKROOM was officially launched at the Frisco Chamber of Commerce on March 17th, 2016. A year later, I was invited to co-author a book called "Behind Her Brand", published in February 2017. I am so humbled and thankful for the opportunity of encouraging other women entrepreneurs with my story.
Starting this business has been an extremely challenging and exciting journey, but also the most rewarding; I have met the most remarkable people in the most unexpected ways, and they have helped me to move forward one step at a time. Day by day, I get to dream with business owners and local leaders taking "gratitude" to a new level in the corporate world. Together, we bring beauty and honor inside the office walls by catering magical events or designing custom gift baskets. Joy in the Breakroom highlights their logos, core values, and brands while making employees, clients or associates feel extra special! Our goal is to bring teams together, transforming ordinary moments into JOY!
We're always bombarded by how great it is to pursue your passion, etc. – but we've spoken with enough people to know that it's not always easy. Overall, would you say things have been easy for you?
It has been a very tough road! Building a concept from the ground up (or actually below ground) is exhausting, frustrating, humbling, and yet so rewarding. I started with so much JOY, faith, enthusiasm, energy, determination and a very clear vision in my mind written diligently in a business plan. However, the reality that I faced after taking the 1st steps didn't live up to my expectations; I dealt with disappointment day after day.
It was a new community for me, nobody knew my character or the kind of work I could do, and the concept itself was not a trend at all. How did I explain what need I was filling, if the client didn't recognize the need? How could I define the product of giving JOY in concrete terms without being stuck in one category? Was I a caterer, a florist, an event planner, or all of the above? To many, it seemed like having an "outsider" come to bring JOY IN THE BREAKROOM and curate their company's culture was either a foreign concept or a luxury. Both seemed unnecessary. To celebrate birthdays or any special milestones, people were used to just calling their admin to get the job done quickly, throwing food on a table from the local grocery, or gathering a few items from the discount store for decor. Everything was done with good intentions, but most did not have the time or creative capital to make the experience personal, meaningful, and memorable. My idea of customizing or creating any celebration to bring JOY in the workplace was labeled as "cute" by many, I strongly believed it was much more than that! I worked endless hours to find those 1st clients willing to give me any budget and allow me to show them what I could do. Going door to door and introducing my new business concept was the hardest thing that I had ever done. I still do not know how I was stubborn enough to keep going! Well, I do know… everyday miracles keep reminding me that God is leading the way!
During the 1st year, I had to change my approach, my target market, my message, my marketing strategy and pour all my energy in getting involved with the community while learning from other local professionals and entrepreneurs. That is why being a member of The Frisco Chamber of Commerce, WEB-Women Enhancing Business, Frisco Arts, Elevate Life Church among other local organizations have been crucial and extremely valuable.
Another challenge and the imperative task was to carefully select my vendors and the products that I wanted to introduce in my designs. I spent days and nights finding the right soil and planting many seeds. I am building a reputation for excellence while creating a consistent brand that reflects who we are, our purpose, and what I want my company and product to represent.
This journey has been such a struggle and honor at the same time, but I am not doing this alone. Every client touches my soul with their trust and referrals, every vendor gives me tools to be the best we can be, and business associates share with me their greatness. My mentors let me absorb their wisdom. My faith is my pillar, my family the biggest support and inspiration. All of these together have changed my life. JOY IN THE BREAKROOM is my own flowing fountain of JOY and GRATITUDE!
We'd love to hear more about your business.
JOY IN THE BREAKROOM is North Texas' premiere, full-service specialty catering, gifts, and decor for unique corporate celebrations. Whether it's an employee birthday, team milestone, customer appreciation, ribbon-cutting, holiday party, or just because, we create a FREE customized Appreciation Plan that helps your company's brand and core values come to life! Why settle for the mediocre when it comes to your work culture and brand?
Let us bring the wow factor, add the magic and make unforgettable memories that improve employee engagement, reduce stress, encourage laughter, and insert JOY in your workplace! No gathering is too small and no celebration is too trivial. Our goal is to help you show appreciation in small and big ways, building stronger relationships within your organization and ultimately reducing turnover.
As you can see, our logo is a picture of the sun shining in the darkness, which is a visible reminder that every day is a new day, bringing another opportunity to be a light. I firmly believe that JOY comes from the inside, and a company that possesses JOY internally will shine among others in its industry. The best investment you can make is to cultivate a culture of gratitude and appreciation for your employees, customers, and partners, making them feel valued and special.
JOY IN THE BREAKROOM is known for being the most creative and still affordable one-stop-shop for producing memorable events! We will work with your budget to transform your conference room, office, main lobby or breakroom into the theme of your choice with customized food, favors, and fun! Plus, we do all the setup and clean up, so you just get to ENJOY! Countless themes are ready to go, and prices are between $10-$40 per employee depending on the items and menu. From hors-d'oeuvres, snack, ice cream or salad bars to fancy lunches and everything in between, Do you traditionally plan holiday parties or meetings in a restaurant or venue where food is already included? Then, we can take care of the decor, party favors, all the meaningful details and we will ensure your logo, message, mission and the personality of your brand is creatively highlighted. Make your next company event extra special with JOY IN THE BREAKROOM!
Here are some testimonials:
"I wanted to find a way to show appreciation to my employees. I met Lilian at the Frisco Chamber, and she put a great program together for me and my staff. Now, we have monthly appreciation themed breakfast. My staff loves JOY IN THE BREAKROOM days." – Alex Cantaboni, Safe Pro Pest Control
"Lilian is amazing! She made my clients feel truly appreciated. Special Indian treats for Diwali made them feel so very welcome to their new office space. I recommend JOY IN THE BREAKROOM to every business who wants to make their staff or clients feel like they are an important part of your success!" – Kristi McCampbell, REATA Commercial Realty, Inc.
"From the minute I met Lilian, I knew we were a match made in heaven with Frisco Arts! We host a monthly ladies luncheon that would absolutely not be the same without Lilian's incredibly creative touch. She custom designs all our party favors, table decor, and themes to match our speakers that month, and she always makes sure our logo is everywhere. Lilian is a marketing genius and one of the most humble, joyful people I know! Lilian is now our go-to person for all our Frisco Arts events, whether it is a concert, luncheon, networking night, youth council ice cream social, or more. As a nonprofit, we have an incredibly lean budget, but she maximizes every penny to make a lasting impression on all our guests. We are so grateful to work with Lilian and highly recommend her services. I promise that you won't regret it, and you'll be absolutely amazed at what she can do!" – Tammy Meinershagen, Executive Director of Frisco Arts
"What an amazing experience. Lilian is a joy to work with and she put together something that we will never forget. She transformed the space into something elegant and exceeded all expectations. Thank you for making everything so easy and beautiful. I would recommend to anyone having a corporate event." – Dominique Hunt, Frisco's Dental Place
Please contact us at lilianchavira@joyinthebreakroom.com to schedule your FREE consultation with no obligation. Don't let another celebration go by without bringing JOY IN THE BREAKROOM!
What were you like growing up?
Originally from Mexico, I treasure wonderful memories of a beautiful childhood with parents and siblings who taught me the importance of love, hard work, character, passion, art, faith, and of course JOY. My dad worked in hospitality managing resorts, hotels, and restaurants. He was an icon in his industry nationwide, highly recognized for his leadership skills, art and incredible creativity represented in the most luxurious and impressive buffets.
However, my shy personality at that time made me find my own place inside an office, behind a computer using my marketing and graphic design skills. It wasn't until I was a college intern when I had the privilege to start working for the most amazing boss, Mr. Pat McGrath, that I began to learn how to capitalize on my strengths. I stayed there for the next 10 years, growing and striving to achieve every professional goal. I learned in his company what a healthy and empowering environment should look like. Some of the ideas I implement today with my clients are based on the most memorable actions that my boss did for us years ago. He knew how to make an impression.
Growing up, some of my best family memories were around the table, so I truly believe food is a powerful universal language that can bring all kinds of people together! My father passed away one year ago and I find it incredible that I am following in his footprints. I guess I have hospitality in my blood. It feels sometimes that bringing JOY IN THE BREAKROOM is my way to honor my incredible parents, my mom, and dad, keeping my angel close to my heart, because the passion and excellence I saw my dad pouring in all he did is what has become my staple and a key element of my brand. We are spreading JOY and honor in unique ways!
Pricing:
Custom Designed Gift Baskets starting at $100.00
Snack, Ice Cream or Salad Bars starting at $10.00 per person
Breakfast or Lunch themed buffets between $20.00 – $40.00 per person, depending on the menu
Room Decor with client's brand starting at $500.00
Contact Info:
Image Credit:
Serkan Zangar Photography for Broadway dessert table, Lilian Chavira for all Joy In The Breakroom events
Getting in touch: VoyageDallas is built on recommendations from the community; it's how we uncover hidden gems, so if you know someone who deserves recognition please let us know here.