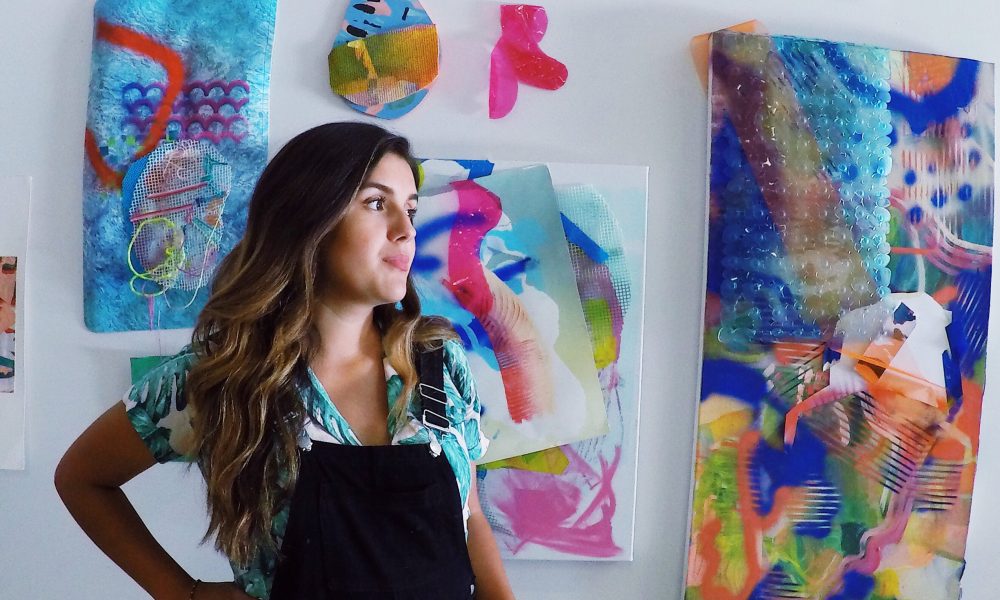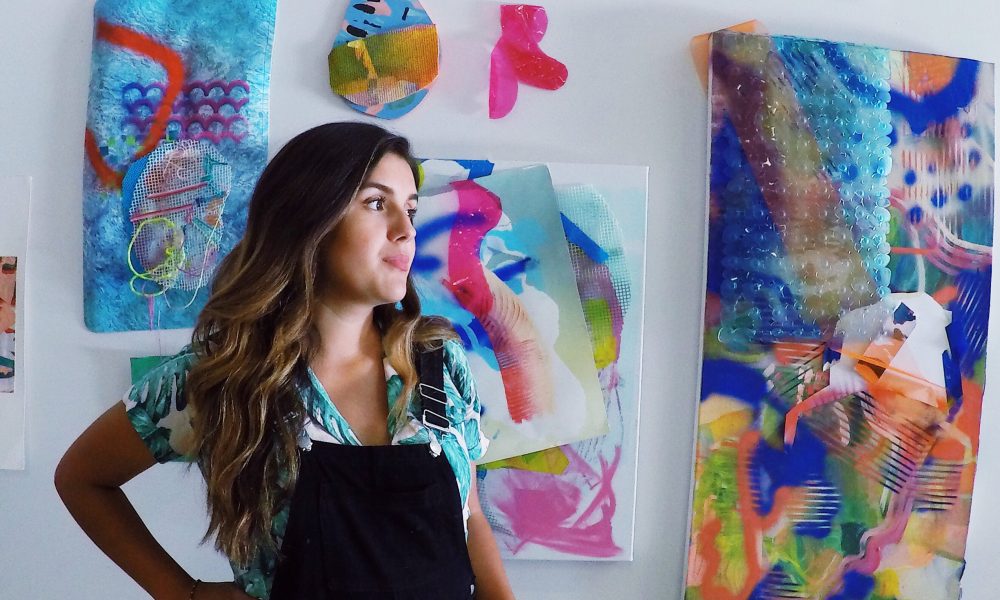 Today we'd like to introduce you to Mariell Guzman.
So, before we jump into specific questions about the business, why don't you give us some details about you and your story.
I was born and raised in Mexico for the first half portion of my life. My childhood is filled with memories of being mesmerized by the vivid colors and intricate patterns in my native surroundings. I was raised in a vivacious culture overflowing with local artisans with beautiful imaginations that put all their passion and soul into their creations. My introduction to the process in these handcrafted artworks trained my mind to apply balance, color, detail, patience, imagination, and observation to my own work. I vividly remember walking the streets of my small town's plaza as a child during festivals and looking up and seeing the whole sky covered in a variety of brightly multicolored cut-paper decorations. The visual was compelling and it made me realize that our world should always be abundant with color.
My experience growing up in a colorful culture shaped my understanding of the way colors interact with each other and can affect the spaces we immerse ourselves in. Apart from that I also grew up in a very creative family. I grew up watching as my mom, brother and sister all created their own paintings and explored their own artistic styles. This environment inevitably inspired me to want to pursuit my own artistic journey and seek my own visual language, however I never imagined that it would lead to making a career as an artist. When I was 18, I decided I wanted to take a risk on myself and build a career in the creative field. I ended up going to The University of Austin to obtain a Bachelors of Fine Arts in Studio Art. I finished at UT last may and moved back to Dallas. I'm now 24 and I'm making it work and waking up everyday knowing I'll be creating something new, and it's truly the most invigorating feeling.
As far as how I got to this point, it's been a journey of putting myself out there and my work. I've been lucky to have received positive reactions from people over the years and have sold multiple paintings. I've also been in a few group art shows. I've done graphic design for social media marketing for events, posters for music shows, t-shirt design and screen-printing, sign painting, and I've recently been working on murals. I like to be involved and work on multiple platforms where art can exist and interact with people in different ways. I don't like to just limit myself to being an artist that solely focuses on one discipline or interacts with the same materials over and over again. Being open to learning new skills for creating is so important to growing as a visual artist. So, this flexibility and unceasing drive to want to keep learning and collaborating with others have been a huge factor in helping me establish myself professionally as an artist. Art is about creating a connection with people, so it's essential to put yourself out there, be humble, open minded and always show admiration for others who are also doing great things. When you share this mutual passion for doing what you love and respect for one another, then you create a community that is dedicated to adding value to our culture. So, that's what I'm working towards at the moment, I'm trying to keep making work and connect with as many people around the world as my unpredictable career path allows me to.
Overall, has it been relatively smooth? If not, what were some of the struggles along the way?
I've never heard of anyone pursuing a career in a creative field and not having to endure obstacles. I've always known that being an artist is a risk and it requires an immense amount of self-discipline, tough skin, and ambition. Acquiring success as an artist requires so much more beyond just "talent." You have to constantly face rejection, doubt, and anxiety about whether your work will remain relevant to others throughout your lifetime.
I've never doubted myself more than when I was in art school, but in a way, that's what art school is for. It teaches you about the vulnerability you're exposing yourself to as an artist, and how to deal with the criticism, but most importantly how to accept it and allow it to help you to make you a better artist.
Art school was definitely a truly unique college experience that both fills you with curiosity, self-doubt, confusion, and endless all-nighters that leave you physically and mentally exhausted. At the time I struggled with being confident that it would all be worth it in the end. After all, I was working towards getting a degree with very few job options and entering a field that most people end up getting lost in and go unnoticed for years due to the over-saturation of artists. I was constantly reminded of the fact that only 10% of the art students that graduate actually end up working as professional artists, the rest go on to work in completely different fields that offer a more stable income. This statistic haunted me for the entirety of my time in college, this small percentage, this realization of what I was getting myself into. That daunting fact steers away from most people for entering the creative industry, but I knew that there's nothing else I'd rather dedicate my life to and if I didn't give it a shot, I would always regret it. Rather than allowing the odds against me intimidate me, I decided to utilize it as a motivator to push me to work harder. I was determined to create something every day, so I don't become another artist that stopped trusting the potential of their creativity and let it go to waste by putting their skills to use in a job they dread.
I often feel stuck but I've learned that the only way to get out of that headspace is to stay curious and explore, always explore and seek more knowledge. Introducing your mind to new ideas always leads to more ideas and provides visions that you look forward to creating. In the end, I know that I'm gonna face a lot of obstacles and self-doubt throughout my career, but we all have something that we find purpose in, and creating art is where I've found mine. Even though it's gonna be a tremulous road to get to where I want to be, I know it will all be worth it.
Alright – so let's talk business. Tell us about Mariell Guzman – what should we know?
I suppose first and foremost when people ask what I am, I simply say I'm an artist. While I used to only identify myself as a painter, over the years I've expanded onto other artistic disciplines. I also have experience in silkscreen, sign painting, mural painting, illustration, design, poster design, sculpture, art installation, and a bit of curating. That's what I truly love most about being in a creative field, that there are no limits to what you can do or how many skills you can add to your practice as a creator. All that matters is that you maintain constant curiosity and ambition to be part of a wide variety of projects, which is where being open to collaboration is key. I'm constantly seeking other creatives to collaborate with or simply learn from. I guess what sets me apart from others is that I'm open to working with people in any field. Art is everywhere, not just in gallery/museums. Most things we interact with on a daily life were intricately conceived by a team of experts in various fields that trusted an idea that someone might've had one night while laying in bed or perhaps in a dream. I'd love nothing more than to be part of multiple projects throughout my life that will add value to people's lives whether it be a functional purpose or a stimulating experience they can immerse themselves in that provides an escape from a mundane daily routine.
Any shoutouts? Who else deserves credit in this story – who has played a meaningful role?
There are a few people that I've encountered and have made a big impact on my development as an artist.
During my junior year of college, I had the incredible opportunity to be awarded a scholarship to do an artist residency at Oxbow School of Art in Saugatuck, Michigan. To this day, it's been the most rewarding and highly stimulating experience of my life. I was able to live among many artists of all ages and backgrounds. We all created art every day, we were constantly be surrounded by inspiration. This residency provided the absolute reassurance that I was in the right field, and I knew after it was over that all I wanted in life was to surround myself with other creatives and learn from one another. Beyond just the amazing community I found there, I also had the privilege to be taught a screen-printing course by Nadine Nakanishi and Nick Butcher. They are an artist collective named Sonnenzimmer based in Chicago and ultimate proof of the power of collaboration. I'm very grateful for all the wisdom they shared, and how they challenged me and impacted my creative process. I genuinely consider them mentors that influenced me greatly and their innovative work continues to inspire my own practice.
Fast forward to today, I owe a lot of the incredible opportunities I've gotten over the past year to Katie Murray. She's an artist, curator, creative director and overall big influencer to the artistic culture emerging in Fort Worth. I'm honored that she trusted my vision and saw potential in me and offered me a position as an art intern to work closely with her and on many creative projects taking place at The Foundry District and around Fort Worth. She's taken me under her wing and I've been able to learn so much about the role of an artist, not just in a gallery space, but also the public space. Particularly, the way art is essential to the development of a community in finding its own identity. I'm grateful to have been able to collaborate with her on various projects, ranging from graphic design, curating, mural painting, sign painting, to even creating our own team of artists and designing the African Savannah exhibition at the Fort Worth Zoo. Most importantly, she helped me get my first big mural, which has been a dream of mine for a long time. I owe that big achievement to her and the remarkable team of M2G Ventures. She's definitely become a mentor to me, and not a day goes by that I'm not grateful to work with her and transform spaces to add more color in people's lives.
Last but not least, the woman who deserves all the credit in the world is my mother, Maribel Inzunza Moya. She taught me the importance of expressing myself through art and the power of one's imagination. She has taught me about perseverance and to work hard for the life I want. Above all, she taught me to always be kind, selfless, and see the beauty in others and my surroundings. She's the reason I became an artist, and she raised me to be the type of woman that never wants to be limited in her potential.
Contact Info:
Website: www.mariellguzman.com
Phone: 214-926-4498
Email: mariellguzmanart@gmail.com
Instagram: @mariellguzman
Getting in touch: VoyageDallas is built on recommendations from the community; it's how we uncover hidden gems, so if you know someone who deserves recognition please let us know here.