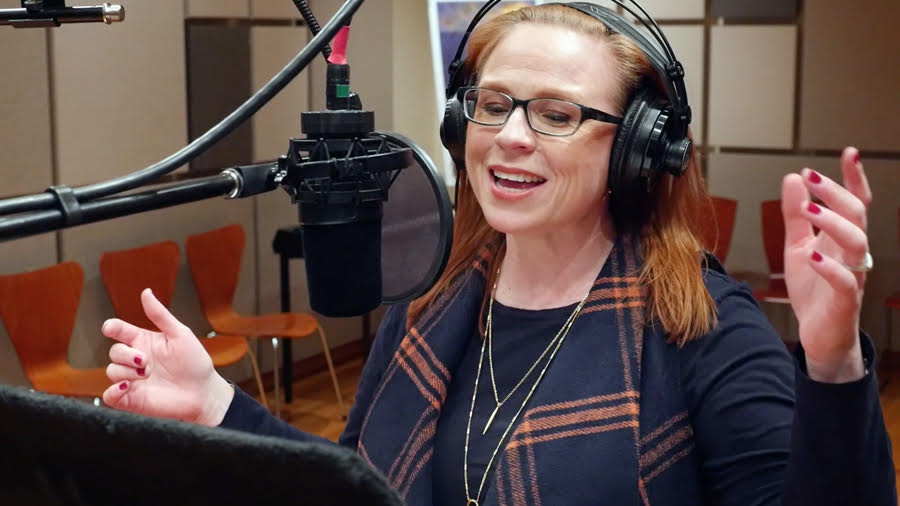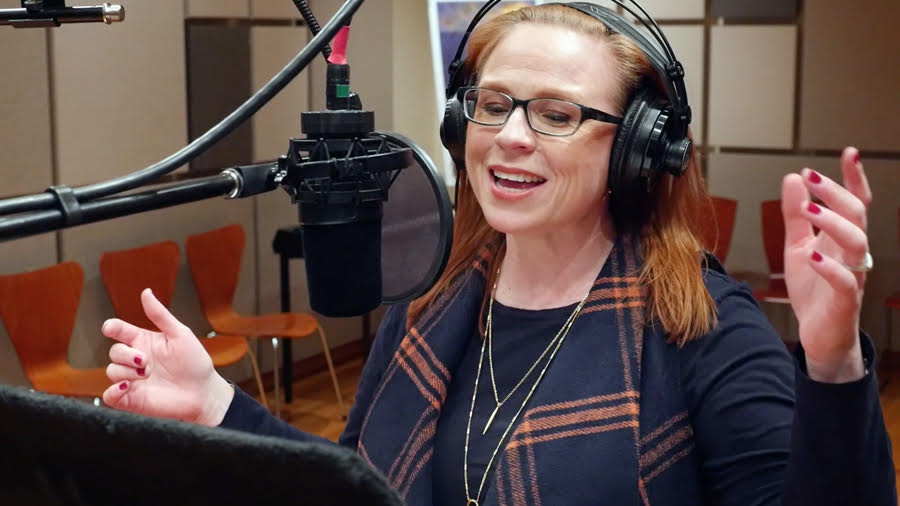 Today we'd like to introduce you to Melanie Murphy.
Melanie, let's start with your story. We'd love to hear how you got started and how the journey has been so far.
I've been told I have a distinct laugh, but that my voice doesn't always sound like me. "Wait, is that Melanie? It kind of sounds like her… I'm not sure." Even my mom can't recognize my voice at times. Whether it's a commercial on the radio, a documentary on TV, a video online or a phone greeting, my voice can change for each. As a voice over actor, I'm hired to sound like what someone has envisioned, and if I match it, I get the gig! So that means I don't always sound like my natural warm, alto, energetic, happy-go-lucky self. But that's not a bad thing because I love what I do, and so do my clients!
After a very short stint of pursuing the qualifications to become a professional counselor, I realized my contribution to the world would need to be in an arena where there was more talking. Where better to talk and be heard than in radio? Having no broadcast credentials, no news experience, and even less journalism know-how, I was hired as a weekend producer for a Dallas-based 24-hour news network. So just like that, I jumped right in to the radio world! They were either very desperate or I was very convincing, or possibly both. Once I found my rhythm in radio news, I was hooked! I became the weekday morning drive editor, competing in a strongly male saturated world, saying "Yes!" to every project they put in front of me just to prove my eagerness and tenacity. In fact, saying "yes" is what pushed me into my first live news-anchor experience, and it occurred on September 11th, 2001, moments after America was struck by terrorism.
Following that, I was promoted from writer and board operator, to co-host, and finally to host and managing editor of a daily syndicated national talk show, America United. The award-winning program started in the turbulent times that followed 9/11/01, and then changed to NewsWrap USA after a couple of years.
It was in those years that I learned what awards do for the moral of a team. You work harder to ensure the integrity of your organization and what you report. You fight for unity among your peers, and you push yourself to try new things. In addition to team accolades, I was proud to become a multi-award winning broadcast journalist. I had the pleasure of covering presidential inaugurations, conducting interviews with powerful people including two Secretaries of State, First Lady Laura Bush, White House Chiefs of Staff, and even a few Hollywood celebrities. I may not have had credentials when I started in news – but I did when I finished.
Radio helped me find my voice and hone my writing skills. It taught me how to ask difficult questions as an interviewer, how to speak to an audience and think on my feet. All skills I use in voice over and as a keynote speaker. As much as I enjoyed radio, I knew my true love was the variety, flexibility and fun that VO provides.
We're always bombarded by how great it is to pursue your passion, etc – but we've spoken with enough people to know that it's not always easy. Overall, would you say things have been easy for you?
Voice over was the natural place for me to land after radio. However, learning the craft and building a business around it has required a new level of stick-to-itivness that I couldn't have imagined.
I remember the cautionary words an accomplished voice talent offered when I started in February of 2014. He said, "You'll know if you're going to be able to make it in voice over at year three. And you'll know if you can make a full time living at it by year five." Whoa! I discovered early on that this is not a gig for the light-of-heart. It takes time to learn the skills and techniques, understand marketing and establish credibility. I'm now four years in and confident voice over is my path. I love everything about it! Except accounting – I don't love accounting.
Learning balance between the never-ending demands of a business, family needs, and healthy life choices can keep anyone on their toes, but when the company has your name on it, you figure out pretty quickly that you need a plan. You can't do it alone – even if you are a one-man band. There's a beauty in partnering with others that have the resources you lack. Being in Dallas, Texas I can work with Fortune 500 and above companies that have found a home here, while simultaneously working around the world thanks to the technology my studio provides.
So, as you know, we're impressed with Melanie Murphy Voice Overs – tell our readers more, for example what you're most proud of as a company and what sets you apart from others.
I help brands and companies stand out by being a relevant and relatable voice that allows their message to be well received and remembered. I do that through voice over. Areas I frequently work in include: commercials on radio and TV, website videos, educational and training material for adults and kids, phone messaging, audio books, documentaries, and a lot more. Have you ever been walking through the grocery store and you hear a pleasant voice talking to you from a strategically placed screen enticing you to buy a new product? That could be my voice! Or maybe you enjoy guided tours at the museum, also could be my voice. Or perhaps you called a company and the phone greeting was just horrible – that was NOT me. Call them back and give them my name, I can help.
I love helping companies big and small find the right voice that communicates their message effectively. Whether I'm working with a creative director, instructional designer, business owner or video producer, there is a beauty in being part of the imagination and artistry required to execute their vision.
I also have a passion for connecting people. I'm a natural networker and enjoy running in circles with other creative business owners. So when a photographer, marketing guru, video producer, writer, musician, or other creative service is required, I can tap those resources and put people in touch with each other.
Voice over is a unique job. When people find out what I do for a living, I get several responses and usually questions such as:
Cool job! How'd you get into that?
People tell me I have a good voice. Think I could do it?
Wow! Have I heard you anywhere?
Or
Blank stare – I then explain what voice over is.
Voice over is a wildly competitive business. Being able to provide a multitude of sounds or deliveries to meet the needs of a project is the basis of what I do. But delivering services quickly, offering great communication, and owning my role as a member of a collaborative effort to make a brand shine is what has clients return again and again. Oh – and I've been told that I'm fun to work with. Turns out, most people like to work with fun and happy people. That's me!
My radio and voice over experience have also played a role in my development as a main stage speaker and emcee. Humor couples well with my passion to encourage others to celebrate everything while bravely risking creativity in whatever area we're called to make a difference. Meeting planners and event coordinators find the message refreshing for their audiences.
So, what's next? Any big plans?
With only four years as a business owner, I have had the pleasure of partnering with some amazing brands, beautiful people and incredible causes. Working with companies like The Container Store, GoDaddy, Shutterstock, Sally Beauty and United Way, are among some of my favorite experiences. One of my coolest interactions was when I decided I wanted to work for a specific company, but I hadn't reached out to them so they didn't know I existed. That is until A video created with a friend made it into their hands and a beautiful partnership was born.
My goal is to be the go-to female voice in Dallas – and beyond. I want to help organizations, causes and businesses tell their story and convey their message. Involvement in local groups such as the Dallas Producers Association, Association for Talent Development and American Marketing Association all play a role in my success up to this point. And I anticipate the relationships and partnerships from those groups to be the ones that will help propel my company to continue to grow. The cool part is seeing other professionals flourish as we all advance together.
My proudest moments come out of relationship and risk. Voice over is a beautiful mixture of those two things. And it allows me to be true to who I am – a loud laugher, a hard worker, a straight shooter. I plan for that to be a magical combination as a voice actor and professional speaker for many years to come.
Contact Info:
Image Credit:
Andrew L. Murphy Art & Photography http://AndrewLMurphy.com
Winn Fuqua http://www.winnfuqua.net
Mandy Fiock Photography http://www.mandyfiockphotography.com
Getting in touch: VoyageDallas is built on recommendations from the community; it's how we uncover hidden gems, so if you know someone who deserves recognition please let us know here.