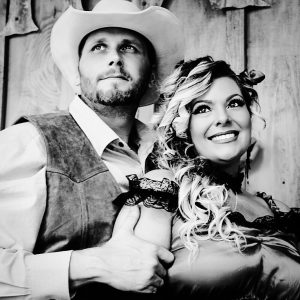 Today we'd like to introduce you to Mysti and Brad.
Mysti has been in the music and entertainment industry for more than two decades. She began her songwriting and singing career in the early '90s. Mysti was part of a duo back in her Nashville days, where she learned a lot about being an artist and writer. Mysti had a passion for performing and writing that led her down the streets of Broadway, where music was alive, and boots were kickin'.
Along with many other talents, Mysti became a regular on Prime Time Country, CMT Most Wanted Live, and with her sister, were picked for a new DUO by the creators of American Idol for the country version of 'Can You Duet.' Mysti has shared the stage with artists such as Miranda Lambert, John Rich of Big and Rich and many more. Shortly after filming the TV show, both Mysti and her sister decided that they weren't interested in being molded into the cookie-cutter sound of every other artist and duo. After fifteen years of pounding the pavement and working toward that 'big' record deal, at the end of the day she was happy just making good music and continuing to write. Mysti decided to go to school and obtain her Broadcast Media Degree for Radio/TV & Film. Since obtaining her degree, she has become a Creator/Writer/Producer and Director of a Supernatural Television Drama Series.
Mysti is a Registered WGA writer as well as a BMI Registered writer. Mysti also is an Executive Producer on two new films, set to be released in 2021. Mysti has had the pleasure of writing with such talents as Rob Hatch (Lee Brice-I don't Dance) and nay others as well as Simon Finley (Echo & The Bunnymen) for three songs on the soundtrack for Cypress Bayou and many more. Mysti studied at the Actors School in Nashville and has worked with many production companies, audition and theatre houses and landed a role in a video or two along the way. Mysti also stars in the Supernatural Television Series Trailer along with actors from the CW Network and even had the privilege of being Directed by Finola Hughes, who most would know as Anna Devane on General Hospital. Mysti is excited for what's to come and always looking for new ways to create something original and amazing. Mysti won an award at the AFF for 'Best Trailer for New Series' as well as Writing Trophy for her Original Script for 'LA-Laurie Parrish.'
​Since relocating to Dallas, Mysti has started Mocha and The Flame Music Publishing Company with Brad Smith, which she currently co-owns and operates as a division of CORE Entertainment Group, Inc. "The publishing company is one piece of the puzzle that fits with all of our plans for CORE Entertainment Group, Inc." CORE will be involved in many avenues of the entertainment industry. At CORE, the goal is to "Create Original Relevant Entertainment."
​Projects that are currently in the works that Mysti has created or co-created include:
– Mysti is currently Producing/Writing a New Murder Mystery Series with her Partner-Brad Smith- 'Mysterious Moments with Millie Mallory'- a new duo of 'Who Dunnit Mysteries'
​- Mysti is also currently an Executive Producer on "FOX & The Bounty" written and created by Tony Gibson.
​- "La-Laurie Parrish" – Written & Created by Mysti "Mocha" Cozart- An Original Dramatic Supernatural TV Episodic Series – Coming 2021
​- "Honeysuckle & Holly"-Written & Created by Mysti "Mocha" Cozart-A Romantic Comedy Film (All of the makings of a good-hearted Hallmark film).
​- "Want Love"- Written & Created by Brad Smith & Mysti "Mocha" Cozart-A Faith-Based Film about building strong relationships and connections with all of the people in our lives through boundaries and love.
​- "Cypress Bayou"-Co-Written/Co-Created/Produced by Mysti Cozart -A Supernatural Drama-Which won an award for 'Best Trailer' for a TV Series. Mysti also portrays the character of "Essie DuPree," an eclectic and spunky little witch who has had traveled for centuries staying true to her duty for the secrets she protects.
Watch the Teaser for LA-Laurie Parish: https://www.coreentertainmentgroup.com/la-laurie-parrish
Check out the YouTube link for her Character Reel starring as 'Essie DuPree': https://youtu.be/gIB4LI2Jn-c
​Mysti has also been featured in The Lonebard Magazine based in Houston. Author of her very own book series "Moments with Mocha" – If you like a little SATC humor and a lot of charm from Hart of Dixie; then you are in for a treat! Available on Amazon Paperback & Kindle.
​Song Releases:
CRYIN LOVIN OR LEAVIN – Co-Writer, Producer
BACKWOODS – Co-Writer
I AINT EVER – Co-Writer
​ALL WRAPPED UP – Co-Writer, Producer
​SECOND CHOICE – Co-Writer, Producer
​WHERE I WANNA BE – Co-Writer, Producer
​MILLION DOLLARS – Co-Writer
​TIL I TIED UP WITH YOU – Co-Writer
​BABY DON'T GO – Co-Writer, Producer
​JUST WANNA HEAR YOUR VOICE – Writer, Producer
BLOW THROUGH YOUR TOWN – Co-Writer
THE WHISKEY DON'T MIND – Co-Writer
​Brad began his musical talents as a young boy and started writing his own songs as a teenager. In his early years as a musician, Brad played in cover bands at social functions and night clubs. Though he had never shared his songs early on, over the years, he began to perform some of them with friends. His friends thought he had a gift but like many young talented individuals, Brad began a family in his early twenties and had to find a career to feed the growing family. He went into retail management and although merchandising was creative, he preferred creating new concepts and then seeing the finished product so Brad decided to open his own design firms where he could continue to create new and exciting designs and then bring them to life. Brad has been an entrepreneur now for over twenty years in business. Today, Brad holds multiple patents and trademarks and has completed thousands of successful creative projects around the world.
In 2018, Brad joined Mysti to continue being creative and they set out on a venture to bring their content to the Entertainment industry forming CORE as well as Mocha and the Flame Publishing. Today, Brad and Mysti write and produce their own content in Brad's private studio. Brad is a BMI Registered writer, as well as a WGA, Registered writer.
​Projects that are currently in the works that Brad has/is creating or co-creating include:
​- Brad is currently a Producer on "FOX & The Bounty" written and created by Tony Gibson.
– "Mysterious Moments With Millie Mallory'-A New Murder Mystery Movie Series-Executive Producer
– "Honeysuckle and Holly"-Executive Producer-A Romantic Holiday Film
​​- "Want Love"- Written & Created by Brad Smith and Mysti "Mocha" Cozart – A Faith-Based Film about building strong relationships and connections with all of the people in our lives.
​- Numerous Songs, TV/VOD Show, Book, Podcast, and Movie projects are in the works under Brad's production now.​
Overall, has it been relatively smooth? If not, what were some of the struggles along the way?
Being in the Entertainment Industry is always tricky to navigate. I would never say that the road has been an easy one, but if it were easy, we would never really learn from our mistakes. I have learned the good, the bad, and the ugly of the industry, but I am still in love with the creative processes. If you are thin-skinned and easily intimidated or wear your heart on your sleeve, then this is not the industry for you. I have had some of the best of times from learning about great songwriting with inspiring artists/writers like Dolly Parton and Willie Nelson and I have been shunned by many as well. I don't feel like I woke up one day and said, "Ya know, I think I'm gonna be a writer, songwriter, filmmaker. I actually believe that this path has chosen me and I couldn't be more proud about it." I have had some amazing and extraordinary experiences on my journey so far, and it led me to a little East Texas town where I am exactly where I wanna be! I have the most amazing man in my life and he is not only my life partner but also my business partner and I wouldn't have it any other way. 🙂
I would admit that being in a female in the film industry is still a challenge and we face hurdles everyday, but that does not and will not deter me from my passions in life. I LOVE everything about writing, producing, and directing. I am definitely at peace when I am creative. I am looking to release my second book in my Moments With Mocha Series by the end of the year as well. IF nothing else, Corona has given me more drive to create, write and inspire.
CORE Entertainment Group – what should we know? What do you guys do best? What sets you apart from the competition?
At CORE Entertainment Group, Inc. we strive to create Original Relevant Entertainment. Our mission and purpose is to bring a broad spectrum of entertainment to the film and music industry. We currently have movies in production, 1 Pilot filmed and released and in the pitch phase, and we have written, recorded and released ten songs just this year! We are excited about what we do and the quality of the projects we create.
One of the main things that set us apart from other industry folks is that we are a 'Couple'! Brad Smith and Mysti Cozart aka MOCHA AND THE FLAME – are dedicated to their professional life as well as their personal life. The foundation of everything for us in all we do is our FAITH! We also inspire one another and encourage each other to go after our dreams. We are incredibly thankful, blessed and honored by the opportunities that have presented themselves to us. We work hard-everyday all day! But we also have fun too!! From Studio Sessions to Being Onset and to the Duck Blind while we waterfowl hunt-we are ALWAYS having fun!
What is "success" or "successful" for you?
To sum up defining success for myself and for Brad-Success is measured on many different scales to different people. Having our Family and Faith are definite success-driven factors in our lives. Waking up and feeling accomplished for what you achieved the day before-is success. Providing a smile to someone and a kind word that is well received-is success. Being able to lie your head down at night feeling like you did your VERY best in all of the goals that you set for yourself-that is success. Being a mom/dad/parent-that is a success!
Being successful in the film, the music and entertainment industry is measured in different ways by those who are creative. When we finish a new song and get it out on the streaming platforms-that is success. Seeing our names on the credits for a project we created/produced/directed or had a song be a part of the soundtrack-that is a success.
Most importantly, sharing this crazy, amazing life with the most amazing man in the world (at least my world) that is SUCCESS!! The Secret to my success. Faith! I credit my creativity to both of my parents (who have now passed on from cancer. They were/are my everything) but they inspired me daily on this earth and now from beyond this world. I will feel completely successful when I get to share more moments with each of them.
Contact Info:
Image Credit:
CORE Entertainment Group, Inc. 2017
Suggest a story: VoyageDallas is built on recommendations from the community; it's how we uncover hidden gems, so if you or someone you know deserves recognition please let us know here.